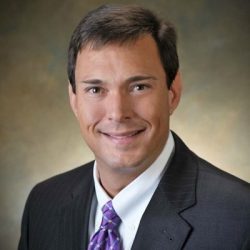 11 South Union Street, Suite 427-M
Montgomery, AL 36130-2950
334-242-1682
Email:

[email protected]
Candidate, Alabama State House of Representatives, District 80, 2018
Representative, Alabama State House of Representatives, District 80, 2016-present
Sideline Reporter, The Troy Sports Network, present
Congressional Information
Former Member, Internal Affairs Committee, Alabama State House of Representatives
Former Member, Insurance Committee, Alabama State House of Representatives
Municipal elections, mayor to provide earlier notice of elections and print and distribute ballots earlier, to require the city clerk to provide notice of all elections to the Secretary of State in writing, Secs. 11-46-22, 11-46-25, 17-11-12 am'd.
Financial institutions, authorized to refuse to execute or delay execution of certain financial transactions involving account of an elderly or vulnerable adult
Credit Unions, federal charter parity provision clarified, Credit Union Administration Board authorize to appoint National Credit Union Admin as conservator of a credit union, membership of supervising committees increased, reimbursement of bd and committee member travel costs, merger meeting notice requirement increased, definition of official revised, Secs. 5-17-4, 5-17-8, 5-17-10, 5-17-11, 5-17-22, 5-17-55 am'd.
Future Advance mortgages, provide that future indebtedness secures when mortgage created, Sec. 35-10-120 to 35-10-124, inclusive, added.
Russell and Lee Co's, Phenix City, board of education, elections, place numbers, provided for, candidate required to declare place, audit process, further provided for, Act 2017-450, 2017 Reg. Sess., am'd.
Notaries public, appointment of, residents of states bordering Alabama who carry on a business, profession, or regularly employed in AL., commissioned as notary public by judge of probate, authorized, Secs. 36-20-70, 36-20-71 am'd.
Russell Co., sheriff authorized to sell certain abandoned, unclaimed, or stolen property, and firearms, notice, record keeping requirement, distribution of funds for law enforcement purposes
Russell Co, courts, domestic violence cases, additional court costs authorized to operate domestic violence shelter
Alcoholic Beverage Control Board, manufacturer licenses, sale of liquor produced on site for off-premises consumption, amount increased, Sec. 28-3A-6 am'd.
Banks, state regulated, service providers, Superintendent of Banks authorized to examine, Examination of Bank Service Providers Act, Secs. 5-3A-30 to 5-3A-35, inclusive, added