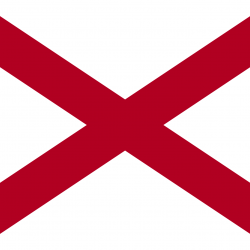 Alabama is a state in the Southeastern region of the United States, bordered by Mississippi to the west, Tennessee to the north, Georgia to the east, and Florida and the Gulf of Mexico to the south. Alabama has a population of 4,903,185 as of the 2019 census estimate, which is up 0.31% from the 2018 census estimate. Alabama's state capital is Montgomery and Alabama's nickname is the Yellowhammer State, after the state bird.
Alabama consists of 67 counties, with the largest county being Jefferson County, which is home to the state's largest city Birmingham. Alabama has a total of 461 municipalities with the oldest city being Mobile which was founded by French colonists in 1702 as the capital of French Louisiana.
Bama Politics is currently tracking 5,561 people who either have been elected to office in the state or are/have run for office in the state. You can find the official website for Alabama at Alabama.gov.
Alabama Statewide Officials
Below are the current statewide elected officials in the State of Alabama. They are elected every four years, never taking place during a U.S. Presidential election.
Alabama U.S. Representatives
Below are the current U.S. Representatives in the State of Alabama. They are elected every two years.
Alabama State Legislators
Below is a breakdown of the current Alabama State Legislative body by party affiliation. Both the Senate and House are elected every four years, during the same elections as the statewide officals. Click each link below to view a list of the current elected Senate and House Legislators.
Below is a breakdown of current Alabama Sheriffs broken down by party affiliation. Each county elects one sheriff. Click the link below to view each counties elected sheriff.