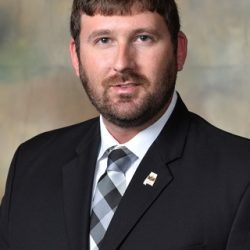 11 South Union Street, Suite 403-A
Montgomery, AL 36104
334-261-0403
Representative, Alabama State House of Representatives, District 61, 2018-present
Candidate, Alabama State House of Representatives, District 61, 2018
Criminal code, offenses against public order, firearms, concealed pistols, concealed carry permit, constitutional carry, pistol permits, Secs. 9-11-304, 13A-11-52, 13A-11-71, 13A-11-73, 13A-11-74 repealed; Secs. 13A-11-7, 13A-11-50, 13A-11-55, 13A-11-61.2, 13A-11-62, 13A-11-75, 13A-11-85, 13A-11-90 am'd.
Ad valorem tax, appraisal value increase on real property for single family owner-occupied residential, limited to three percent, carry over of excess, const. amend.
Pickens Co., county superintendent of education, shall continue to be elected, const. amend.
Pickens Co., county superintendent of education, shall continue to be elected, const. amend.
Conservation and Natural Resources Dept., sensitive personally identifying information, removed from fishing equipment and trapping equipment, Secs. 9-11-22, 9-11-59 am'd.
Coker, alcoholic beverages, Sunday sales under certain conditions