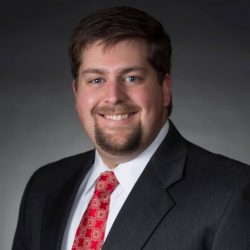 11 South Union Street, Suite 524-B
Montgomery, AL 36104
334-261-0539
Attended, Snead State Community College
Graduated, Auburn University
Representative, Alabama State House of Representatives, District 27, 2018-present
Candidate, Alabama State House of Representatives, District 27, 2018
Former Director of Basketball Operations, University of Denver
Organizations Information
Member/Sunday School Teacher, Arab First Baptist Church
President, Arab Chamber of Commerce
Gunterville, ad valorem tax, authorized to levy add'l for public schools, referendum
Heating, Air Conditioning, and Refrigeration Contractors, Board of, replace definition, qualifications, and registration requirements for positions of an apprentice with definition to include instructors, Secs. 34-31-18, 34-31-24, 34-31-25, 34-31-28, 34-31-29 am'd.
Employment, require employers and state agencies to follow specified requirements to determine whether a worker is an employee for purposes of benefits and tax liabilities
Schools, public K-12, nutrition, allowing schools to donate surplus, non-expired food to charitable organizations, purpose of redistributing food to needy students
Professional licenses, remove all exemptions from automatic provisions for, except the exemption for certifications issued by the Alabama Peace Officers' Standards and Training Commission, Sec. 31-1-6 am'd.
Heating, Air Conditioning, and Refrigeration Contractors, Board of, replace definition, qualifications, and registration requirements for positions of an apprentice with the positions of Technician I and Technician II, Secs. 34-31-18, 34-31-24, 34-31-25, 34-31-28 am'd.
Employment, require employers and state agencies to follow specified requirements to determine whether a worker is an employee for purposes of benefits and tax liabilities
Public officers and employees, state personnel dept, state employees, suspensions without pay, total time not to exceed 30 business days, state employee must accept or request hearing within 10 business days, Sec.36-26-28 am'd.