Sponsor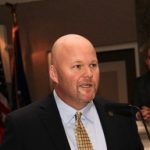 Corley Ellis
Session
Regular Session 2019
Title
Nurse Anesthetists, certified registered (CRNA's), insurance and health benefit plans, direct payments for services, definition of CRNA for purposes of law updated, Sec. 27-46-3 am'd.
Description
Relating to certified registered nurse anesthetists; to amend Section 27-46-3 of the Code of Alabama 1975, providing for direct reimbursement for the services of a certified registered nurse anesthetist by insurers, to further provide for the definition of a certified registered nurse anesthetist for the purposes of the law.
Subjects
Nurses and Nursing
Note: Bills that change current law do not show the amended text correctly below. Please view Original PDF to see amended sections:
HB 245 - Enrolled - PDF
Section 1
Section 27-46-3 of the Code of Alabama 1975, is amended to read as follows: "§27-46-3. "For the purposes of this section chapter, certified registered nurse anesthetist means any licensed registered nurse licensed under Section 34-21-20, who is a graduate of a formal education program accredited by the Council on Accreditation of Nurse Anesthesia Educational Programs or its predecessor, the American Association of Nurse Anesthetists, and who is currently certified as a registered nurse anesthetist by the Council on Certification/Recertification of Nurse Anesthetists National Board on of Certification and Recertification for Nurse Anesthetists, or other certifying body approved by the Board of Nursing."
Section 2
This act shall become effective immediately following its passage and approval by the Governor, or its otherwise becoming law. House of Representatives Read for the first time and re- ferred to the House of Representa- tives committee on Insurance ...... ....... 20-MAR-19Read for the second time and placed on the calendar.................... ....... 03-APR-19 Read for the third time and passed as amended......................... ....... 11-APR-19 Yeas 100, Nays 0, Abstains Jeff Woodard Clerk
| Action Date | Chamber | Action |
| --- | --- | --- |
| May 22, 2019 | H | Delivered to Governor at 2:45 p.m. on May 22, 2019. |
| May 22, 2019 | H | Assigned Act No. 2019-280. |
| May 22, 2019 | H | Clerk of the House Certification |
| May 22, 2019 | S | Signature Requested |
| May 21, 2019 | H | Enrolled |
| May 21, 2019 | H | Passed Second House |
| May 21, 2019 | S | Motion to Read a Third Time and Pass adopted Roll Call 936 |
| May 21, 2019 | S | Third Reading Passed |
| April 25, 2019 | S | Read for the second time and placed on the calendar |
| April 16, 2019 | S | Read for the first time and referred to the Senate committee on Banking and Insurance |
| April 11, 2019 | H | Engrossed |
| April 11, 2019 | H | Mooney intended to vote Yea |
| April 11, 2019 | H | Scott intended in vote Yea |
| April 11, 2019 | H | Motion to Read a Third Time and Pass adopted Roll Call 176 |
| April 11, 2019 | H | Motion to Adopt adopted Roll Call 175 |
| April 11, 2019 | H | Ellis Amendment Offered |
| April 11, 2019 | H | Third Reading Passed |
| April 3, 2019 | H | Read for the second time and placed on the calendar |
| March 20, 2019 | H | Read for the first time and referred to the House of Representatives committee on Insurance |
2019-05-21
Chamber: Senate
Result: Passed
2019-04-11
Chamber: House
Result: Passed
2019-04-11
Chamber: House
Result: Passed