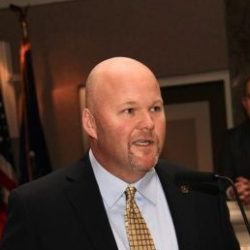 11 South Union Street, Suite 526-A
Montgomery, AL 36130-2950
334-242-7600
Email:

[email protected]
Candidate, Alabama State House of Representatives, District 41, 2018
Representative, Alabama State House of Representatives, District 41, 2016-present
Congressional Information
Former Member, Shelby County Legislation, Alabama State House of Representatives
Former Member, Local Legislation Committee, Alabama State House of Representatives
Former Member, Financial Services Committee, Alabama State House of Representatives
Shelby Co., cities, counties, and utilities, mutual aid agreements authorized to restore utility service in emergencies, const. amend.
County boards of equalization, appointment of members to, Revenue Commissioner authorize to make appointments under certain conditions, process for filling vacancies, per diem increased for active members, Secs. 40-3-2, 40-3-4, 40-3-7, 40-3-8 am'd.
Consumer Protection, Alabama State of Emergency Consumer Protection Act, enhanced criminal penalties provided under certain conditions, Secs. 13A-9-114, 34-8-6, 34-14A-14, 34-31-32, 34-36-16, 34-37-17 am'd.
Shelby Co., sheriff, feeding of prisoners further provided for, Discretionary Fund established, const. amend.
Nurse Anesthetists, certified registered (CRNA's), insurance and health benefit plans, direct payments for services, definition of CRNA for purposes of law updated, Sec. 27-46-3 am'd.
Eminent domain, condemnation actions, land acquisitions of rights-of-way, waiver valuations authorized under certain conditions, Secs. 18-1A-3, 18-1A-22 am'd.
Tax liens, sale authorized at auction to the bidder with the lowest interest rate, Secs. 40-10-199, 40-10-200 added; Secs. 40-10-180 to 40-10-198, inclusive, am'd.
Taxation, to provide that certain evidence of comparable sales or leases shall be inadmissible in taxpayer appeals for the rulings of boards of equalization fixing value of commercial property, Sec. 40-3-27 added