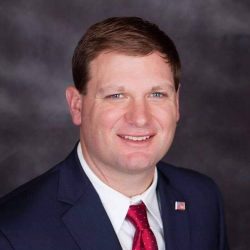 11 South Union Street, Suite 401-F
Montgomery, AL 36104
334-261-0436
BS, The University of West Alabama, 1996-2002
Representative, Alabama State House of Representatives, District 9, 2018-present
Candidate, Alabama State House of Representatives, District 9, 2018
Owner, Hagen Homes Incorporated, 2005-present
Organizations Information
Chair, Hartselle Area Chamber Commerce, present
Member, Hartselle Rifle Association, present
Member, National Rifle Association, present
Member, Hartselle Kiwanis, present
Member, Hartselle Rotary, present
Member, Morgan County Builders Association, present
Member, Hartselle First Baptist Church, present
Member, Economic Development Group of Hartselle
Member, Leadership of Hartselle
Civil practice, Quiet title actions, recording of certain judgements, further provided, Secs. 6-6-544, 6-6-570 am'd.
Cullman Co., the Battleground School Historical Board estab., immunity for board members, property may be transferred to county board of education
Motor vehicles, driving without a license, penalties, Sec. 32-6-19 am'd.
Crimes and offenses, to revise the criminal penalties for a violation of attempting to elude, Sec. 13A-10-52 am'd.