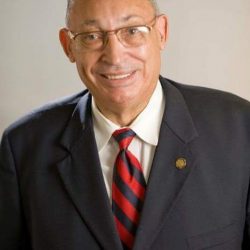 11 South Union Street, Room 534-A
Montgomery, AL 36130-2950
334-261-0580
Email:

[email protected]
MS, Vocational and Adult Education, Auburn University, Montgomery, 1975
BA, Alabama State University, 1966
Candidate, Alabama State House of Representatives, District 76, 2018
Representative, Alabama State House of Representatives, District 76, 1994-present
Owner, Capitol Realty, 1995-present
President, Trenholm State Technical College, 1981-1995
Dean, Trenholm State Technical College, 1974-1981
Real Estate Broker, City of Montgomery, 1968-1974
Congressional Information
Chair, Public Safety Committee, Alabama State House of Representatives, present
Chair, Black Belt Infrastructure Committee, 2000
Member, Mental Health Advisory, 1998
Member, Adeen Oversight, 1998
Member, State Parks Oversight, 1998
Organizations Information
Member, Saint Matthew's Baptist Chruch, present
National Financial Secretary, Tots and Teens Incorporated, present
Member, Omega Psi Phi Fraternity, Incorporated
Member, National Education Association
Member, Alabama Education Association
Member, Southern Placement Council
Member, Montgomery Lion's Club
Member, Montgomery Democratic Conference
Member, Cosmospolital Civic Club
Member, Montgomery Democratic Club
Member, Kershaw Young Men's Christian Association
Member, Alabama Democratic Conference
Economic Dev, property adjacent to U.S. Air Force Base, mun. or co. authorized to form authority for development, issuance of bonds, tax exemptions
Military bases, counties and municipalities, formation of redevelopment authorities to finance projects contiguous to operating or closed bases, eminent domain powers
Elections, allowing persons convicted of certain felonies to vote, Sec. 15-22-36.1 am'd.
Parks, recreational facilities, modify definition of "project", include establishment of a hotel, restaurant, caf, cafeteria, lunch counter, or public eating house, etc., Sec. 11-47-210 am'd.
Presidential elections, electoral college votes, congressional dstrict method instituted, Secs. 17-14-10, 17-14-30, 17-4-31, 17-14-32, 17-14-36 am'd.
Drivers' licenses, to require the words registered voter appear on the driver's licenses and nondriver identification cards of registered voters in Alabama
Montgomery Co., rental tax, co. commission authorized to levy and collect, exemptions, administration and enforcement of rental tax
Taxation, Alabama State Missionary Baptist Convention, Incorporated and each local Baptist association in good standing of the convention, exempt from ad valorem and sales and use taxes, Sec. 40-9-12 am'd.
Military Family Jobs Opportunity Act, professional licensing boards required to issue licenses and certificates to military spouses who hold licenses and certificates from other states, required to issue temporary licenses and certificates in certain instances when other state has lesser requirements, Sec. 31-1-6 am'd.
Warren, Eleanor Williams, 90th birthday, commended
Warren, Eleanor Williams, 90th birthday, commended
Motor vehicles, distinctive license plates, Helping Schools, fee increased, Sec. 32-6-300 am'd.
Traffic offenses, tickets, procedure to allow payment of outstanding fines for certain traffic offenses