Decatur Councilman Hunter Pepper Joked About Running Over Black Protesters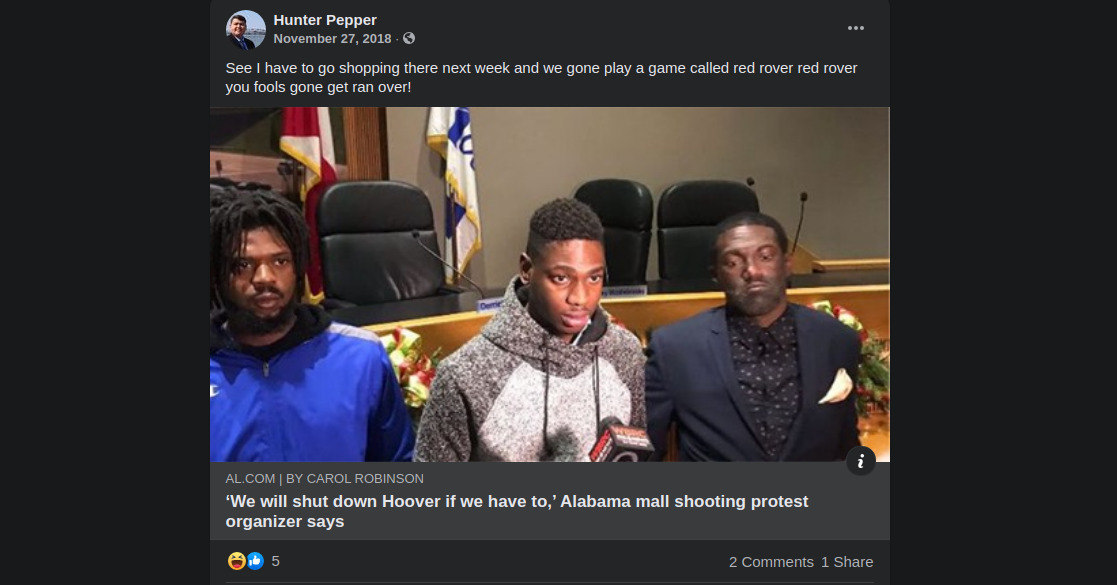 Decatur, AL City Councilman Hunter Pepper joked on Facebook in 2018 about running over black protesters in Hoover, AL, at a time protests were happening over the police shooting of E.J. Bradford at the Riverchase Galleria in Hoover.
In a Facebook post from November of 2018, Pepper shared a link to an article from AL.com with the title "'We will shut down Hoover if we have to,' Alabama mall shooting protest organizer says". Pepper added to the share, commenting, "See I have to go shopping there next week and we gone play a game called red rover red rover you fools gone get ran over!"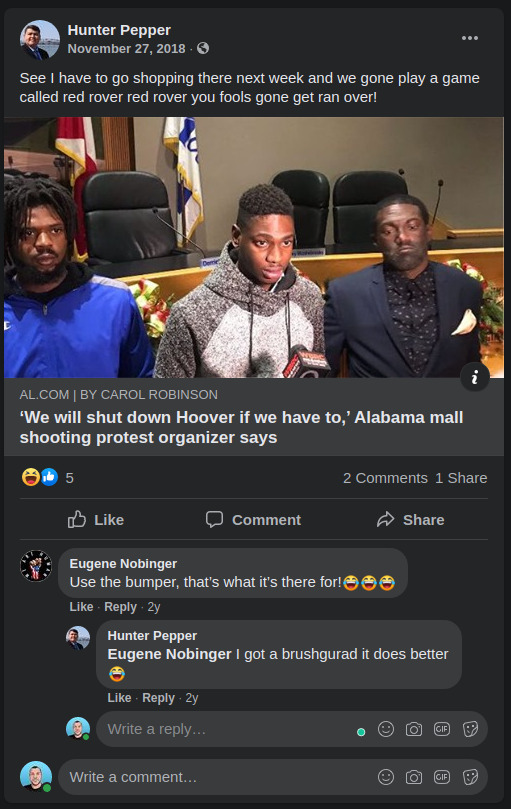 Pepper replied to another person on the same post, implying that his brush guard on his truck would be "better" to run people over with rather than just the bumper.
Before the date of Pepper's post, vehicles being used as weapons to cause mass harm to people were not new, as documented by Madison.com in this article.
Pepper, who won his first term in Decatur's August 2020 municipal elections, won the seat at only 18 years old, defeating two-term incumbent Charles Kirby by a vote of 508-472.
Update: As of 7:48 PM it appears that Pepper has either deleted or hidden the Facebook post in question.
Update 3/6/2021: Pepper issued a statement and took questions during a press conference in Decatur. You can view the press conference at this link. Pepper also blocked my personal account on Facebook.
Update 3/6/2021: Pepper issued the following written statement in a Facebook comment:
"I made a mistake when I was 16, I'm trying to over come that mistake by doing what's right."
Brent Wilson was born and raised in Huntsville, Alabama and is the Owner and Chief Editor of BamaPolitics.com.
Topic tags: