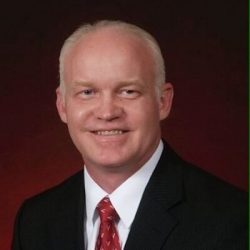 11 South Union Street, Suite 524-D
Montgomery, AL 36130-2950
334-242-7475
Email:

[email protected]
AAA, Criminal Justice, Wallace State Community College
Attended, Montgomery Police Academy
BS, Justice Studies, Athens State University
Graduated, Federal Bureau of Investigations National Academy, Quantico, Virginia
Candidate, Alabama State House of Representatives, District 34, 2018
Representative, Alabama State House of Representatives, District 34, 2012-present
Candidate, United States House of Representatives, District 6, 2012
Captain, Blount County Sheriff's Department, retired
Congressional Information
Former Member, Boards, Agencies and Commissions Committee, Alabama State House of Representatives
Organizations Information
Chair/Probate Judge, Blount County Commission, present
President, Alabama Legislative Club, 2016
Member, Blount County Board of Education
Member, Hayden First Baptist Church
Hayden, corp. limits alt.
Elections, Election Emergency Act, establish, suspension or delay election in emergency, authorized, Secs. 17-9-70 to 17-9-72, inclusive, added; Sec. 17-11-3 am'd.
Pistol permits, active member of U.S. Armed Forces and an honorably discharged veteran, issurance without payment of fee, Sec. 13A-11-75.1 am'd.
Special judges, compensation, at a sum not to exceed one hundred per day and reimbursement for actual and necessary expenses, Sec. 12-1-14.1 am'd.
Blount Co., firearms, fee for license to carry a pistol, active, retired, and honorably discharged military exempt from those fees, Sec. 45-5-232 am'd.
Telecommunications, broadband services, deployment of broadband infrastructure and telecommunication services near the right-of-way of railroads, procedure established
Rural Hospital Transformation and Stability Act, Ala. Rural Hospital Global Budget Board established, funding for rural hospitals accepted into program through global payment from certain insurers
State agencies, national motto "In God We Trust", use authorized on public buildings and vehicles
David Klein - Death Mourned
Guardianships and conservatorships, working interdisciplinary Networks of Guardianship Stakeholders (WINGS) movement, supported
Competitive Bid law, purchase and installation of heating and air conditioning units for local boards of education, exempted when bid pursuant to purchasing cooperative and process approved by Dept. of Examiners of Public Accounts, Secs. 39-1-5, 39-2-2 am'd.