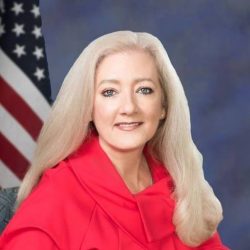 11 South Union Street, Suite 432
Montgomery, AL 36104
334-261-0413
Representative, Alabama State House of Representatives, District 39, 2018-present
Candidate, Alabama State House of Representatives, District 39, 2018
Joint Legislative Oversight Committee on Obligation Transparency, created, membership, compensation, powers, and duties, provided
Schools, public K-12, athletic events allowing competition by one biological gender against another prohibited unless the event specifically includes both genders
Firearms, Alabama Firearms Protection Act, prohibitions on enforcement of certain federal firearm laws, provided
State government, Presidental Executive Orders, Legislative Council may order review thereof, prohibition on implementation, provided
State Health Officer, order issued in response to outbreak of a disease has full force of law if approved by Governor and filed with Secretary of State in state of emergency, Secs. 22-2-8, 31-9-8, 31-9-13 am'd.
Crimes and offenses, illegal for a school employee to solicit a student to send obscene material to any person, Sec. 13A-6-82.1 am'd.
Crimes and offenses, to revise the criminal penalties for violations of fleeing or attempting to elude law enforcement, Sec. 13A-10-52 am'd.
Watercraft, operation of, boater safety certification requirements, further provided, Secs. 32-5A-191.3, 33-5-51, 33-5-52, 33-5-72 am'd.
Abortion, physicians, duty of care owed to babies born alive after failed abortion, criminal penalties, definitions further provided
Centre, corporate limits alt.
Education Dept., state property, Dept. of Edu., has authority to manange the construction and renovation of property that is part of a state educational institution, Sec. 41-4-400 am'd.
Workers' compensation, firefighters, law enforcement officers, diagnosed with post-traumatic stress disorder, reimbursed for certain out-of-pocket expenses, co's and municipalities required to maintain certain disability insurance coverage
Consumer protection, require vendors of autographed collectibles to provide a warranty
Watercraft, operation of, boater safety certification requirements, further provided, Secs. 32-5A-191.3, 33-5-51, 33-5-52, 33-5-72 am'd.
Crimes and offenses, to revise the criminal penalties for violations of fleeing or attempting to elude law enforcement, Sec. 13A-10-52 am'd.
Abortion, physicians, duty of care owed to babies born alive after failed abortion, criminal penalties, definitions further provided
Crimes and offenses, illegal for a school employee to solicit a student to send obscene material to any person, Sec. 13A-6-82.1 am'd.