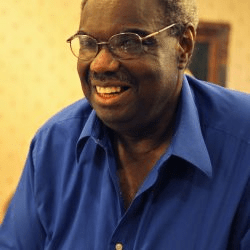 JD, Harvard Law School
Graduated, Talledega College
Senator, Alabama State Senate, District 23, 1982-2018
Congressional Information
Former Member, Judiciary Committee, Alabama State Senate
Former Member, Finance and Taxation Education Committee, Alabama State Senate
Former Member, Education & Youth Affairs Committee, Alabama State Senate
Former Member, Banking and Insurance Committee, Alabama State Senate
Former Member, Alabama Commission to Reduce Poverty, Alabama State Senate
Organizations Information
Member, American Bar Association
Member, Alabama New South Coalition
Member, National Bar Association
Member, Campaign for a New South
Former Member, Transportation and Energy Committee, Alabama State Senate
Member, Alabama Lawyers Association
Member, National Conference of Black Lawyers
Member, Cooperative for Assistance and Relief Everywhere
Department of Corrections, commissioner required to review inmate population and determine inmates at high risk of Covid-19, cert. inmates released to community supervision in cert. circumstances, report to Joint Legislative Prison Oversight Committee
Dallas Co., judge of probate, add'l expense allowance and salary
Wilcox Co., Boards of Registrars, maximum number of working days increased, Sec. 17-3-8 am'd.
County boards of equalization, appointment of members to, Revenue Commissioner authorize to make appointments under certain conditions, process for filling vacancies, per diem increased for active members, Secs. 40-3-2, 40-3-4, 40-3-7, 40-3-8 am'd.
Taxation, individual income tax, simplified short form, allow up to fifteen hundred of interest and dividend income, Sec. 40-18-15.7 am'd.
Talladega College, appropriation
State income tax, federal deduction limited for individual taxpayers, state sales tax on food and over-the-counter drugs removed, Amendment 225 (Section 211.04, Recompiled Constitution of Alabama of 1901, as amended), repealed, const. amend.
Assault weapons, prohibit possession, sale or transfer of assault weapons and large-capacity ammunition
Camden, corp. limits alt.
Dallas Co., sales and use tax, co. commission authorized to levy, distrib. to co. bd of ed. and City bd of ed for Selma
Taxation, sale of land for unpaid tax delinquent after January 1, 2018, redemption, interest rate lowered Secs. 40-10-75, 40-10-76, 40-10-77, 40-10-83, 40-10-121, 40-10-122 am'd.
Firearms, prohibited for a person convicted to add'l penalty for committing a felony, misdemeanor crime against protected persons, Sec. 13A-11-72 am'd.
Drivers license, suspension, prohibited for failure to pay fines, fees, or court costs, Sec. 32-5A-195 am'd.
Courts, fines and fees, Fairness in Enforcement of Fines and Fees Act, required to comply with basic constitutional principles of due process, equal protection, and right to counsel when enforcing fines and fees
Death penalty, persons under certain age exempt
Capital punishment, intellectual disability defendant, procedures for court to determine, established, Sec. 13A-5-60 added
Election, voter registration, allowed any day board of registrars has office hours, Sec. 17-3-50 am'd.
Crimes and offenses, Rape 1st degree, parental rights of defendant of child, terminated, Sec. 13A-6-61 am'd.
Elections, qualification of electors, not serving court-ordered sentence of imprisonment, eligible to register and vote, Sec. 17-3-30 am'd.
Taxation, sale of land for unpaid tax interest on tax, abolished, Sec. 40-10-121 am'd.
Law Enforcement Agency, drivers' license office, operational in each county a minimum of one day each week
Lowdes Co., sheriff, comp. increases validated, retroactive, expenses allowance and comp.
Lowndes Co., coroner, expense allowance, Act 91-327, 1991 Reg. Sess., am'd; Act 91-273, 1991 Reg. Sess., repealed
Capital cases, judge not to override jury verdict of life without parole, Act 2017-131 made retroactive, Act 2017-131, 2017 Reg. Sess., am'd.
State income tax, federal deduction limited for individual taxpayers, state sales tax on food and over-the-counter drugs removed, Amendment 225 (Section 211.04, Recompiled Constitution of Alabama of 1901, as amended), repealed, const. amend.
Death penalty repealed, Secs. 13A-5-39, 13A-5-43, 13A-5-44, 15-18-100 am'd; Secs. 13A-5-45 to 13A-5-53, inclusive, 13A-5-55, 13A-5-59, 15-18-80 to 15-18-86, inclusive, repealed
Death penalty, moratorium on imposition and execution not to exceed three years, procedure for administering
International Paper Company, recognized
Cahawba, first permanent capital of the state, recognized