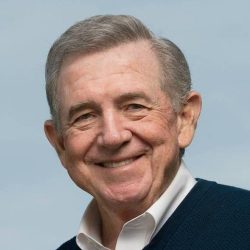 11 South Union Street, Suite 424
Montgomery, AL 36130-2950
334-261-0429
Email:

[email protected]
BS, Engineering, University of Alabama, 1962
Candidate, Alabama State House of Representatives, District 48, 2018
President Pro Tempore, Jefferson County Commission, 2006-2008
Representative, Alabama State House of Representatives, District 48, 1990-2006, 2012-present
Former House Minority Leader, Alabama State House of Representatives
President/Owner, American Metal Technology, Incorporated, present
Owner/President, Modern Sales, Incorporated
Sales Engineer, Reliance Electric & Engineering Company
Vice President/President, Modern Handling Systems
Congressional Information
Member, Energy Council
Chair, House Republican Caucus
Former Member, County and Municipal Government Committee, Alabama State House of Representatives
Member, Governor's Commission on Welfare Reform
State Chair, Conservative American Legislative Exchange Council
Organizations Information
Member, The Federalist Society
Member, Pilot's Association
Member, National Federation of Independent Business
Chair, Association of County Commissioners of Alabama Finance
Elder, Briarwood Presbyterian Church
Member, Business Council of Alabama
Member, Arlington Historical Association
Member, Americans United for Life
Member, Alabama Retail Association
Member, Alabama Banker's Association
Member, Alfa
Member, Republican National Committee
Member, Presidential Trust
Member, National American Legion
Member, Heritage Foundation
Ad valorem tax on real property, senior property tax appraisal for persons age 70 or older on principal residence used for 10 years, appraisal value frozen on immediate prior year, exceptions, rules by Revenue Dept.
Taxation, County Boards of Equalization, valuation procedures further provided, Secs. 40-2-18, 40-3-21, 40-3-25, 40-7-25 am'd.
Utilities, governmental entities, prohibited from adopting or enforcing policies that prohibit the connection or reconnection of utility services
Crimes and offenses, crimes of riot and inciting to riot, harassment, and assault II, amended, crimes of assault against a first responder, aggravated riot, and unlawful traffic interference, created, mandatory holding period for certain violations, provided, mandatory incarceration period for certain violations, provided, exceptions to sovereign immunity, further provided, restrictions on distribution of revenue to defunding jurisdictions, provided, Secs. 13A-11-3.1, 13A-11-5.1, 13A-11-8.1 added; Secs. 12-25-32, 13A-6-21, 13A-6-132, 13A-11-1, 13A-11-3, 13A-11-4, 13A-11-8, 13A-11-70, 15-13-2, 36-1-12, 36-2-1 am'd.
Wine, authorizing common carriers to make delivery of alcoholic beverages to residents over 21, to create a wine direct shipper permit to allow wine manufacturers to ship their table wine directly to residents, Sec. 28-3A-6.1 added; Sec. 28-1-4 am'd.
Elections, absentee ballots, county commission authorized to select locations for receiving absentee ballots
Criminal code, offenses against public order, firearms, concealed pistols, concealed carry permit, constitutional carry, pistol permits, Secs. 9-11-304, 13A-11-52, 13A-11-71, 13A-11-73, 13A-11-74 repealed; Secs. 13A-11-7, 13A-11-50, 13A-11-55, 13A-11-61.2, 13A-11-62, 13A-11-75, 13A-11-85, 13A-11-90 am'd.
ClasTran, Birmingham Regional Paratransit Consortium, exempt from all sales and use taxes
Elections, requires implementation date of any legislation affecting conduct of general election to be at least six months before general election, const. amend.
Shelby Co., privately owned sewer systems using public rights-of-way of public roads, required to be regulated and certified by PSC, const. amend.
Elections, Governor suspending laws that would affect election process during state of emergency, prohibited before the election
Election, clarifying the distance from a polling place within which an individual may not campaign, Sec. 17-9-50 am'd.
Pistol permits, active member of U.S. Armed Forces and an honorably discharged veteran, issuance without payment of fee, Sec. 13A-11-75.1 am'd.
Insurance premium tax credits, to expand the Alabama Insurance Offices Facilities Credit for certain activities, to expand who can be an affiliate, Sec. 27-4A-3 am'd.
Jefferson Co., Retirement System, definitions, pension board, qualification, elections of members, duties, Secs. 45-37-123.01, 45-37-123.21, 45-37-123.22, 45-37-123.24, 45-37-123.53, 45-37-123.54, 45-37-123.82, 45-37-123.101, 45-37-123.103, 45-37-123.104, 45-37-123.151, 45-37-123.195 am'd.
Law enforcement, schools, provide for Madison Academy, Briarwood Presbyterian Church, and Briarwood Christian School to employ police officers, Sec. 16-22-1 am'd.
Civil procedure, Asbestos Trust Claims Transparency Act, disclosure of all viable asbestos trust claims required, Secs. 6-5-690 to 6-5-696 added.
Civil procedure, Asbestos Trust Claims Transparency Act, disclosure of all viable asbestos trust claims required, Secs. 6-5-690 to 6-5-696 added.
Small Businesses and the work of Alabama Small Business Commission, commended
Small Businesses and the work of Alabama Small Business Commission, commended
Miller, Gordon Wayne, Jr., death mourned
White, William Benny, death mourned
White, William Benny, death mourned
Miller, Gordon Wayne, Jr., death mourned