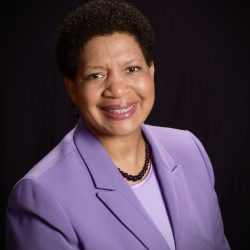 11 South Union Street, Suite 540-B
Montgomery, AL 36130-2950
334-261-0549
Email:

[email protected]
Graduate, Leadership Alabama, 1999
Graduate, Leadership Mobile, 1988
BA, Communication Arts, Spring Hill College
Candidate, Alabama State House of Representatives, District 97, 2018
Representative, Alabama State House of Representatives, District 97, 2013-present
Former Reporter, Business Editor, and City Editor, Mobile Press Register
Former Senior Vice President of Business and Community Relations, Mobile Development Enterprises
Instructor, Bishop State Community College Youth Entrepreneurial Academy
Owner and Operator, Black Classics Books & Gifts
Congressional Information
Former Member, Boards, Agencies and Commissions Committee, Alabama State House of Representatives
Organizations Information
Member, Mobile International Festival, present
Former Member, Mobile Area Chamber of Commerce Board of Directors
Former Member, Senior Citizens Services Board of Directors
Former Member, Mobile Arts Council
Former Member, United Way of Southwest Alabama Board of Directors
Former Member, Leadership Mobile Board of Directors
Former President and Director, National Coalition of 100 Black Women, Mobile Chapter
Member, Young Womans Christian Orgainization of Mobile Board of Directors
Ad valorem tax on real property, senior property tax appraisal for persons age 70 or older on principal residence used for 10 years, appraisal value frozen on immediate prior year, exceptions, rules by Revenue Dept.
Employment wages, establishing minimum wage
Class 2 municipalities, Africatown Redevlopment Corp., established, board of directors, powers, duties of corp.
State sales and use tax increased, phase-in period, sales and use tax on food phased out, exempt by 2007, counties and municipalities prohibited from increasing sales tax on food, Secs. 40-23-2, 40-23-61 am'd.
Voter registration, authorize registration same day as election, Sec. 17-3-50 am'd.
Medicaid, expand program to provide assistane to state residents, provide appropriations for adequate funding
Medicaid, extend postpartum coverage for eligible pregnant women to one year after birth
Pardons and paroles, posthumous pardons, to further provide for who may be pardoned after death, Sec. 15-22-113 am'd.
Election ballots, straight political party ballots prohibited, constitutional amendment ballot measure, contents may not mislead description of, Secs. 17-6-36, 17-6-37. 17-6-38, 17-6-39 repealed; Secs. 17-6-35, 17-6-41, 17-7-21 am'd.
Traffic stops, racial profiling by law enforcement officers, prohibited, written policies, forms for statistics, and reports to Attorney General required, provision for complaints, reporting and collection of data on injuries to officers, required
Taxation, exempt state, county, and municipal sales and use tax from certain entities
Income tax, historic structures, qualified rehabilitation, tax credits extended to 2029, admin. by Historical Commission, Secs. 40-9F-33, 40-9F-36 am'd.
Mobile Co., county-wide personnel board, meetings, qualifications of board members, compensation, hiring disabled person, new employees, dismissals, legal services for board, appeals, Act 470, 1939 Reg. Session am'd, Secs. 45-49-120.04, 45-49-120.06, 45-49-120.07, 45-49-120.10, 45-49-120.21, 45-49-120.22, 45-49-120.31, and 45-49-120.33 am'd.
Election, early voting, in-person voting period, authorized
State Port Authority, allow director to appoint up to eleven employees at executive level, terms of certain contracts exempt from state laws limiting confidentiality, technical revision to code, Secs. 33-1-3, 33-1-39 am'd.
Consumer Protection, Alabama State of Emergency Consumer Protection Act, enhanced criminal penalties provided under certain conditions, Sec. 13A-9-111.1 added; Sec. 13A-9-114, 34-14A-14, 34-31-32, 34-36-16, 34-37-17 am'd.
Health care providers, requiring physicians and health care professionals to report certain types of injuries and illnesses to police or appropriate law enforcement authorities
Discrimination in wages, prohib., retaliation against employee who brings charge of wage discrimination, prohib., penalties
Discrimination in wages, prohib., retaliation against employee who brings charge of wage discrimination, prohib., penalties
Parker, Daisy Love, death mourned
McGill-Toolen Boys and Girls Basketball Teams, outstanding athletic achievement, commended
Billa, Justin Taylor, death mourned
Truevine Missionary Baptist Church, 135th anniversary, commended
Class 2 municipalities (Mobile), motor vehicles, inoperable, procedure to abate as nuisances
Billa, Justin Taylor, death mourned
Hunt, Lillian Bracy, death mourned
Portis, Luberta Westry, death mourned
Davis, John Stanford, death mourned