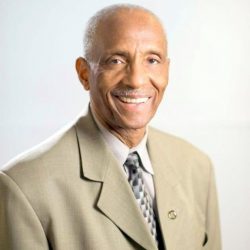 11 South Union Street, Room 540-D
Montgomery, AL 36130-2950
334-261-0566
Email:

[email protected]
Candidate, Alabama State House of Representatives, District 84, 2018
Representative, Alabama State House of Representatives, District 84, 2010-present
Former Employee, American Buildings
Congressional Information
Member, Southeast Alabama Regional Planning and Development Commission, present
Member, Barbour County Commission
Organizations Information
Member, Barbour County Concerned Citizens, present
Member, Barbour County Democratic Executive Committee, present
Member, Tabernacle Baptist Church
Member, Barbour County Hospital Board, present
Ad valorem tax on real property, senior property tax appraisal for persons age 70 or older on principal residence used for 10 years, appraisal value frozen on immediate prior year, exceptions, rules by Revenue Dept.
Taxation, County Boards of Equalization, valuation procedures further provided, Secs. 40-2-18, 40-3-21, 40-3-25, 40-7-25 am'd.
State sales and use tax increased, phase-in period, sales and use tax on food phased out, exempt by 2007, counties and municipalities prohibited from increasing sales tax on food, Secs. 40-23-2, 40-23-61 am'd.
Voter registration, authorize registration same day as election, Sec. 17-3-50 am'd.
Medicaid, expand program to provide assistane to state residents, provide appropriations for adequate funding
Medicaid, extend postpartum coverage for eligible pregnant women to one year after birth
Election ballots, straight political party ballots prohibited, constitutional amendment ballot measure, contents may not mislead description of, Secs. 17-6-36, 17-6-37. 17-6-38, 17-6-39 repealed; Secs. 17-6-35, 17-6-41, 17-7-21 am'd.
Board of Cosmetology and Barbering, provide for the licensure and regulation of mobile salons, Sec. 34-7B-30 added; Sec. 34-7B-1 am'd.