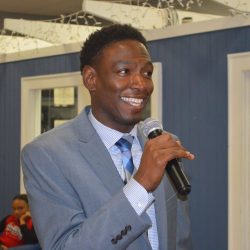 11 South Union Street, Suite 530
Montgomery, AL 36104
334-261-9505
Email:

[email protected]
BS, Sports Management, North Carolina State University, 2004-2008
Representative, Alabama State House of Representatives, District 83, 2018-present
Candidate, Alabama State House of Representatives, District 83, 2018
Site Manager, The Curtis House, Limited Liability Company, 2017-present
Fitness Instructor, Opelika Sportsplex Fitness Center, 2013-2015
Fitness Instructor, Greater Peace Health Ministry, 2014-present
Athlete, Saskatchewan Roughrider Football Club Incorporated
Founder, Elevate Your Grind, Incorporated
Organizations Information
Member, Greater Peace Missionary Baptist Church, present
Member, 100 Black Men of Opelika/Auburn, present
Coordinator, STEM-U-LATOR Program, 2015
Former Member, Opelika Community of Hope Advisory Board
Member, Opelika High School Career Tech
State sales and use tax increased, phase-in period, sales and use tax on food phased out, exempt by 2007, counties and municipalities prohibited from increasing sales tax on food, Secs. 40-23-2, 40-23-61 am'd.
Expungement, criminal records, allow a person to refuse to divulge an expungement, limited access to conviction records provided, penalties, exceptions, Sec. 5-22-6.1 added; Sec. 15-27-1 am'd.
Voting, automatic voter registration, process established
Voter registration, authorize registration same day as election, Sec. 17-3-50 am'd.
Medicaid, expand program to provide assistane to state residents, provide appropriations for adequate funding
Medicaid, extend postpartum coverage for eligible pregnant women to one year after birth
Election ballots, straight political party ballots prohibited, constitutional amendment ballot measure, contents may not mislead description of, Secs. 17-6-36, 17-6-37. 17-6-38, 17-6-39 repealed; Secs. 17-6-35, 17-6-41, 17-7-21 am'd.
Criminal procedure, asset forfeiture for drug offenses provided, Alabama Criminal Forfeiture Process Act, Secs. 20-2-93 repealed
Corrections Dept., inmates being released, application for nondriver identification authorized, Sec. 14-10-1 am'd.
State employees, cost-of-living increase for fiscal year beginning October 1, 2020.
Taxation, exempt state, county, and municipal sales and use tax from certain entities
Education, grades K-12, yoga, authorize local boards of education to offer to students
Motor vehicles, electric bicycles, operation and regulation provided, Sec. 32-5A-267 added; Secs. 32-1-1.1, 32-12-20, 32-12A-1 am'd.
Russell Co., coroner, salary increased, Act 2002-448, 2002 Reg. Sess., am'd.
Motor vehicles, electric bicycles, operation and regulation provided, Sec. 32-5A-267 added; Secs. 32-1-1.1, 32-12-20, 32-12A-1 am'd.
Education, grades K-12, yoga, authorize local boards of education to offer to students
Education, grades K-12, yoga, authorize local boards of education to offer to students