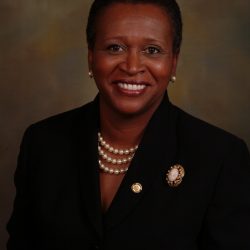 Position: State Representative - District 82
Party: Democratic
Location: Tuskegee, AL - Macon County
Birthday: April 15, 1952

68
11 South Union Street, Room 517-B
Montgomery, AL 36130-2950
334-261-0541
Email:

[email protected]
BS, Business Administration, Tuskegee University
MEd, Personnel Administration, Tuskegee University
Candidate, Alabama State House of Representatives, District 82, 2018
Representative, Alabama State House of Representatives, District 82, 2005-present
Work Study Officer, Tuskegee University, 1979-1982
Deans Office, Tuskegee University, 1974-1979
Assistant Director, Tuskegee University
Consultant, United States Department of Health and Human Services
Consultant, Mississippi State Board of Community Colleges
Director, Office of Financial Aid, Tuskegee University
Director of Student Services, Alabama Department of Postsecondary Education
Employee, School of Veterinary Medicine, Tuskegee University
Congressional Information
Vice President, Democrats of the 82nd District
Former Member, Internal Affairs Committee, Alabama State House of Representatives
Organizations Information
Elder, Westminster Presbyterian Church, Tuskegee, present
Member, Tuskegee University Board of Trustees, present
Member, Tuskegee Alumnae Chapter, Delta Sigma Theta, Incorporated, present
Member, New South Coalition, present
Member, Lee County Democratic Club, present
Member, Lee County Voters League, present
Member, Macon County ADC, present
Member, Lee County ADC, present
Member, Board of Directors, Aid to Inmate Mothers, present
Member, Auburn University Governmental and Economic Community Development Advisory Council, present
Member, Tuskegee Area Chamber of Commerce, present
Chair, All-Alabama Academic Team Program
Former President, Tuskegee Alumnae Chapter
Member, Board of Directors, Macon-Russell Community Action, present
Member, Board of Directors, Delta Sigma Theta Sorority, Incorporated, Tuskegee Alumni Chapter, present
Member, Alabama Counseling Association
Member, Ladies Auxiliary Alabama Sheriff's Association
Member, Alabama Association of Collegiate Registrars and Admissions of and Admissions Officers
Member, Alabama, Southern, and National Associations of Student Financial Aid Administrators
Macon Co., co. commission authorized to levy add'l sales and use tax for ambulance service, Act 2019-337, 2019 Reg. Sess., am'd; Secs. 45-44-247.02, 45-44-247.08 am'd.
Public schools, require a child successfully complete kindergarten before being admitted to the first grade, Sec. 16-28-4 am'd.
Children First Trust Fund, appropriations from for fiscal year ending September 30, 2021, use of allocation pursuant to Section 41-15B-2.2 and this act, tobacco settlement revenues deposited in fund within 30 days of receipt, Finance Director to notify each agency of allocation, appropriations conditional on tobacco revenues, appropriation of additional tobacco settlement funds, audit, Children's Affairs Department to report to Legislature and Children's Policy Council, appropriations from General Fund to various entities
Macon Co., bingo, may be played on electronic machines authorized by the National Indian Gaming Commission, const. amend.
Macon Co., occupational privilege license fee, authorized, application of the fee further provided, Act 97-522, 1997 Reg. Sess., am'd; Sec. 45-44-244.31 am'd.
Macon Co., sales and use tax, co. commission to levy, distrib. of proceeds to fund ambulance service for citizens, penalties
Public schools, require a child successfully complete kindergarten before being admitted to the first grade, Sec. 16-28-4 am'd.
Macon Co., bingo, may be played on electronic machines authorized by the National Indian Gaming Commission, const. amend.
Children First Trust Fund, appropriations from for fiscal year ending September 30, 2019, use of allocation pursuant to Section 41-15B-2.2 and this act, tobacco settlement revenues deposited in fund within 30 days of receipt, Finance Director to notify each agency of allocation, appropriations conditional on tobacco revenues, appropriation of additional tobacco settlement funds, audit, Children's Affairs Department to report to Legislature and Children's Policy Council, appropriations from General Fund to various entities
Tuskegee University clarifying that governing board is board of trustees, State Superintendent of Education removed from board, Secs. 16-57-1, 16-57-5 am'd.
Children First Trust Fund, appropriations from for fiscal year ending September 30, 2019, use of allocation pursuant to Section 41-15B-2.2 and this act, tobacco settlement revenues deposited in fund within 30 days of receipt, Finance Director to notify each agency of allocation, appropriations conditional on tobacco revenues, appropriation of additional tobacco settlement funds, audit, Children's Affairs Department to report to Legislature and Children's Policy Council, appropriations from General Fund to various entities
Rev. C.L. Daniel, commended
Rev. C.L. Daniel - Commended
Harris Barrett School Alumni, recognized
Harold Deon Powell Memorial Highway, portion of U.S. Highway 80 in Macon Co., named
Child care facilities, daycare centers defined to include preschools, church based, licensing required under certain conditions, criminal history background checks required, Sec. 38-7-21 added; Secs. 13A-6-29, 38-7-2, 38-7-3, 38-13-2, 38-13-3 am'd.
Bandy, Representative George C., Sr., death mourned