Last updated 7 months ago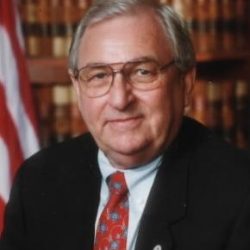 General Information
The information provided below on Joe Faust from Fairhope, AL is meant to educate voters and comes from a variety of sources. If anything is incorrect or you would like to contribute to this page, please let us know on this page.
Position: State Representative - District 94
Party: Republican
Location: Fairhope, AL - Baldwin County
Birthday: September 13, 1940

80
Known contact information for Joe Faust from Fairhope, AL.
Known educational history for Joe Faust from Fairhope, AL.
Attended, Business, Faulkner Community College, 1968-1969
Attended, Marietta-Johnson School of Organic Medicine
Known political history for Joe Faust from Fairhope, AL.
Candidate, Alabama State House of Representatives, District 94, 2018
Representative, Alabama State House of Representatives, District 94, 2002-present
Commissioner, Baldwin County, 1996-1998, 2000-2002
Vice Chair, Baldwin County Commission, 2000-2001
Known professional history for Joe Faust from Fairhope, AL.
Salesperson, Woodman of the World Life Insurance Company, 1981-1993
Owner, Commercial Insulation Company, 1963-1981
United States Army Alabama National Guard, Berlin, 1958-1966
Regional Sales Manager, Baldwin County
Regional Sales Manager/Supervisor, Retail Milk Business
Congressional Information
Known congressional history for Joe Faust from Fairhope, AL.
Chair, Economic Development Committee, 1996-2000
Former Member, County and Municipal Government Committee, Alabama State House of Representatives
Organizations Information
Known organizational history for Joe Faust from Fairhope, AL.
Member, Faith Baptist Church of Fairhope, present
Board Member, Marietta Johnson School of Organic Education, 1990-present
Former Board Member, Eastern Shore Chamber of Commerce
Member, Mason, Greeno Lodge 598
Former Board Member, Fellowship Christian Athletes
Election History
Joe Faust from Fairhope, AL has participated in elections listed below in the state of Alabama.
Time; to adopt Daylight Savings Time statewide if Congress amends Federal law to allow it.
Legislature, to call itself into a special session under certain conditions authorized, const. amend.
Pharmacy benefits managers, practices relating to patient steering, price discrimination, fiduciary duty to client, price disclosure, etc. regulated, Dept of Insurance, duties and authorities revised, Act 2019-457, 2019 Reg. Sess., sections amended and renumbered; Secs. 27-45A-6 to 27-45A-11, inclusive, 27-45A-13 added; Secs. 27-45A-3, 27-45A-4, 27-45A-5 am'd.
Ad valorem tax on real property, senior property tax appraisal for persons age 70 or older on principal residence used for 10 years, appraisal value frozen on immediate prior year, exceptions, rules by Revenue Dept.
Board of Trustees, Ala. Community College System, members may serve two consecutive four-year terms, Sec. 16-60-111 am'd.
Hunting, feral swine and coyote hunting at night permitted with an appropriate license under certain circumstances, Sec. 9-11-235 am'd.
Taxation, County Boards of Equalization, valuation procedures further provided, Secs. 40-2-18, 40-3-21, 40-3-25, 40-7-25 am'd.
Utilities, governmental entities, prohibited from adopting or enforcing policies that prohibit the connection or reconnection of utility services
Wine, authorizing common carriers to make delivery of alcoholic beverages to residents over 21, to create a wine direct shipper permit to allow wine manufacturers to ship their table wine directly to residents, Sec. 28-3A-6.1 added; Sec. 28-1-4 am'd.
Criminal code, offenses against public order, firearms, concealed pistols, concealed carry permit, constitutional carry, pistol permits, Secs. 9-11-304, 13A-11-52, 13A-11-71, 13A-11-73, 13A-11-74 repealed; Secs. 13A-11-7, 13A-11-50, 13A-11-55, 13A-11-61.2, 13A-11-62, 13A-11-75, 13A-11-85, 13A-11-90 am'd.
Tax Assessor or Revenue Commissioner, homestead exemptions, electronic verification at the discretion of tax assessing official, Sec. 40-9-21.1 am'd.
Income tax, historic structures, qualified rehabilitation, tax credits extended to 2029, admin. by Historical Commission, Secs. 40-9F-33, 40-9F-36 am'd.
Consumer Protection, Alabama State of Emergency Consumer Protection Act, enhanced criminal penalties provided under certain conditions, Sec. 13A-9-111.1 added; Sec. 13A-9-114, 34-14A-14, 34-31-32, 34-36-16, 34-37-17 am'd.
Baldwin Co., Barnwell Landmark District, annexation of property in district prohibited by local law, exception, const. amend.