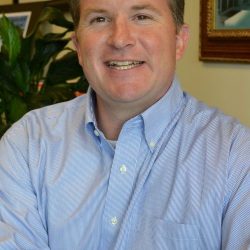 Position: State Representative - District 79
Party: Republican
Location: Auburn, AL - Lee County
Birthday: September 5, 1976

44
11 South Union Street, Suite 522-A
Montgomery, AL 36130-2950
334-261-0506
Email:

[email protected]
MBA, Business Administration, Auburn University, 2000
Graduated, Agriculture, Auburn University, 1994-1999
Attended, Agriculture and Economic Development, Alabama Cooperative Extension Service Agricultural and Business Leadership Program
Candidate, Alabama State House of Representatives, District 79, 2018
Representative, Alabama State House of Representatives, District 79, 2016-present
Battalion Chief, City of Auburn Fire Department, present
Owner and Franchisee, Two Men and a Truck, present
Realtor, Berkshire Hathaway HomeServices, present
Organizations Information
Member, Cornerstone Church, present
Member, Auburn Chamber of Commerce Board, present
Member, Rotary Club, 2015-present
Education Retirees' Trust Fund Funding Act, Education Retirees Trust Fund created in State Treasury as permanent trust to fund periodic bonus checks for education retirees, duties of TRS Board of Control specified
Education, providing for an education assistamce program for the children of service persons, Sec. 16-64-6, 36-21-102 am'd.
Math and Science Teacher Education Program, computer science teachers included in student loan repayment program, certain other qualifed teachers may earn certification in math, science, or computer science to participate, requirements per participation modified, Secs. 16-5-54.1, 16-5-54.2, 16-5-56 added; Secs. 16-5-51 to 16-5-55, inclusive, am'd.
Motor vehicles, automated commercial motor vehicles and vehicles with teleoperation systems, approval by ALEA of vehicle required, criminal penalties, routes approval by Transportation, adoption of rules, Act 2019-496, 2019 Reg. Sess., am'd; Secs. 32-9B-1, 32-9B-2, 32-9B-3, 32-9B-6, 32-9B-7 am'd.
Taxation, tax credit, authorized for the cost of acquisition and construction of a qualified storm shelter
Emergency Management Agency, shelters, to adopt guidelines for identifying and designating safer place shelters throughout the state
National Guard benefits, increase survivor and education benefits, Secs. 31-3-2, 31-6-4, 31-12-1, 31-12-2 am'd.
Education, National Guard, to limit amount of private tuition reimbursed to eligible guard members, Secs. 31-10-20 to 31-10-25, inclusive, repealed; Secs. 31-10-2, 31-10-3, 31-10-4.1 am'd.
Circuit clerks, qualifications for supernumerary status revised, Sec. 12-17-140 am'd.
Taxation, tax credit, authorized for the cost of acquisition and construction of a qualified storm shelter
Uniform Residential Landlord and Tenant Act, landlord duties, smoke alarms required, Sec. 35-9A-204 am'd.
Taxation, Alabama Innovation Act, tax credit for qualified research expenses, provided, Secs. 40-18-470 to 40-18-475, inclusive, added.
Motor vehicles, autonomous vehicles, defined, operation by remote human operator, duties after accident, Transportation Dept to have jurisdiction over
Auburn, alcoholic beverages, Sunday sales upon approval of city council
Food service establishments, require grease traps to having locking manhole covers
Emergency medical technicians or paramedics, certification, tuition reimbursement program by community colleges, Ala. Fire College, and Univ. of South Alabama, Volunteer Rescue Squad Tuition Reimbursement Act of 2018.
Education, Alabama Math and Science Teacher Education Program (AMSTEP) created, ACHE to administer, loan repayment awards to eligible public school math and science teachers in underserved areas of state
Jones, Jay, Sheriff of the Year, commended
Jones, Jay, Sheriff of the Year, commended
Jones, Jay, Sheriff of the Year, commended