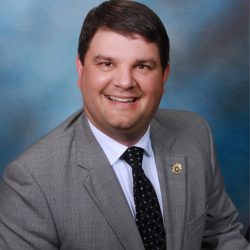 11 South Union Street, Suite 417-F
Montgomery, AL 36104
334-261-0424
Email:

[email protected]
Graduated, Federal Bureau of Investigation Mobile Division Citizen's Academy, 2013
JD, Samford University Cumberland School of Law, 2002-2005
BA, Political Science, University of Alabama, 1998-2002
Representative, Alabama State House of Representatives, District 96, 2018-present
Candidate, Alabama State House of Representatives, District 96, 2018
Attorney, Davis & Fields, Professional Company, 2019-present
Assistant District Attorney, Mobile County District Attorney's Office, 2011-present
Assistant District Attorney, Baldwin County District Attorney's Office, 2006-2011
Associate, The Huntley Firm, 2005-2006
Organizations Information
Chairman, Baldwin County Personnel Board Grievance Committee, present
Participant, Leadership Baldwin, 2015
Member and Elder, Coastal Church, 2013-present
Congressional District 1 Vice Chair and Former Special Events Coordinator, Young Republican Federation of Alabama, 2009-present
Member and Former Chairman, State of Alabama Republican Party Executive Committee, 2009-present
Member and Former Chairman, Baldwin County Young Republicans, 2007-present
Member, Baldwin County Department of Human Resources Board of Directors
Member, Fairhope/Point Clear Rotary Youth Center Board of Directors
Member, The Family Center Board of Directors
Participant, Leadership B
Class 2 municipalities, Africatown Redevlopment Corp., established, board of directors, powers, duties of corp.
Crimes and offenses, crimes of riot and inciting to riot, harassment, and assault II, amended, crimes of assault against a first responder, aggravated riot, and unlawful traffic interference, created, mandatory holding period for certain violations, provided, mandatory incarceration period for certain violations, provided, exceptions to sovereign immunity, further provided, restrictions on distribution of revenue to defunding jurisdictions, provided, Secs. 13A-11-3.1, 13A-11-5.1, 13A-11-8.1 added; Secs. 12-25-32, 13A-6-21, 13A-6-132, 13A-11-1, 13A-11-3, 13A-11-4, 13A-11-8, 13A-11-70, 15-13-2, 36-1-12, 36-2-1 am'd.
Wine, authorizing common carriers to make delivery of alcoholic beverages to residents over 21, to create a wine direct shipper permit to allow wine manufacturers to ship their table wine directly to residents, Sec. 28-3A-6.1 added; Sec. 28-1-4 am'd.
Jurors, to receive state mileage rate for court attendance, Sec. 12-19-210 am'd.
Doxing, crime of created, penalties
Joint Legislative Oversight Committee on Obligation Transparency, created, membership, compensation, powers, and duties, provided
Sheriffs, not required to be conservators, Sec. 26-2-27 repealed; Secs. 26-2-50, 26-2A-138 am'd.
Consumer protection, deceptive trade practices, pyramid sales structure, further provided, Secs. 8-19-3, 8-19-5 am'd.
Building Exceptional School Board Team Act (BEST), provides further for boardsmanship standards, training, and discipline of local bd. of education members, Sec. 16-1-41.1 repealed; Secs. 16-8-1, 16-11-2 am'd.
Time; to adopt Daylight Savings Time statewide if Congress amends Federal law to allow it.
Saraland, municipal court, warrant recall fee authorized, distrib. to municipal corrections fund
Income tax, historic structures, qualified rehabilitation, tax credits extended to 2029, admin. by Historical Commission, Secs. 40-9F-33, 40-9F-36 am'd.
Crimes and offenses, crime of female genital mutilation established, criminal penalties provided
Abortion, physicians, duty of care owed to babies born alive after failed abortion, criminal penalties, definitions further provided
Criminal procedure, to allow a protected person to be offered protection in criminal prosecutions for physical offenses, sexual offenses, and violent offenses, protected person defined, use of anatomically correct dolls or mannequins during testimony of a child under 12 or a protected person, authorized, Sec. 15-25-7 added; Sec. 15-25-33 repealed; Secs. 15-25-1, 15-25-2, 15-25-3, 15-25-5, 15-25-6, 15-25-30, 15-25-31, 15-25-32, 15-25-34, 15-25-36, 15-25-37, 15-25-38, 15-25-39 am'd.
Class 2 mun. (Mobile), municipal ordinances, all courts of this state to take judicial notice, Sec. 11-45-11 am'd.
Telephone communications, knowing and intentionally misleading use of inaccurate caller identification information, prohibited
Consumer Protection, Alabama Consumer Privacy Act, created, allow consumers to opt in or out to sale of personal information with certain conditions, require business collecting data to make certain disclosures, violation or deletion of, Deceptive Trade Practices Act
Sheriffs, term of office, to commence following election, technical revisions to term of county commissioner, Sec. 36-3-4 am'd.
Workers' compensation, firefighters, law enforcement officers, diagnosed with post-traumatic stress disorder, reimbursed for certain out-of-pocket expenses, co's and municipalities required to maintain certain disability insurance coverage
Trusts, Alabama Uniform Trust Decanting Act, failure to receive notice further provided, Secs. 19-3D-7, 19-3D-9 am'd.
Department of Insurance, transfer of certain funds from Insurance Dept. Fund to Strengthen Alabama Homes Fund by Commissioner of Insurance authorized
Municipalities, authorized to use electronic records and signatures in the conduct of its affairs, Secs. 8-1A-17, 8-1A-18 am'd.
Baldwin County, court costs, add'l levied in circuit and district court civil and criminal cases for operation and administration of, mental health court
Bail, criminal cases, creates Aniah's law, const. amend
Bail, to provide for an additional offense under which an individual can be denied bail, pretrial detention hearing under certain circumstances provided, Secs. 15-13-2, 15-13-3, 15-13-7, 15-13-104, 15-13-105, 15-13-106 am'd.
Dental Examiners, Board of, sunset law review, continued until Oct 1, 2025.
Nursing Home Administrators, Board of Examiners of, sunset law review, continued until Oct 1, 2025.
Chiropractic Examiners, State Board of, sunset law review, continued until Oct 1, 2025.
Manufactured Housing Commission, sunset law review, continued until Oct 1, 2025.
Consumer Protection, Alabama State of Emergency Consumer Protection Act, enhanced criminal penalties provided under certain conditions, Sec. 13A-9-111.1 added; Sec. 13A-9-114, 34-14A-14, 34-31-32, 34-36-16, 34-37-17 am'd.
Licensing boards, commissions required to notify new members of potential violation for receiving more than one compensation, Sec. 41-9A-3 added.
Supervision of violent offenders, to require electronic monitoring for inmates on work release in certain circumstances, Secs. 14-8-1, 14-8-2 am'd.
Spanish Fort. corp. limits alt.
Spanish Fort, corp. limits alt.
Baldwin Co., Sheriff's Office Personnel Merit System, qualifications of members further provided, election process amended, process for appeal from decisions of the board further provided, Secs. 45-2-234.05 to 45-2-234.09, inclusive, am'd
Class 2 mun. (Mobile), municipal ordinances, all courts of this state to take judicial notice, Sec. 11-45-11 am'd.
Criminal procedure, to allow a protected person to be offered protection in criminal prosecutions for physical offenses, sexual offenses, and violent offenses, protected person defined, use of anatomically correct dolls or mannequins during testimony of a child under 12 or a protected person, authorized, Sec. 15-25-7 added; Sec. 15-25-33 repealed; Secs. 15-25-1, 15-25-2, 15-25-3, 15-25-5, 15-25-6, 15-25-30, 15-25-31, 15-25-32, 15-25-34, 15-25-36, 15-25-37, 15-25-38, 15-25-39 am'd.
Consumer Protection, Alabama State of Emergency Consumer Protection Act, enhanced criminal penalties provided under certain conditions, Secs. 13A-9-114, 34-8-6, 34-14A-14, 34-31-32, 34-36-16, 34-37-17 am'd.
Supervision of violent offenders, to require electronic monitoring for inmates on work release in certain circumstances, Sec. 14-8-2 am'd.
Supervision of violent offenders, require electronic monitoring for release on bail for certain offenses, Sec. 15-13-2 am'd.
Workers' compensation, occupational disease further defined, includes mental disease or disorder for emergency responders, Sec. 25-5-110 am'd.
Baldwin Co., tax on hemp production, alternative nicotine devices, and CBD products, funds to be used to create mental health diversionary program
Crimes and offenses, provide that a judge may split a sentence for misdemeanor convictions, Sec. 15-18-8 am'd.
Courts, Alabama Court Cost Commission, established, const. amend.
Crimes and offenses, include additonal activity that would constitute the crime of receiving stolen property in the second degree, Sec. 13A-8-18 am'd.
Baldwin Co., Law Library and Judicial Administration Fund, court costs collected for operation, further authorized, Sec. 45-2-80.87 am'd.
Sexual abuse, enhanced sentence for violation of sex abuse, created, Sec. 13A-6-67 am'd.
Mobile Co., court costs, additional in circuit and district court, judicial admin. funds established, distrib. for staffing of courts and circuit clerk's office