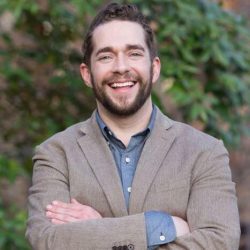 11 South Union Street, Suite 539-E
Montgomery, AL 36104
334-261-0543
Email:

[email protected]
BA, English/Political Science, University of Alabama at Birmingham, 2005-2010
Representative, Alabama State House of Representatives, District 54, 2018-present
Candidate, Alabama State House of Representatives, District 54, 2018
Education and Prevention Coordinator/B-CHIP Program Director, Birmingham Aquired Immune Deficiency Syndrome (AIDS) Outreach (BAO), 2015-present
Youth Prevention Coordinator, Birmingham Aquired Immune Deficiency Syndrome (AIDS) Outreach (BAO), 2013-2015
Membership Services Representative, MedjetAssist, 2011-2013
Testing Outreach Coordinator, Birmingham Aquired Immune Deficiency Syndrome (AIDS) Outreach (BAO), 2013
Corporal, United States Marine Corps, 2005-2009
Organizations Information
Co-Chair, Human Immunodeficiency Virus (HIV) Prevention Network, 2016-present
Human Immunodeficiency Virus (HIV) Tester/Counselor, Spirit of Luke Charitable Foundation, 2013-present
OraQuick Counselor/Health Educator, 1917 Clinic, 2012-present
Co-Founding Member, Alabama Veterans Initiative Board, 2009-2012
Motor vehicles, Peer-to-Peer Car Sharing Program Act, operation of programs provided for
State sales and use tax increased, phase-in period, sales and use tax on food phased out, exempt by 2007, counties and municipalities prohibited from increasing sales tax on food, Secs. 40-23-2, 40-23-61 am'd.
Wine, authorizing common carriers to make delivery of alcoholic beverages to residents over 21, to create a wine direct shipper permit to allow wine manufacturers to ship their table wine directly to residents, Sec. 28-3A-6.1 added; Sec. 28-1-4 am'd.
Voter registration, authorize registration same day as election, Sec. 17-3-50 am'd.
Medicaid, expand program to provide assistane to state residents, provide appropriations for adequate funding
Medicaid, extend postpartum coverage for eligible pregnant women to one year after birth
Law enforcement, procedures to create a database to maintain law enforcement information providing civil protections, providing for background checks and pre-employment checks
Elections, absentee ballots, county commission authorized to select locations for receiving absentee ballots
Election ballots, straight political party ballots prohibited, constitutional amendment ballot measure, contents may not mislead description of, Secs. 17-6-36, 17-6-37. 17-6-38, 17-6-39 repealed; Secs. 17-6-35, 17-6-41, 17-7-21 am'd.
Criminal procedure, asset forfeiture for drug offenses provided, Alabama Criminal Forfeiture Process Act, Secs. 20-2-93 repealed
Pregnant Workers Fairness Act, to provide workplace protections against pregnancy discrimination and related medical conditions, Secs. 25-15-1 to 25-15-7, inclusive, added; Secs. 25-2-2, 25-2-7 am'd.
State employees, cost-of-living increase for fiscal year beginning October 1, 2020.
Elder abuse, require redaction of contract information from court documents released to the public, to clarify that an elderly person of sound mind or body may hire legal counsel for representation, Sec. 38-9F-6 am'd.
Wrongful Incarceration, compensation, provided further, Secs. 29-2-156, 29-2-159 am'd.
Pistol permits, active member of U.S. Armed Forces and an honorably discharged veteran, issuance without payment of fee, Sec. 13A-11-75.1 am'd.
Income tax, historic structures, qualified rehabilitation, tax credits extended to 2029, admin. by Historical Commission, Secs. 40-9F-33, 40-9F-36 am'd.
Psychology Interjurisdictional Compact, established to authorize licensed psychologists to practice on a limited basis among compact member states
Psychology Professional Wellness Committee, established within Psychology Examiners board to provide intervention services to impaired licensed professionals, duties, immunity provided, Sec. 34-26-4 added
Taxation, HUB Worldwide, exempt from state, county and municipal sales and use taxes
Athletic Commission, sunset law review, continued until Oct 1, 2023.
Podiatry, State Board of, sunset law review, continued until Oct 1, 2025.
Genetic Counseling, State Board of, sunset law review, continued until Oct 1, 2025.
Athletic Trainers, Board of, sunset law review, continued until Oct 1, 2025.
Taxation, to increase the fee for recording certain mortgages, deeds of trust, contracts of conditional sale, or other instruments of like character and to modify rate and distribution of funds, Sec. 40-22-2 am'd.
Voter registration, authorize registration same day as election, Sec. 17-3-50 am'd.
Water Resources Act, coordination of plans relating to water allocation required, restrictions of use under certain conditions, award of conservation credits to certain consumers, Alabama Water Security and Conservation Act, Secs. 9-10B-31, 9-10B-32 added; Secs. 9-10B-2, 9-10B-3, 9-10B-20, 9-10B-22, 9-10B-23, 9-10B-24 am'd.
Entertainment districts, allow wineries, distilleries, and breweries to sell alcohol for consumption within districts, revise qualifications for certain municipalities to establish, Sec. 28-3A-17.1 am'd.