State Rep. Will Dismukes Honors Dead KKK Leader In Selma As John Lewis Mourned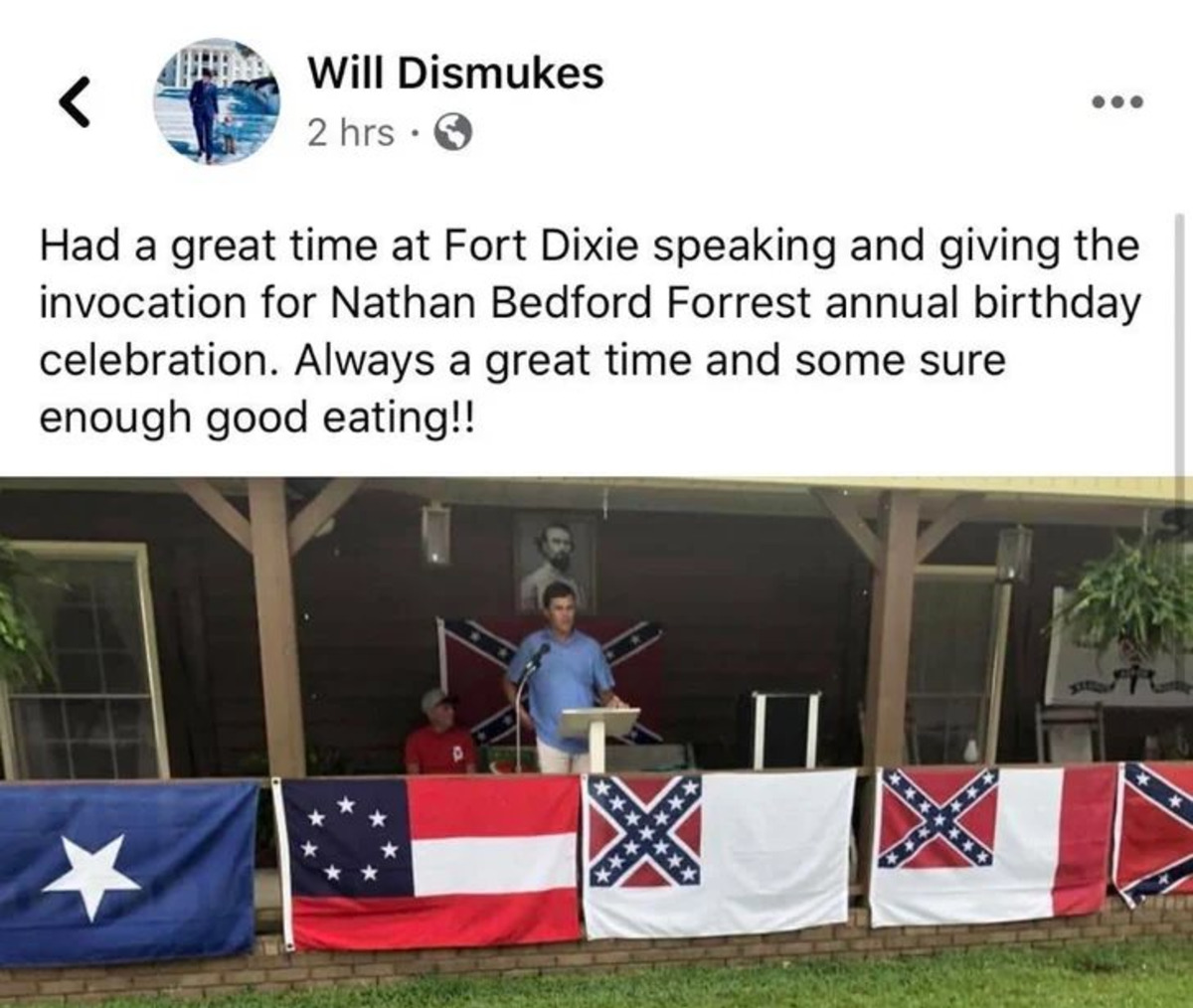 Update: The Alabama Democratic Party has issued a press release that again calls for Will Dismukes to resign.
"Will Dismukes has demonstrated yet again why he is unfit to hold public office," Alabama Democratic Party Executive Director Wad Perry stated. "Americans don't celebrate racists or traitors. Nathan Bedford Forrest was both. And a founder of the Klan. The Alabama Democratic Party renews our call for Dismukes to resign. It's 2020 and it's time for racial extremists like Will Dismukes to go away."
Update: Dismukes issued a statement via Facebook saying, "First and foremost, my post yesterday was in no way related to disrespecting the passing of Rep. John Lewis. That wasn't even a thought in my mind. That is not who I am as a person."
"I am a transparent person. To the point that as a public official I lay it all there for the people to see for better or for worse at times. My post yesterday was as usual me sharing a previous days events. The post was in no way intended to seem as if I was glorifying the Klan or any party thereof. The very atrocities and actions they committed are a disgrace to our country."
"Also, we are all individual members that make up our legislature. I made a post independent of my colleagues. My regret is that I have allowed them to be put in a negative light. If you disagree with me and my beliefs do not hold them under the same umbrella. I can live with a dislike for me, but not fellow members, or members of my own personal family. Our body as a whole is made up of some of the finest people I have ever had the honor of knowing and working with, both Democrat and Republican."
"I close by reiterating that my post was in no way glorifying the Klan or disrespecting the late Rep. John Lewis."
Update: State Rep. Mac McCutcheon (R-Monrovia) and Speaker of the House issued the following statement saying, "Today I released the following statement regarding a controversial social media post by State Rep. Will Dismukes. The Alabama House cannot police the beliefs, statements, & activities of its members outside the Legislature as that is a job best assigned to voters."
"It is important to note, however, that I and many other members of the House devoted our weekend toward honoring an Alabama native and civil rights icon who dedicated his life to securing freedom, liberty ,and equality for all Americans."
State Rep. Anthony Daniels (R-Huntsville) and House Minority leader issued this statement saying, "Will Dismukes' proud display and celebration of a KKK leader's birthday should be condemned by everyone of every political stripe across the state of Alabama, full stop. On the day we celebrated Civil Rights Icon John Lewis, it is an appalling and sad fact that we have elected officials celebrating racist and terrorist groups like the Ku Klux Klan. This is a stain not only on our history, but our present."
"We are well-past the point where we as Alabamians and a society as a whole can entertain this racist nonsense any longer. We should be better than this."
Original Article Below
Alabama State Rep. Will Dismukes (R-Millbrook) is under fire yet again after he posted on Facebook about giving the invocation for Nathan Bedford Forrest, a Confederate Army General and post-war Ku Klux Klan leader, a day before and in the same city, Selma, that civil rights hero John Lewis would be mourned after his death.
It appears that the original Facebook post has been made private or deleted.
Dismukes came under fire last month after it was discovered he was the Chaplain of the Prattville Dragoons: Sons of Confederate Veterans. The Democratic Party called for his immediate resignation.
The Democratic party took to Twitter and used Dismukes' Facebook post to fundraise yesterday, using a screenshot of Dismukes' now-deleted post where he stated, "Had a great time at Fort Dixie speaking and giving the invocation for Nathan Bedford Forrest annual birthday celebration. Always a great time and some sure enough good eating!!"
The Alabama Democratic Party were not the only ones showing their outrage, as other prominent politicians and Alabamians shared their disgust on Twitter.
Kyle Whitmire, an influential columnist for Alabama Media Group tweeted, "While many Alabamians honored the life and legacy of John Lewis today, state Rep. Will Dismukes celebrated the founder of the KKK and boasted about it in his Facebook page."
Alabama State Rep. Danny Garrett (R-Trussville), who is also a GOP House Leader, strongly denounced his Republican colleague saying on Twitter, "I cannot fathom why anyone in 2020 celebrates the birthday of the 1st KKK Grand Wizard. And while the body of a civil rights icon beaten by the Klan lies at state Capitol being honored by GOP/Dem leaders from all over the state. This mentality does not rep my party or my faith."
Devyn Keith, who is the Huntsville City Council President asked Dismukes, "Honest-objective-soft ball here. Can you honestly not see how and or understand why people believe you're promoting a racist and or racism?"
Keith then attached a photo of Forrest's Wikipedia page that described his involvement in the KKK and massacre of 300 black soldiers.
Alabama State Rep. Neil Rafferty (D-Birmingham) had a simple message for the ALGOP, "Y'all need to come get ya boy, @algop #alpolitics"
State Rep. Chris England (D-Tuscaloosa) and also the chair of the Alabama Democratic party, released a statement on Twitter saying, "This weekend while most people were celebrating the life of John Lewis, a true American Hero, Will Dismukes was in the same city celebrating Nathan Forrest, the first Grand Wizard of the KKK. This should clear up any questions about whose side Will Dismukes is on. #alpolitics"
State Senator Cam Ward (R-Alabaster), echoed Rep. Garrett's comments on Twitter in a retweet stating, "Well said my friend."
The Mayor of Tuscaloosa and candidate for Governor of Alabama in 2018, Walt Maddox, expressed his disbelief saying, "No words. Rep. John Lewis represented the better angels of our nature who had the courage of his convictions to make us a more perfect Union. Rep. Lewis is a Patriot worth memorializing. We have to move past monuments & lost causes to realize the full potential of our state."
Dismukes made a run for Alabama's 2nd Congressional seat earlier this year before dropping out and endorsing Jessica Taylor who ultimately lost as well. He currently represents Alabama's 88th district which includes Prattville.
Editors note: The above article has been corrected to show the correct timeline of events. The article originally stated that both events happened on the same day. Dismukes spoke at Fort Dixie the day before John Lewis was mourned in Selma and made his last bridge crossing.
This article will be continuously updated as more information becomes available.
Brent Wilson was born and raised in Huntsville, Alabama and is the Owner and Chief Editor of BamaPolitics.com.
Topic tags: