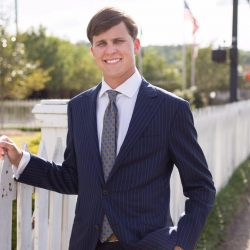 Position: State Representative - District 88
Party: Republican
Location: Millbrook, AL - Autauga County
Birthday: February 12, 1990

31
11 South Union Street, Suite 427-D
Montgomery, AL 36104
334-261-0499
Representative, Alabama State House of Representatives, District 88, 2018-present
Candidate, Alabama State House of Representatives, District 88, 2018
Elmore Co., board of education, school buildings and property, insurance with the State Insurance Fund or with an insurance company, authorized
Elmore Co., constable, office abolished
Elmore County, co. engineer, terms of employment by co. commission, provisions for employment at will deleted, Sec. 45-26-130 am'd.
Elmore Co., alcoholic beverages, draft or keg beer, sale authorized
Criminal code, offenses against public order, firearms, concealed pistols, concealed carry permit, constitutional carry, pistol permits, Secs. 9-11-304, 13A-11-52, 13A-11-71, 13A-11-73, 13A-11-74 repealed; Secs. 13A-11-7, 13A-11-50, 13A-11-55, 13A-11-61.2, 13A-11-62, 13A-11-75, 13A-11-85, 13A-11-90 am'd.
Criminal procedure, asset forfeiture for drug offenses provided, Alabama Criminal Forfeiture Process Act, Secs. 20-2-93 repealed
Telephone communications, knowing and intentionally misleading use of inaccurate caller identification information, prohibited
Consumer Protection, Alabama Consumer Privacy Act, created, allow consumers to opt in or out to sale of personal information with certain conditions, require business collecting data to make certain disclosures, violation or deletion of, Deceptive Trade Practices Act
Sheriffs, term of office, to commence following election, technical revisions to term of county commissioner, Sec. 36-3-4 am'd.
Prattville, alcoholic beverages, authorize the sale of draft beer in growlers, Sec. 45-1A-40.01 am'd.
Elmore Co., lodging tax, co. commission authorized to levy, distrib.
Employees' Retirement System, retirees and beneficiaries, one-time lump-sum additional payment
Double dipping law, allow legislators to sumultaneously work as teachers or school administrators, Sec. 29-1-26 am'd.
Public assistance, certain eligibility requirements for TANF and SNAP revised, fraud detection measures required
Parental rights, provide that a conviction of a parent for rape or incest is a ground for termination of parental rights if the rape or incest resulted in the conception of the child, Sec. 12-15-319 am'd.