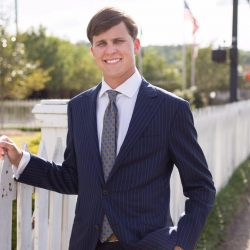 Position: State Representative - District 88
Party: Republican
Location: Millbrook, AL - Autauga County
Birthday: February 12, 1990

30
11 South Union Street, Suite 427-D
Montgomery, AL 36104
334-261-0499
Representative, Alabama State House of Representatives, District 88, 2018-present
Candidate, Alabama State House of Representatives, District 88, 2018
Prattville, alcoholic beverages, authorize the sale of draft beer in growlers, Sec. 45-1A-40.01 am'd.
Elmore Co., lodging tax, co. commission authorized to levy, distrib.
Employees' Retirement System, retirees and beneficiaries, one-time lump-sum additional payment
Double dipping law, allow legislators to sumultaneously work as teachers or school administrators, Sec. 29-1-26 am'd.
Public assistance, certain eligibility requirements for TANF and SNAP revised, fraud detection measures required
Parental rights, provide that a conviction of a parent for rape or incest is a ground for termination of parental rights if the rape or incest resulted in the conception of the child, Sec. 12-15-319 am'd.