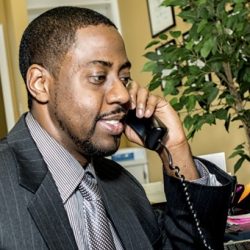 11 South Union Street, Suite 537-E
Montgomery, AL 36130-2950
334-261-0598
Email:

[email protected]
JD, Southern University, 2001
BS, Political Science, Auburn University at Montgomery
Candidate, Alabama State House of Representatives, District 67, 2018
Representative, Alabama State House of Representatives, District 67, 2017-present
Organizations Information
Member, Calvary Missionary Baptist Church, present
Board Member, Board of Directors, Selma & Dallas County Chamber of Commerce
Board Member, Board of Directors, Alabama Lawyers Association
Member, Indigent Defense Review Panel
Member, Pi Sigma Alpha Honor Fraternity
Participant, Alabama State Bar Volunteer Lawyers Program
Municipalities, Chestnut Accountability Municipal Audit Clarification Act, requiring annual, biennial audit for certain municipalities, annual report in lieu of audit for certain municipalities, Sec. 11-43-85 am'd.
Education, life skills instruction may be offered by local bds of education as an elective or component of health education and physical education in grades 6-12, Sec. 16-40-11 added.
Dallas Co., district court, judicial vacancies to be filled by nominations by judicial commission to the Governor, const. amend.
Voting, automatic voter registration, process established
County records, proceeds from campaign finance violations used to digitize records, Sec. 17-5-19.1 am'd.
Absentee voting, authorize without providing excuse, Secs. 17-11-3, 17-11-7 am'd.
Crime of assault, second degree, journalist, intent to cause physical injury to a journalist during the performance of their duties causing physical injury, Sec. 13A-6-21 am'd.
Military leave of absence, private right of action against violators, created, prohibit discrimination against members of the uniformed services for exercising his or her rights, Sec. 31-12-2 am'd.
Ethics, revolving door prohibition, allow former public official or employee to work for same or other public employer, to allow attorneys to represent clients, Sec. 36-25-13.1 added
Absentee voting, authorize without providing excuse, Secs. 17-11-3, 17-11-7 am'd.
Voting, automatic voter registration, process established
Military leave of absence, private right of action against violators, created, prohibit discrimination against members of the uniformed services for exercising his or her rights, Secs. 31-2-13.1, 31-2-13.2 added; Sec. 31-2-13 am'd.
Department of Examiners of Public Accounts, dept. authorized to perform audits of a municipality when fraud is suspected, governing body of a municipality authorized to request an audit under certain circumstances, penalties
Rural municipalities, hiring of retired law enforcement officers
Crime of assault, second degree, journalist, intent to cause physical injury to a journalist during the performance of their duties causing physical injury, Sec. 13A-6-21 am'd.
Local Government Health Insurance Board, optional health coverages or services including on-the-job injuries, coverage authorized, Sec. 11-91A-7 am'd.
Service of veterans in Selma and Dallas Counties - Commended
Ratcliff, Cheryl Curtis Strong, outstanding professional achievement, commended