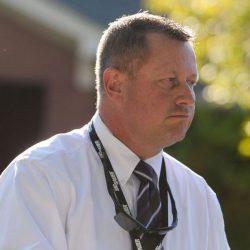 11 South Union Street, Suite 404
Montgomery, AL 36104
334-261-0454
Certified, Criminal Justice/Political Science, Alabama Police Academy, 1994
Certified, Criminal Justice/Political Science, Arkansas Police Academy, 1992
Representative, Alabama State House of Representatives, District 7, 2018-present
Candidate, Alabama State House of Representatives, District 7, 2018
School Safety Liaison Officer, Decatur Police Department, present
Supervisor, Decatur Police Department's Safety Education Unit, present
Lieutenant, Decatur Police Department, City of Decatur, Alabama, 1994-2018
Federal Task Force Officer, Federal Bureau of Investigation's Joint Terrorism Task Force, 2006-2013
Police Officer, Russellville Police Department, Russellville, Arkansas, 1991-1994
Sergeant, United States Air Force, 1986-1990
Certified Instructor, Homeland Security Course Surveillance Detection
Certified Instructor, National Incident Management System
Certified Instructor, Incident Command System
Field Liaison Officer, Alabama Fusion Center
Homeland Security Coordinator, Decatur Police Department
Member, Decatur Police Departments Special Response Unit
Member, Maria Time Security Committee
Member, Alabama All Hazards Incident Management Team
Public Information Officer, Decatur Police Department
Supervisor, Decatur Police Department's Robbery/Homicide Unit
Supervisor, Decatur Police Department's Honor Guard Unit
Supervisor, Decatur Police Department's Street Crimes Unit
Supervisor, Decatur Police Department's Crime Scene Investigations
Organizations Information
Member, Mount Hope Baptist Church, present
Member, Morgan County Industrial Emergency Planning Committee, present
Member, Ohio Valley Sector Maritime Security Committee, present
Chair, Lawrence County Alabama Republican Party, 2014-2018
Member, Lawrence County Community Development Committee, 2010-present
Former State Director, Alabama Law Enforcement Torch Run for Special Olympics, 1995-present
Former Member, Alabama Republican Party State Executive Committee
Former Member, Lawrence County Republican Party Executive Committee
Member, State Board of Education Safe Schools Task Force
Education, public and private schools, to delay fire alarm evacuation for three minutes to check for active shooter
Lawrence Co., service of process fee, increased, service for out-of-state documents, fee provided for, distribution
Crimes and offenses, to provide that it shall be unlawful to shoot or discharge a firearm on school property, Sec. 13A-11-61.1 am'd.
Governor, commutation power, notice requirements provided, const. amend.
Crimes and offenses, law enforcement officers, crime of making a false statement to a law enforcement officer, created
Corrections Dept., rename the Investigation and Intelligence Division, rename correction investigative services officer, require all correctional officers to take an oath prior to performing duties of office, technical revisions, Secs. 14-3-2, 14-3-3, 14-3-4, 14-3-5, 14-3-9, 14-3-12, 14-3-13, 14-3-14, 14-3-15, 14-3-30, 14-3-31, 14-3-32, 14-3-34, 14-3-35, 14-3-36, 14-3-37, 14-3-38, 14-3-40, 14-3-43, 14-3-45, 14-3-47, 14-3-54, 14-3-55, 14-3-57, 14-3-58 am'd.
Concealed carry permits, to create standardized statewide process to issue concealed carry permits for terms of 1 year, 5 years, or permit holder's lifetime, Sec. 13A-11-75.1 repealed; Secs. 13A-11-75, 13A-11-84 am'd.
Firearms, Lifetime Carry Permit
Alabama Security Regulatory Board, bd. auth. to hold hearings and issue subpoenas, fees set by rule of board, classroom training requirements provided and modified by rule of board, practice without license a Class A misdemeanor, Secs. 34-27C-1 to 34-27C-5, inclusive, 34-27C-7 to 34-27C-13, inclusive, 34-27C-16, 34-27C-17, 34-27C-18 am'd.
Health, Alabama Injection-Associated Infectious Disease Elimination Act, authorizing the establishment of local and state programs to combat spread of such diseases
Supernumerary court reporters, death benefits for surviving spouse provided
Education, school safety plans, redesignate code red as school lockdown, Secs. 16-1-44, 36-19-10 am'd.
Criminal procedure, crime victims' compensation, Lisa's Law, entity contract, with convicted felons, escrow account for benefit of crime victims created, procedure, Sec. 41-9-80.1 to 41-9-80.8, inclusive, added; 41-9-80 to 41-9-84, inclusive, repealed.
Civil practice, misappropriation of likeness, statutory claim provided, civil remedies, criminal penalties provided
Governor, commutation power, notice requirements provided, const. amend.
Crimes and offenses, law enforcement officers, crime of making a false statement to a law enforcement officer, created