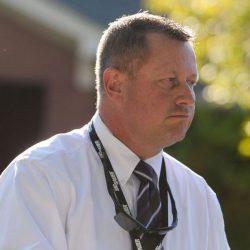 11 South Union Street, Suite 404
Montgomery, AL 36104
334-261-0454
Certified, Criminal Justice/Political Science, Alabama Police Academy, 1994
Certified, Criminal Justice/Political Science, Arkansas Police Academy, 1992
Representative, Alabama State House of Representatives, District 7, 2018-present
Candidate, Alabama State House of Representatives, District 7, 2018
School Safety Liaison Officer, Decatur Police Department, present
Supervisor, Decatur Police Department's Safety Education Unit, present
Lieutenant, Decatur Police Department, City of Decatur, Alabama, 1994-2018
Federal Task Force Officer, Federal Bureau of Investigation's Joint Terrorism Task Force, 2006-2013
Police Officer, Russellville Police Department, Russellville, Arkansas, 1991-1994
Sergeant, United States Air Force, 1986-1990
Certified Instructor, Homeland Security Course Surveillance Detection
Certified Instructor, National Incident Management System
Certified Instructor, Incident Command System
Field Liaison Officer, Alabama Fusion Center
Homeland Security Coordinator, Decatur Police Department
Member, Decatur Police Departments Special Response Unit
Member, Maria Time Security Committee
Member, Alabama All Hazards Incident Management Team
Public Information Officer, Decatur Police Department
Supervisor, Decatur Police Department's Robbery/Homicide Unit
Supervisor, Decatur Police Department's Honor Guard Unit
Supervisor, Decatur Police Department's Street Crimes Unit
Supervisor, Decatur Police Department's Crime Scene Investigations
Organizations Information
Member, Mount Hope Baptist Church, present
Member, Morgan County Industrial Emergency Planning Committee, present
Member, Ohio Valley Sector Maritime Security Committee, present
Chair, Lawrence County Alabama Republican Party, 2014-2018
Member, Lawrence County Community Development Committee, 2010-present
Former State Director, Alabama Law Enforcement Torch Run for Special Olympics, 1995-present
Former Member, Alabama Republican Party State Executive Committee
Former Member, Lawrence County Republican Party Executive Committee
Member, State Board of Education Safe Schools Task Force
Legislature, to call itself into a special session under certain conditions authorized, const. amend.
Criminal law, to modify the criminal penalties for criminal solicitation, attempt, and criminal conspiracy for consistency with Class D felony offenses, Secs. 13A-4-1, 13A-4-2, 13A-4-3 am'd.
Concealed carry permits, statewide standardized issuance and information management, lifetime carry permits created, firearms prohibited person database created, recreation, appeal process provided, operation by Alabama State Law Enforcement Agency (ALEA), Sec. 13A-11-75.1 repealed; Secs. 13A-11-70, 13A-11-75, 22-52-10.1 am'd.
Taxation, County Boards of Equalization, valuation procedures further provided, Secs. 40-2-18, 40-3-21, 40-3-25, 40-7-25 am'd.
Utilities, governmental entities, prohibited from adopting or enforcing policies that prohibit the connection or reconnection of utility services
Crimes and offenses, crimes of riot and inciting to riot, harassment, and assault II, amended, crimes of assault against a first responder, aggravated riot, and unlawful traffic interference, created, mandatory holding period for certain violations, provided, mandatory incarceration period for certain violations, provided, exceptions to sovereign immunity, further provided, restrictions on distribution of revenue to defunding jurisdictions, provided, Secs. 13A-11-3.1, 13A-11-5.1, 13A-11-8.1 added; Secs. 12-25-32, 13A-6-21, 13A-6-132, 13A-11-1, 13A-11-3, 13A-11-4, 13A-11-8, 13A-11-70, 15-13-2, 36-1-12, 36-2-1 am'd.
Wine, authorizing common carriers to make delivery of alcoholic beverages to residents over 21, to create a wine direct shipper permit to allow wine manufacturers to ship their table wine directly to residents, Sec. 28-3A-6.1 added; Sec. 28-1-4 am'd.
Joint Legislative Oversight Committee on Obligation Transparency, created, membership, compensation, powers, and duties, provided
Schools, public K-12, athletic events allowing competition by one biological gender against another prohibited unless the event specifically includes both genders
Crimes and offenses, law enforcement officers, crime of making a false statement to a law enforcement officer, created
Crimes and offenses, to provide that it shall be unlawful to shoot or discharge a firearm on school property, Sec. 13A-11-61.1 am'd.
Lawrence Co., personnel bd., act repealed upon effective date of new co. personnel system Article 12, Ch.40, Title 45 repealed, Sec. 45-40-120 repealed
Firearms, Alabama Firearms Protection Act, prohibitions on enforcement of certain federal firearm laws, provided
State government, Presidental Executive Orders, Legislative Council may order review thereof, prohibition on implementation, provided
Abortion, physicians, duty of care owed to babies born alive after failed abortion, criminal penalties, definitions further provided
Education Dept., state property, Dept. of Edu., has authority to manange the construction and renovation of property that is part of a state educational institution, Sec. 41-4-400 am'd.
Telephone communications, knowing and intentionally misleading use of inaccurate caller identification information, prohibited
Consumer Protection, Alabama Consumer Privacy Act, created, allow consumers to opt in or out to sale of personal information with certain conditions, require business collecting data to make certain disclosures, violation or deletion of, Deceptive Trade Practices Act
Sheriffs, term of office, to commence following election, technical revisions to term of county commissioner, Sec. 36-3-4 am'd.
Workers' compensation, firefighters, law enforcement officers, diagnosed with post-traumatic stress disorder, reimbursed for certain out-of-pocket expenses, co's and municipalities required to maintain certain disability insurance coverage
Bail, criminal cases, creates Aniah's law, const. amend
Bail, to provide for an additional offense under which an individual can be denied bail, pretrial detention hearing under certain circumstances provided, Secs. 15-13-2, 15-13-3, 15-13-7, 15-13-104, 15-13-105, 15-13-106 am'd.
Teachers Retirement System, 30-year service retirement and conversion of sick leave allowed for Tier II, plan members, member contribution rate increased, Secs. 16-25-11.1, 16-25-14, 16-25-21 am'd.
ALEA, felony drug trafficking wiretapping, interception of wire, oral, or electronic communications, Attorney General to authorize to apply for court order for intercept and to apply for intercept orders, disclosure of recorded communications, penalties for violations, Secs. 20-2A-1 to 20-2A-15, inclusive, added; Sec. 15-5-40 am'd
Law enforcement officers, requiring officers to have not less than 16 hours of crisis intervention training
Crimes and offenses, crimes motivated by race, color, religion, national origin, ethnicity, or physical or mental disability, to include employment as a law enforcement officer within the protected class, Sec. 13A-5-13 am'd.
Education, public and private schools, to delay fire alarm evacuation for three minutes to check for active shooter
Lawrence Co., service of process fee, increased, service for out-of-state documents, fee provided for, distribution
Crimes and offenses, to provide that it shall be unlawful to shoot or discharge a firearm on school property, Sec. 13A-11-61.1 am'd.
Governor, commutation power, notice requirements provided, const. amend.
Crimes and offenses, law enforcement officers, crime of making a false statement to a law enforcement officer, created
Corrections Dept., rename the Investigation and Intelligence Division, rename correction investigative services officer, require all correctional officers to take an oath prior to performing duties of office, technical revisions, Secs. 14-3-2, 14-3-3, 14-3-4, 14-3-5, 14-3-9, 14-3-12, 14-3-13, 14-3-14, 14-3-15, 14-3-30, 14-3-31, 14-3-32, 14-3-34, 14-3-35, 14-3-36, 14-3-37, 14-3-38, 14-3-40, 14-3-43, 14-3-45, 14-3-47, 14-3-54, 14-3-55, 14-3-57, 14-3-58 am'd.
Concealed carry permits, to create standardized statewide process to issue concealed carry permits for terms of 1 year, 5 years, or permit holder's lifetime, Sec. 13A-11-75.1 repealed; Secs. 13A-11-75, 13A-11-84 am'd.
Firearms, Lifetime Carry Permit
Alabama Security Regulatory Board, bd. auth. to hold hearings and issue subpoenas, fees set by rule of board, classroom training requirements provided and modified by rule of board, practice without license a Class A misdemeanor, Secs. 34-27C-1 to 34-27C-5, inclusive, 34-27C-7 to 34-27C-13, inclusive, 34-27C-16, 34-27C-17, 34-27C-18 am'd.
Health, Alabama Injection-Associated Infectious Disease Elimination Act, authorizing the establishment of local and state programs to combat spread of such diseases
Supernumerary court reporters, death benefits for surviving spouse provided
Education, school safety plans, redesignate code red as school lockdown, Secs. 16-1-44, 36-19-10 am'd.
Criminal procedure, crime victims' compensation, Lisa's Law, entity contract, with convicted felons, escrow account for benefit of crime victims created, procedure, Sec. 41-9-80.1 to 41-9-80.8, inclusive, added; 41-9-80 to 41-9-84, inclusive, repealed.
Civil practice, misappropriation of likeness, statutory claim provided, civil remedies, criminal penalties provided
Governor, commutation power, notice requirements provided, const. amend.
Crimes and offenses, law enforcement officers, crime of making a false statement to a law enforcement officer, created
Related Images & Screenshots