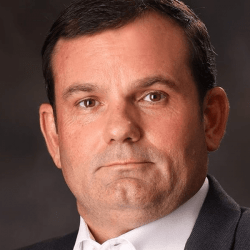 State Representative - District 102
Republican
Political History
Representative, Alabama State House of Representatives, District 102, 2018-present
Candidate, Alabama State House of Representatives, District 102, 2018
Nicotine products, e-cigarettes or electronic nicotine delivery devices, prohibit the use of where smoking is also prohibited, employer may designate specified areas at workplaces, restaurant owners may choose whether to allow or not, Secs. 22-15A-3, 22-15A-4, 22-15A-5, 22-15A-6 am'd.
Mobile Co., personnel board for co. and muns employees, police officer and firefighter positions, pay for initial employees and lists of eligibles, Act 470, 1939 Reg. Sess., am'd.
Alternative nicotine products, regulate advertising, retail sale, retail store inspection, permits, Secs. 28-11-16, 28-11-17, 28-11-18, 28-11-19, 28-11-20 added; Secs. 28-11-2, 28-11-4, 28-11-7, 28-11-8, 28-11-9, 28-11-11, 13A-12-3, 13A-12-3.1 am'd.