Updated: August 22, 2022 at 7:11 AM CST
General Information
Who is Wendell Mitchell?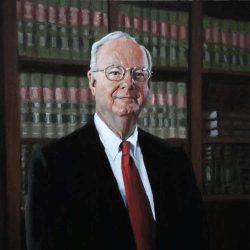 We do not have an introduction for Wendell Mitchell. If you would like to see Wendell Mitchell's introduction appear here, please reach out to Wendell Mitchell. Are you Wendell Mitchell? Fill out our form here.
Status: Deceased
Party: Democrat
Died on February 4, 2012 at the age of 71.
Sponsored Bills
View legislative bills that Wendell Mitchell has sponsored.
Chiropractic Examiners, State Board of, licensure qualifications, testing for applicants, Sec. 34-24-160 am'd.
Alabama Criminal Justice Information Center Commission and the Alabama Criminal Justice Information Center, members, operation, powers, duties, fees, crime of misuse of ACJIC information established, Alabama Statistical Analysis Center established, background checks by licensing agencies, interstate exchange of criminal history information, ratification of compact, penalties, Secs. 41-9-590, 41-9-591, 41-9-592, 41-9-594, 41-9-597, 41-9-600, 41-9-601, 41-9-621, 41-9-622, 41-9-623, 41-9-630 am'd. (2010-20820)
Restaurants, smoking prohibited in, Secs. 22-15A-3, 22-15A-5, 22-15A-6 am'd.
Taxation, purchase of real property used as a residence, exempt from privilege or license tax or recording tax pursuant to Chapter 22, Title 40 of Code of Alabama 1975
Motor vehicles, new passenger vehicle or new truck manufactured within this state, tax rate removed for certain period, Sec. 40-23-2, 40-23-61 am'd.
Assisted living administrators, licensure and regulation, voting members, fees, disciplinary actions, Secs. 34-2A-2, 34-2A-3, 34-2A-11, 34-2A-12, 34-2A-13 am'd.
Real estate, licensing requirements, certain on-site apartment managers, exempt, Sec. 34-27-2 am'd.
Income tax, employment, employers hiring persons receiving unemployment compensation or whose benefits have expired, tax deduction authorized under certain conditions, duties to Revenue Department, Reemployment Act
Chiropractic Examiners, State Board of, licensure qualifications, testing for applicants, Sec. 34-24-160 am'd.
State employees under Merit System, voluntary furlough plan approved by State Personnel Department authorized, Sec. 36-26-26 am'd.; Act 2009-502, 2009 Reg. Sess. am'd.
Alzheimer's Disease Task Force, established to assess the current and future impact of Alzheimer's disease in Alabama, members, duties, Mental Health Department to provide administrative support, report of findings to Governor and Legislature, termination date
Kinship guardianships, kinship guardianship subsidy program, established, procedures for establishing kinship guardianships and legal authority of kinship guardians, Sec. 12-15-301, 12-15-314, 12-15-315, 38-12-2, 38-12-4 am'd.
Real property, transfer fee covenant, void and unenforceable unless notice recorded in certain format, requirements for notice of transfer fee
Agriculture and livestock, regulation of livestock and animal husbandry, sole jurisdiction of Agriculture and Industries Department, State Veterinarian, duties re livestock diseases, etc., exclusive, cruelty to animals, penalties, Secs. 2-4-1, 13A-11-14 am'd.
Ethics law, substantially altered, statement of economic interests, categories revised, Ethics Commission, appointment and confirmation of members, complaints further provided for, definition of lobbying, family members of public employees, personal gain, confidential information, filing of electronic reports, mandatory ethics training, Secs. 36-25-1, 36-25-3, 36-25-4, 36-25-5, 36-25-10, 36-25-14, 36-25-18, 36-25-19, 36-25-20 am'd.; Act 2009-225, 2009 Reg. Sess. am'd.
Private schools, use of terms profit and nonprofit in definition clarified, baseline exemption date changed, Secs. 16-46-1, 16-46-3 am'd.
National Human Trafficking Resource Center Hotline, posting in lounges and on Alcoholic Beverage Control Board Internet website, required, penalties
Human trafficking, crime established, coercion or deception to perform labor or certain sexual activities, prohibited, criminal penalties
Municipalities, Neighborhood Revitalization Authorities, establishment by homeowners and businesses authorized, to manage and coordinate financing for neighborhood projects, tax credits, Neighborhood Revitalization Act
Criminal homicide, common law doctrine requiring death to occur within one year and a day abolished, Sec. 13A-3-4 added
Veterans' Affairs, State Department of, veterans organizations making nominations, Alabama Alliance of the Military Officers Association of America, Inc., added to nominating organizations, Sec. 31-5-3 am'd.; Act 2009-788, 2009 Reg. Sess. am'd.
Veterans, education benefits, qualifications altered, Sec. 31-6-11 am'd.
Tax delinquent properties, Alabama Land Bank Authority, acquisition of property, definition of tax delinquent property altered, board voting procedures altered, civil immunity for board members, holding certain property to be redeemed for taxes, Act 2009-738, 2009 Reg. Sess. am'd.; Secs. 24-9-2, 24-9-4, 24-9-5, 24-9-6, 24-9-7, 24-9-8 am'd.
University of Alabama, board of trustees, age requirement altered, Section 264 (Section 264, Recompiled Constitution of Alabama of 1901, as amended), am'd., const. amend.
Health Care Rights of Conscience Act, health care providers, institutions, and payers right to decline to perform services that violate their consciences, injunctive relief
Code of Alabama 1975, Acts of 2009 Regular Session and Act 2009-814 of the 2009 First Special Session, and certain replacement volumes, codified with certain corrections, 2009 Volume 22E of local permanent laws of certain counties codified, duties of Secretary of State, Sec. 19-3B-816 corrected and amended
Physical Therapy, Board of, members further provided for, Sec. 34-24-192 am'd.; Act 2009-27, 2009 Reg. Sess. am'd.
Children, day care providers, leaving child unattended in a motor vehicle unless supervised by person of certain age prohibited, penalties determined by first, second, or subsequent conviction and whether child is injured or fatally injured, Amiyah White Unattended Children in Motor Vehicle Safety Act
Teachers, principals, and education employees, State Superintendent of Education, revocation of education certificate or termination of employment required for conviction of felony or sex offense involving a child, regarding Teacher Tenure Law, Teacher Accountability Act, and Fair Dismissal Act, Secs. 16-24-8.1, 16-24B-3.1, 36-26-102.1 added; Sec. 16-23-5 am'd.
Alabama Firefighters Annuity and Benefit Fund, established, voluntary participation established for paid and volunteer firefighters, board of commissioners to administer, funding through voluntary payments with ad valorem tax payments, investment of assets by Employees' Retirement System, qualified service, disability and death benefits, annual audits and reports, duties to Insurance Department
Transportation Department, utility relocation expenses related to highways not part of national interstate or defense highways, gross income of utilities eligible for reimbursement increased, Sec. 23-1-5 am'd.
Law enforcement officers, assaults of while performing lawful duty, classified as assault in the second degree, to include off-duty officers employed by a private entity, Sec. 13A-6-21 am'd.
Motor vehicles, distinctive license tags, for out-of-state colleges and universities, distrib. to Education Trust Fund for preventing and lowering rates of high school dropouts, Secs. 32-6-67, 32-6-68 am'd.
Motor Vehicle Franchise Act, substantially altered, Secs. 8-20-3, 8-20-4, 8-20-5, 8-20-7 am'd. (2010-20187)
Fire protection sprinkler systems, State Fire Marshall authorized to issue permits for installation, Secs. 34-33-1, 34-33-2, 34-33-3, 34-33-4, 34-33-5 am'd.
Trails Commission, established in Economic and Community Affairs Department, promotion of Alabama Trails System, advisory board established
Motor vehicles, distinctive license tags, Forestry Commission and Firefighters' Personnel Standards and Education Commission required to prepare lists of persons eligible for, widow or widower of firefighter or volunteer firefighter who dies in line of duty authorized to receive free license tag, Sec. 32-6-272 am'd.
Mini-Code, consumer credit transactions, late charge increased under certain conditions, Sec. 5-19-4 am'd.
Energy Policy, Permanent Joint Legislative Committee on, established, members, duties regarding state energy plan, subcommittees, reporting of recommendations to Legislature and Governor, Legislative Energy Policy Office, established
Commission on Higher Education, chiropractic scholarships, use of funds for certain advanced courses at colleges and universities in this state, Sec. 16-5-11 am'd.
Motor vehicles, text messaging while operating a motor vehicle on public street, road, or highway prohibited, penalties
Theft of livestock, motor vehicles and equipment used in, seizure, condemnation, forfeiture and sale of provided for, proceeds distrib. for State Board of Agriculture and Industries
Housing Finance Authority, authorized to service loans that are not secured by eligible housing units, Secs. 24-1A-2, 24-1A-5 am'd.
Timber and forestry supplies, theft of timber or harvesting equipment and any felony involving unauthorized harvesting, removal, transportation, or disposal of forest products, procedures relating to seizure of certain motor vehicles and equipment further provided for, delivery to regional forester, Secs. 9-13-221, 9-13-222, 9-13-223 am'd.
Child custody disputes, procedures for prevention of child abduction, credible risk for abduction factors, applicable to certain international abductions, emergency measures, Uniform Child Abduction Prevention Act
Boilers and pressure vessels, inspection by Labor Department further provided for, written warnings and civil penalties, fees, inspection of operations, criminal penalties, Secs. 25-12-8, 25-12-11, 25-12-14, 25-12-17 am'd.
Construction Recruitment Institute, removed from oversight of Twenty-first Century Authority and established as independent authority, duties, powers, construction craft training fee disbursed to Recruitment and Training Promotion Fund, certain previously disbursed fees transferred, audit, Secs. 41-10-720, 41-10-721, 41-10-722 added; Secs. 41-10-640, 41-10-641, 41-10-642, 41-10-643, 41-10-700, 41-10-701, 41-10-702, 41-10-703, 41-10-704, 41-10-705 amended and renumbered as 41-10-723, 41-10-724, 41-10-725, 41-10-726, 41-10-727, 41-10-728, 41-10-729, 41-10-730, 41-10-731, 41-10-732; Secs. 41-10-621, 41-10-622, 41-10-626, 41-10-629, 41-10-673 am'd.; Act 2009-561, 2009 Reg. Sess.; Act 2009-563, 2009 Reg. Sess. am'd.
Domestic violence, protection orders, defined, penalties increased, lack of knowledge of order as a defense eliminated, Domestic Violence Protection Order Enforcement Act, Secs. 30-5A-1, 30-5A-2, 30-5A-4 am'd.; Sec. 30-5A-3 amended and renumbered as 13A-6-150
Teachers, principals, and education employees, State Superintendent of Education, revocation of education certificate or termination of employment required for conviction of felony or sex offense involving a child, regarding Teacher Tenure Law, Teacher Accountability Act, and Fair Dismissal Act, Secs. 16-24-8.1, 16-24B-3.1, 36-26-102.1 added; Sec. 16-23-5 am'd.
Protection From Abuse Act, issuance and procedures for issuance of protection orders relating to domestic violence and abuse, plaintiffs further defined according to relationships with defendant, jurisdiction, relationship to uniform acts, petitions, Protection Order Registry at Administrative Office of Courts, criminal penalties repealed, Secs. 30-5-1, 30-5-2, 30-5-3, 30-5-4, 30-5-5, 30-5-6, 30-5-7, 30-5-8 am'd.; Secs. 30-5-9, 30-5-10 repealed
Occupational tax, levy by county or municipality, prohibited, const. amend.
Military leaves of absence, National Disaster Medical System, members granted military leaves of absence from civil duties and occupations under certain conditions, Sec. 31-2-13 am'd.
Volunteer firefighter and volunteer emergency medical service providers, subpoenaed as witness in civil action, per diem and mileage authorized under certain conditions
Highways and other roads, Alabama Trust Fund, $100 million transferred annually in 2010 to 2020, inclusive, distrib. of portion after appropriation to Transportation Department, portions earmarked for special projects, distrib. of portion to counties and municipalities for transportation purposes, transfers from Alabama Trust Fund to Municipal Government Capital Improvement Fund and County Government Capital Improvement Fund, const. amend.
Transportation Department and county commissions authorized to designate safety zones in sections of highways with numerous accidents, posting of signs, penalties
Library boards, county and municipal boards, additional members, terms, Sec. 11-90-2 am'd.
Agricultural products, cattle, swine, soybeans, eggs, cotton, grain, catfish, sheep, goats, shrimp, assessments for promotional programs by certified associations after referendums, audits changed to every two years, filing of financial statements with State Board of Agriculture and Industries, Secs. 2-8-19, 2-8-59, 2-8-99, 2-8-166, 2-8-207, 2-8-248, 2-8-288, 2-8-323, 2-8-363 am'd.
Solid waste, application filed with Environmental Management Department for new facility, local governing body approval, deemed denied if not approved within 180 days, Sec. 22-27-48 am'd.
State warrants issued by Comptroller to business entities, disbursed electronically, Sec. 41-4-50 am'd.
Cemeteries, abandoned, reinterment and maintenance further provided for, Secs. 11-47-60, 11-47-68, 11-47-70 am'd.
Cemeteries and graveyards, desecration or defacement of property, types of property included in offense expanded, exemptions for cemetery operators, Sec. 13A-7-23.1 am'd.
Related Articles
The below links are relevant to Wendell Mitchell from Montgomery, AL and are articles or opinion pieces published on Bama Politics. Are you Wendell Mitchell? Do you have an opinion on Wendell Mitchell? Publish an article in our opinion section and your article will appear here. A great way for our visitors to find your content and learn more about your views. Use this contact form to find out how.
Article
Date
No articles or news have been published on Wendell Mitchell.