Alabama Democrat Anthony Daniels Delivers Response To Kay Ivey's State of the State Address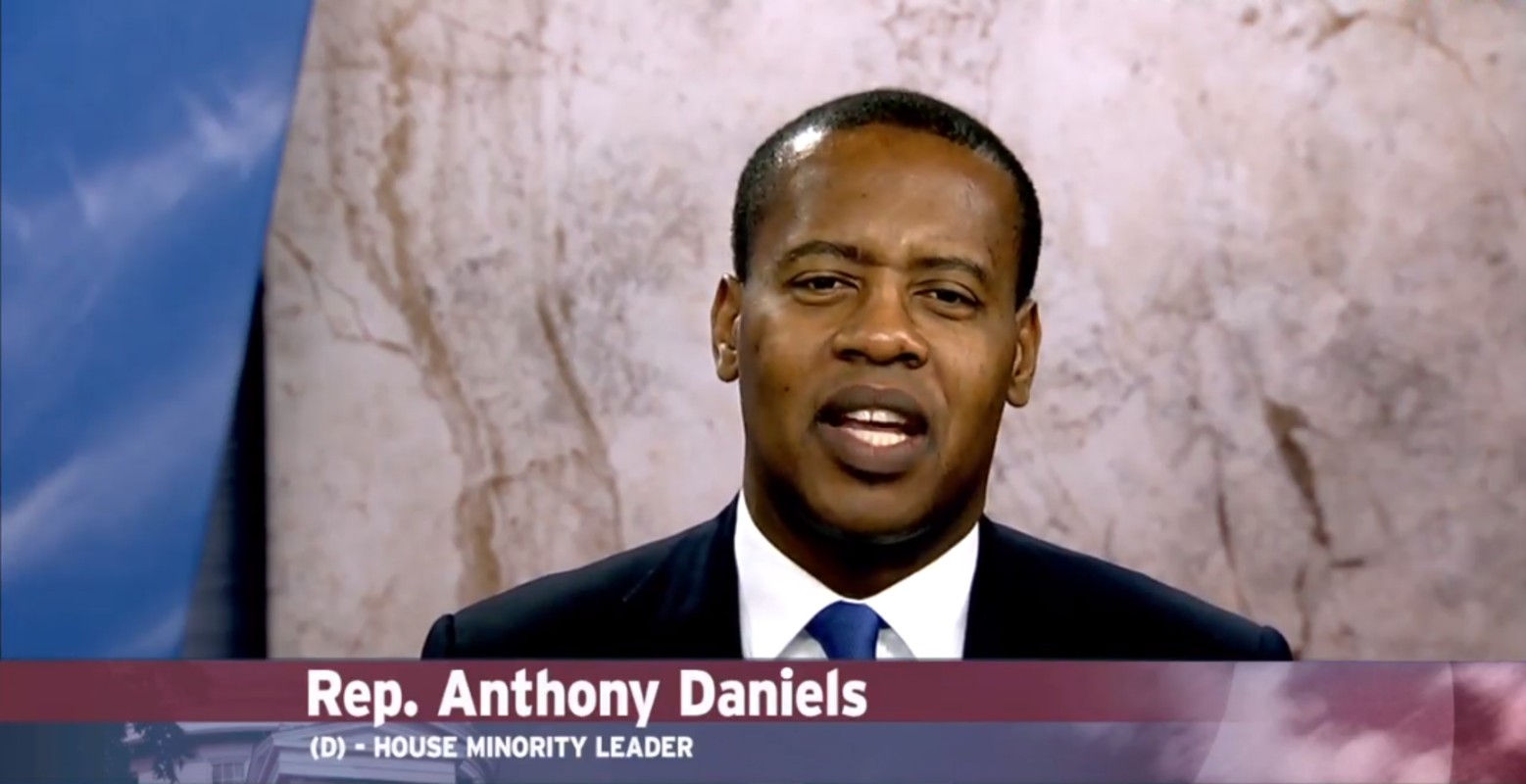 187 years ago, our ancestors looked up into the dark sky and witnessed a meteor shower that inspired family tales, song lyrics, and even license plates.
That was the night that the stars fell on Alabama.
Every Alabamian, regardless of their earthly-shackles of gender, race, class, or position in life, could look up and be inspired by something much larger than life.
For a moment, as they looked up, Alabamians knew no boundaries . . . the sky was the limit.
The sky is still the limit in Alabama BUT it's time we stop talking about the night that the stars fell on our state and instead talk about the dawn of a new day when the stars of Alabama rise up from the earth and light a new path of prosperity.
Yet, it's essential that every Alabamian has the same chance to become our next great star – our brightest star
That means we need to invest in our human capital as much as we invest in our roads, bridges, factories, and buildings.
Let all of us have equal access to the life, liberty, and the pursuit of happiness that we call the American Dream.
But let's do more than just dream… let's roll up our sleeves and do what it takes to fulfill the promise of Alabama and that American Dream.
It's time.
Because once we do this… the sky's the limit, and as we have proven with our rockets and moonshots… even the sky cannot hold Alabama back!
It's time to get to work and Governor Ivey has charted a course that shows promise and direction. Her commitment to our state is in the right direction but I believe we can do even more to ensure that our youngest stars can ascend to greatness.
It all begins with a first-class education.
We must reverse the chronic pattern of underinvestment in our schools, students, teachers, and classroom technology.
By increasing education funding, we can support additional teachers, reduce class sizes, expand teacher training, and hire more specialists in mathematics, reading, computer science and more.
From early literacy initiatives to STEM activities to exposure to foreign languages to art and music, strong Pre-K programs are the building blocks for life-long learning.
By investing in our public schools now, we can rebuild our skilled workforce and lay the foundation for economic growth and development for years to come.
After all, to succeed in the global economy, our young people must have access to the latest technology, training, and opportunities that ensure future achievement.
We must refocus our education system to not only prepare our students for college but also prepare them to fill the career gap of middle-skills jobs… jobs that require education beyond high school but not a four-year degree.
Middle-skill jobs account for nearly 60 percent of Alabama's labor market, but less than half of the state's workers are trained to meet the demand.
Lastly, it's time that we invest in the dedicated teachers, support personnel and administrators who guide, challenge, mentor, and inspire our children to new heights.
They've been there for us, and today we need them more than ever. That's why we must commit the resources necessary to attract and retain top-notch educators.
It is not acceptable that Alabama is ranked 52nd in standardized math scores.
How do we expect to attract companies and young families to a state where learning seems so far behind. It's time to do the math if we want our stars to rise and not fall.
Aside from education, Alabamians also face an uncertain landscape when it comes to access to affordable, quality health care. We want to work with the federal government and a transitional health care system to make sure all citizens, regardless of income level or pre-existing conditions, can purchase insurance and stay with the physician of their choice.
Expanding Medicaid in Alabama would mean health coverage for an additional 300,000 plus residents, not to mention the creation of approximately 30,000 new jobs.
The bottom line is no working man or woman should be an accident or diagnosis away from financial ruin. Alabama families should not have to worry that an unexpected sickness will deplete their life savings. We all deserve that peace of mind.
First and foremost, we must enhance access to critical maternal health care services for new and expectant mothers, especially those in rural and underserved communities who face long distances to see a pediatrician or OB-GYN.
In addition, we have a duty to better prepare mothers and protect their infants by improving access to maternal healthcare, nutrition, and necessary screenings, as well as enhancing public awareness on dangers related to sleep safety, substance abuse, postpartum depression, and domestic violence.
And it is high time to fund research into the health risks facing Alabama mothers, especially those of color, who are dying at exponentially higher rates than their counterparts.
The growing physician shortage and closure of rural hospitals have left far too many Alabamians precariously too far away from vital health care services, ranging from primary care physicians to emergency rooms to medical specialists.
In fact, Alabama is ranked ninth in the top 10 states with the highest physician shortages and more and more of our residents face long commutes just to see a general practitioner.
This crisis requires an innovative, flexible, and sustainable approach to a very complex problem.
We must support common-sense approaches to controlling rising health care costs while ensuring all residents have access to quality care.
That includes addressing prescription drug prices and transparency, increasing access to mental health services and substance abuse treatment, exploring innovative approaches to health care delivery, and emphasizing community wellness initiatives and preventive care to reduce long-term costs.
We also have both a moral and legal responsibility to provide quality mental health treatment and recovery options for Alabamians suffering from mental illness, addiction, or both.
The epidemic of mental illness and addiction must be confronted head-on through a cohesive and multi-pronged approach that includes law enforcement, public health, and community-based initiatives. No family should go without the resources they need or face a months-long waiting list when a loved one is in crisis.
Alabama's star can't shine if we don't address these health and wellness issues that plague our state. We have to fix how we tend to those in need. It's what we do. We do the right thing.
We support a comprehensive and pragmatic approach to the state's criminal justice challenges and urgent prison crisis. When we spend nearly a billion dollars on new prisons, it's time for a close, hard look at the policies and practices that feed our overpopulated and under-resourced system.
Alabama cannot just build its way out of this crisis. We must examine evidence-based, comprehensive solutions including community-based treatment and supervision alternatives that are both cost-efficient and more effective.
That includes serious discussion and consideration of practical and long-overdue reforms to bail, probation, and sentencing guidelines which currently resemble wealth-based incarceration. Furthermore, marijuana decriminalization deserves open discussion and honest consideration as our antiquated, ill-defined laws from the drug-war era continue to cost millions in taxpayer dollars while also devastating lives and communities
Education, health care, and criminal justice reform are essential items that allow our people to grow but they still need careers and opportunities that remain obtainable in a competitive global marketplace. We want our Alabama stars to reach new heights and shine brightly well outside of the state. But we also want our stars to light the way at home and make us better than our past.
Clearly, we must anticipate and swiftly respond to economic changes by ensuring that businesses have access to the skilled workforce and the human capital they need to thrive.
Starting in high school, we must strive to craft innovative workforce development opportunities for young Alabamians.
And we support programs to ensure that every entrepreneur has a fighting chance to grow their business.
Alabama workers deserve access to sustainable, living-wage jobs and career opportunities.
We will promote policies that break the cycle of poverty by providing access to careers that can sustain individuals, families, and communities.
And we support doing away with the grocery tax once and for all. That's right: it is time to eliminate the tax on groceries.
We want our citizens to be able to "succeed in place" and not have to move to find a good wage. While we look to the stars, let's keep our feet firmly planted on the ground.
For example, although we're seeing the benefits of low unemployment, let's not forget that 27 out of 67 counties have experienced growth in poverty.
Yes, our cities are growing and thriving but, again, we can't afford to neglect our rural areas. Let's strengthen our connection to rural areas through investments in public infrastructure and enhanced access to broadband.
An estimated 800,000 Alabamians lack access to high-speed broadband and more than 200,000 have no wired Internet availability at all.
This means that we bolster rural economies through upgrades to water, sewer, transportation, and technological infrastructure, and grow private/public partnerships that enhance business and educational opportunities, as well as the quality of life in our small-town communities.
These initiatives cost money. That's why we will continue to support a lottery to fund key investments in education. This new source of revenue will go a long way in alleviating cyclical budget crises and getting Alabama on sound financial footing when it comes to funding education.
The cornerstone of who we are as a nation, as Americans, is that we have a voice in how we are governed and who governs us. We stand for policies that aim to ensure fair districts and increase turnout at the ballot box, not discourage and disenfranchise voters.
That includes expanding voting rights to include access to early voting, automatic voter registration, no-excuse absentee voting, and permanent mail ballot delivery.
Furthermore, we strongly support the implementation of an Independent Redistricting Commission to end gerrymandering and take the influence of politics out of redistricting.
That is the Alabama Way and the American Way.
I ask you to look back into our collective history for knowledge but not be bound by the here and now.
I ask you to take stock in the present and acknowledge what we have accomplished but not be limited by complacency.
I ask you to dream about the future but not be distracted by daydreaming.
It is time that we use our past, present, and future to light the way for ALL Alabamians to live their best life, to find their better angels, so together we become that bright star that lights up the heavens.
Let all of our voices become one as we watch our next set of Alabama stars rise up into the heavens and become a unified beacon for others to follow.
It's time, Alabama. It's time. Thank you and God Bless our state of Alabama.
Topic tags: