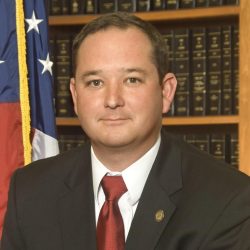 Position: State Senator - District 32
Party: Republican
Location: Daphne, AL - Baldwin County
Birthday: June 18, 1980

40
11 South Union Street, Suite 735
Montgomery, AL 36104
334-261-0897
Email:

[email protected]
BA, Political Science/Urban Policy, University of Richmond, 1998-2002
Senator, Alabama State Senate, District 32, 2018-present
Candidate, Alabama State Senate, District 32, 2018
Commissioner, Baldwin County, 2014-present
Managing Partner, Elliott Development Limited Liability Company, present
Vice President, Catastrophe Restoration Services Division, Elliott Builders, Incorporated, present
President/Owner, The Elliott Companies, Incorporated (ServiceMaster Restore, Elliott Builders, Elliott Catastrophe), 2004-present
Organizations Information
Member, National Federation of Independent Business (NFIB), present
Member, Saint James Episcopal Church, present
Member, Saint James Episcopal Church Vestry, present
Member, Business Council of Alabama, present
Associate Member, Eastern Shore and South Baldwin Republican Women
Former Chair, Baldwin County Young Republicans
Former Member, SmartCoast
Former Member, Christ the Kind Early Childhood Development Center Board of Directors
Member, Quail Unlimited
Member, Ducks Unlimited
Member, National Rifle Association (NRA)
Member, Executive Committee, Alabama Republican Party
Member, Pheasants Forever
Member, Steering Committee, Baldwin County Republican Party
Member, Coastal Conservation Association
Vice Chair, Executive Committee, Baldwin County Republican Party, District 2
Courts, Twenty-third Judicial Circuit, Nineteenth Judicial Circuit, Twenty-eighth Judicial Circuit, additional circuit judge, DeKalb County, district judge, compensation and benefits, election
Covid-19 Recovery Capital Credit Protection Act of 2021, created, employment and wage requirements for qualifying projects extended, compensation amounts for exemption purposes increased, Sec. 40-18-19.1 am'd.
Veterans' Affairs, State Board of, adding a Gold Star Family member to the board, updating existing code, making nonsubstantive, technical revisions, Sec. 31-5-3 am'd.
Legislature, to call itself into a special session under certain conditions authorized, const. amend.
Department of Public Health, reconstituted, State Board of Health, State Committee of Public Health, State Health Officer abolished, State Health Advisory Board, Secretary of ADPH, medical director established, county boards of health, membership revised, Secs. 22-2-9, 22-2-10, 22-2-11, 22-2-12, 22-2-13, 22-3-8 repealed; Secs. 22-1-1, 22-1-3, 22-2-1, 22-2-2, 22-2-3, 22-2-4, 22-2-5, 22-2-6, 22-2-7, 22-2-8, 22-3-1, 22-11A-38, 22-22A-2, 22-29-1, 22-37A-2, 34-15-2, 34-15-5 am'd.
Board of Medical Examiners, membership and duties revised, Medical Licensure Commission abolished, Secs. 34-24-54.1, 34-24-54.2, 34-24-71.1, 34-24-71.2, 34-24-71.3 added; Secs. 34-24-50.1, 34-24-310, 34-24-311, 34-24-311.1, 34-24-312, 34-24-313, 34-24-314, 34-24-330, 34-24-331, 34-24-332, 34-24-333, 34-24-334, 34-24-335, 34-24-338, 34-24-339, 34-24-341, 34-24-342, repealed; Secs. 13A-6-201, 13A-9-21, 27-1-17.1, 34-24-50, 34-24-51, 34-24-52, 34-24-53, 34-24-53.1, 34-24-54, 34-24-56, 34-24-57, 34-24-60, 34-24-70, 34-24-71, 34-24-73, 34-24-75, 34-24-75.1, 34-24-336, 34-24-337, 34-24-340, 34-24-343, 34-24-360, 34-24-360.1, 34-24-361, 34-24-361.1, 34-24-362, 34-24-363, 34-24-365, 34-24-366, 34-24-367, 34-24-381, 34-24-382, 34-24-383, 34-24-384, 34-24-501, 34-24-502, 34-24-503, 34-24-506, 34-24-507, 34-24-508, am'd.
Elections, prohibit social media companies from restricting access to political candidates during elections, civil penalties, value of endorsement by social media companies required to be recorded as campaign contribution
Criminal procedure, asset forfeiture for drug offenses provided, Alabama Criminal Forfeiture Process Act, Secs. 20-2-93 repealed
Education Dept., state property, Dept. of Edu., has authority to manange the construction and renovation of property that is part of a state educational institution, Sec. 41-4-400 am'd.
Judicial circuits and districts, reallocate the number of circuit judges and district judges every 20 years based on population, Secs. 12-11-2, 12-12-1 am'd.
Joint Legislative Committee on State Parks, appointment of two additional members, Sec. 9-14A-21 am'd.
Lee Co., boards of registrars, increase maximum number of days board may meet each year, Sec. 17-3-8 am'd.
Motor vehicles, Revenue Dept., annual license tax and registration fee, low-speed electric vehicle
Municipalities, police jurisdictions may not be expended, municipal planning jurisdiction limited, audit of expenditure of fees in police jurisdiction, Secs. 11-40-10, 11-52-30 am'd.
Psychology Interjurisdictional Compact, established to authorize licensed psychologists to practice on a limited basis among compact member states
Taxation, certain tax credits, advance refunds, and other economic relief payments under the CARES Act excluded from income taxation, Alabama Taxpayer Stimulus Freedom Act of 2021, Sec. 40-27-1 am'd.
State Health Officer, order issued in response to outbreak of a disease has full force of law if approved by Governor and filed with Secretary of State in state of emergency, Secs. 22-2-8, 31-9-8, 31-9-13 am'd.
Corporations, AL Business and Nonprofit Entities Code, subtantially amended to clarify relationship between chapters and various sections in Tilte 10A, Secs. 10A-1-5.18, 10A-2A-2.01,10A-2A-8.30, 10A-2A-8.31, 10A-2A-8.42, 10A-2A-8.43, 10A-2A-8.59, 10A-2A-9.01, 10A-2A-10.06, 10A-2A-10.07, 10A-2A-10.08, 10A-2A-11.01, 10A-2A-13.01, 10A-2A-16.01,10A-3-1.05, 10A-8A-4.10, 10A-8A-8.06, 10A-8A-8.09, 10A-8A-8.10, 10A-8A-9.01 added; Secs 10A-1-1.02, 10A-1-1.03, and 10A-1-4.02, 10A-2A-1.40,10A-2A-1.41, 10A-2A-2.02,10A-2A-7.20, 10A-3-1.02, 10A-3-2.02, 10A-3-2.03, 10A-3-2.09, 10A-3-2.21, 10A-5A-1.02, 10A-5A-2.01, 10A-5A-2.02, 10A-5A-7.02, 10A-5A-7.04, 10A-5A-7.05, 10A-5A-7.06, 10A-5A-7.07, 10A-5A-11.10, 10A-5A-11.12, 10A-5A-11.13, 10A-5A-11.14, 10A-5A-11.15, 10A-8A-1.02, 10A-8A-8.02, 10A-8A-8.07, 10A-9A-1.02, 10A-9A-2.01, 10A-9A-2.02, 10A-9A-4.06, 10A-9A-4.07, 10A-9A-8.02, 10A-9A-8.06, 10A-9A-8.07, 10A-9A-8.09, 10A-9A-8.10, 10A-9A-10.01 am'd.
Entertainment districts, municipalities, allow ABC licensees to sell alcohol for consumption within districts, revise qualifications for certain municipalities to establish, Sec. 28-3A-17.1 am'd.
Coronavirus, immunity for certain entities from claims relating to contraction of or exposure to coronovirus
Schools, Foundation Program Fund, determination of cost to include student growth as an allowable cost, allowance for non-virtual and virtual students, provisions for increases based on increase in average daily membership in the current school year deleted, Secs. 16-13-231, 16-13-232 am'd.
Property, homeowner's associations and condominium associations, prohibited from restricting display of state flag
Coronavirus Aid, Relief, and Economic Security Act, any credits, refunds or loan forgivneness received from, excluded from Alabama taxation
Gulf of Mexico Energy Security Act of 2006, legislative intent relating to the expending of funds by the Dept. of Conservation and Natural Resources expressed
Coronavirus Aid, Relief, and Economic Security Act, any credits, refunds or loan forgivneness received from, excluded from Alabama taxation
Schools, Foundation Program Fund, determination of cost to include student growth as an allowable cost, allowance for non-virtual and virtual students, provisions for increases based on increase in average daily membership in the current school year deleted, Secs. 16-13-231, 16-13-232 am'd.
Property, homeowner's associations and condominium associations, prohibited from restricting display of state flag
Baldwin Co., planning and zoning districts, boards of adjustment, co. commission to appt. two bds., jurisdiction of each bd., alternate members, Sec. 45-2-216.10 am'd.
Highways, roads, and bridges, referendum required in affected county prior to tolling an existing interstate highway, const. amend.
Highways, roads, and bridges, toll road projects, economic impact study required prior to construction
Police jurisdictions, No Taxation Without Representation Act, referenda to abolish extraterritorial jurisdiction of municipalities
Transportation Commission, established, five members appt from five regions of dept, duties, compensation, appointment of Transportation Department director, department not subject to Budget Management Act, Secs. 23-1-21, 23-1-21.2 am'd.
Entertainment districts, municipalities, govening body authorize to establish withtin its corporate limits, Sec. 28-3A-17.1 am'd.
Crimes and offenses, crimes motivated by race, color, religion, national origin, ethnicity, or physical or mental disability, to include employment as a law enforcement officer within the protected class, Sec. 13A-5-13 am'd.
Toll road and bridge fees, income tax credit for state taxpayers for payments to Ala. Toll Road, Bridge, and Tunnel Authority, Revenue Dept. authorized to adopt rules, funds transferred from sales tax revenue to cover
Gulf of Mexico Energy Security Act of 2006, legislative intent relating to the expending of funds by the Dept. of Conservation and Natural Resources expressed
Baldwin Co., Daphne, corp. limits alt.
Baldwin Co., to provide for the formation of a city school system
Baldwin Co., schools, impact certain new subdivisions or multi-family devleopment have on student capacity
Animals, required rabies vaccines for certain canidae and felidae, further provided for, possession of certain large felidae, wolves, or bears, prohibited under certain conditions, minimum caging requirements, penalties, Secs. 3-8-1 am'd; Sec. 3-8-2 added.
Toll roads and bridges, Toll Road, Bridge and Tunnel Authority, state and local tax exemptions further provided, Secs. 23-2-142, 23-2-153 am'd.
Protect Alabama Small Businesses Act, regulation of franchisers and representatives in effort to prevent fraud, unfair business practices and abuses on franchisees, penalties
Elections, revealing the contents of another voter's ballot prohibited, violation a Class B misdemeanor, Sec. 17-9-50.1 added
Conservation and Natural Resources Dept., illegal parking on department property, fine established, Sec. 9-2-30 added.
Crimes and offenses, crimes motivated by race, color, religion, national origin, ethnicity, or physical or mental disability, to include employment as a law enforcement officer within the protected class, Sec. 13A-5-13 am'd.
Municipalities, police jurisdiction and planning jurisdiction, limited to property within corporate limits, provisions for business licenses and sales taxes outside of corporate limits repealed, Secs. 11-51-90, 11-51-206 repealed; Secs. 11-40-10, 11-52-30 am'd.