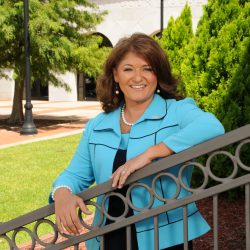 11 South Union Street, Suite 527-C
Montgomery, AL 36104
334-261-0532
Attended, Southern Union State Community College
Representative, Alabama State House of Representatives, District 38, 2018-present
Candidate, Alabama State House of Representatives, District 38, 2018
Commissioner, Chambers County Commission, District 6, 2002-2018
Broker/Owner, Century 21 Wood Real Estate, 2000-present
Organizations Information
Member, National Association of Counties, present
Former President, Alabama Association County Commissioners
Taxation, County Boards of Equalization, valuation procedures further provided, Secs. 40-2-18, 40-3-21, 40-3-25, 40-7-25 am'd.
Utilities, governmental entities, prohibited from adopting or enforcing policies that prohibit the connection or reconnection of utility services
Crimes and offenses, crimes of riot and inciting to riot, harassment, and assault II, amended, crimes of assault against a first responder, aggravated riot, and unlawful traffic interference, created, mandatory holding period for certain violations, provided, mandatory incarceration period for certain violations, provided, exceptions to sovereign immunity, further provided, restrictions on distribution of revenue to defunding jurisdictions, provided, Secs. 13A-11-3.1, 13A-11-5.1, 13A-11-8.1 added; Secs. 12-25-32, 13A-6-21, 13A-6-132, 13A-11-1, 13A-11-3, 13A-11-4, 13A-11-8, 13A-11-70, 15-13-2, 36-1-12, 36-2-1 am'd.
Municipalities, Chestnut Accountability Municipal Audit Clarification Act, requiring annual, biennial audit for certain municipalities, annual report in lieu of audit for certain municipalities, Sec. 11-43-85 am'd.
Wine, authorizing common carriers to make delivery of alcoholic beverages to residents over 21, to create a wine direct shipper permit to allow wine manufacturers to ship their table wine directly to residents, Sec. 28-3A-6.1 added; Sec. 28-1-4 am'd.
Criminal code, offenses against public order, firearms, concealed pistols, concealed carry permit, constitutional carry, pistol permits, Secs. 9-11-304, 13A-11-52, 13A-11-71, 13A-11-73, 13A-11-74 repealed; Secs. 13A-11-7, 13A-11-50, 13A-11-55, 13A-11-61.2, 13A-11-62, 13A-11-75, 13A-11-85, 13A-11-90 am'd.
Joint Legislative Oversight Committee on Obligation Transparency, created, membership, compensation, powers, and duties, provided
Schools, public K-12, athletic events allowing competition by one biological gender against another prohibited unless the event specifically includes both genders
State government, Presidental Executive Orders, Legislative Council may order review thereof, prohibition on implementation, provided
Board of Cosmetology and Barbering, provide for the licensure and regulation of mobile salons, Sec. 34-7B-30 added; Sec. 34-7B-1 am'd.
Nicotine, raise the age to buy, possess, or use nicotine products to 21, impose restrictions on marketing of certain nicotine products, Secs. 28-11-17.1, 28-11-20, 28-11-21 added; Secs. 13A-12-3, 13A-12-3.1, 28-11-1, 28-11-2, 28-11-3, 28-11-4, 28-11-5, 28-11-6.1, 28-11-6.2, 28-11-11, 28-11-13, 28-11-14, 28-11-15, 28-11-16, 28-11-18 am'd.
Organ transplant recipients, discrimination against persons with disabilities prohibited
Retailers, required to accept cash, store credit required if seller unable to make change
Taxation, sale of land for taxes, location of sales, further provided, Sec. 40-10-15 am'd.
Opelika, corp. limits alt.
Chambers Co., sheriffs, additional qualifications, continuing education
Public contracts, contracts for heating and air conditioning systems, exemption further provided, Sec. 39-2-2 am'd.
Organ transplant recipients, discrimination against persons with disabilities prohibited
Real estate sold for payment of taxes, recovery actions by owner and actions for possession by tax purchaser, further provided for, tax lien by tax purchaser, authorized, Act 2018-494, 2018 Reg. Sess., repealed; Secs. 40-10-82, 40-10-120 am'd.
Statewide 911 Board, statewide voice and data system administered, fund grants, annual report published on status of 911 service, Sec. 11-98-4.1 am'd.