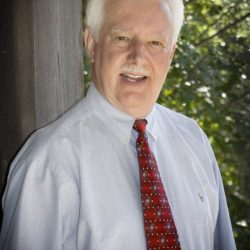 11 South Union Street, Suite 427-C
Montgomery, AL 36130-2950
334-261-0438
Email:

[email protected]
Attended, University of Alabama
Attended, Gadsden State Community College
Candidate, Alabama State House of Representatives, District 27, 2018
Representative, Alabama State House of Representatives, District 26, 1974-1978, 1990-1994, 2010-present
Manager, WJIA 88.5 FM, 2007-present
Legislative Director, Governor Fob James, State of Alabama, 1996-1998
Congressional Information
Former Member, Ethics and Campaign Finance Committee, Alabama State House of Representatives
Former Member, Rules Committee, Alabama State House of Representatives
Former Vice Chair, Education Policy Committee, Alabama State House of Representatives
Organizations Information
Former President, Kiwanis Club
Former President, Alabama Broadcasters Association
Member, Guntersville Rotary Club, present
Member, Jail Ministry Team
Member, Hewett Memorial Methodist Church, present
State employees, Chief Executive Officer of the State Employees Insurance Board may approve group insurance offerings
Insurance, to provide for opinion of appointed actuary, to permit an insurer to apply for an exception for annual actuarial opinion requirement, Sec. 27-3-26.1 am'd.
Prescription drugs, labels required to state country of origin
Education, public K-12, Teacher Bill of Rights, created, distribution and posting of bill of rights provided
Onsite Wastewater Board, requirement of annual transfer of unencumbered funds to State Gen. Fund deleted, administrative fines increased, Secs. 34-21A-6, 34-21A-25 am'd.
Insurance, reinsurance, regulation and credit against reserves, adoption of similar to Credit for Reinsurance Model Law by Nat. Assoc. of Insurance Commissioners, Secs. 27-5B-8.1, 27-5B-20 added; Secs. 27-5B-3, 27-5B-9, 27-5B-11, 27-5B-14, 27-5B-19 am'd.
State Fire Marshal, fireworks and pyrotechnics, fees, increased, transfer of portion to Firefighters Annuity and Benefit Fund, increases further based on Consumer Price Index, Sec. 36-19-31 added; Secs. 8-17-211, 8-17-216.1, 8-17-237, 8-17-255, 34-3-11, 34-33A-12, 36-19-29 am'd.
Insurance Dept., service contract law, expenses related to examination by Commissioner of Insurance, Vehicle Protection Products Act, fees deposited in Insurance Dept. Fund, expense related to exam by commissioner, Secs. 8-32-13, 8-32-14 added.
Marshall Co., sheriff, salary, further provided for,
Marshall Co., sheriff, add'l expense allowance
Marshall Co., sheriff, expenditures and disposal of property regulated, penalties for violations
Marshall Co., sheriff dept., all employees required to receive continuing education, county commission to fund training
Marshall Co., feeding of prisoners further provided for, Discretionary Fund established, const. amend.
Taxation, adaptive equipment, exempt from sales and use taxes, Sec. 40-23-4 am'd.
Insurance companies, corporate governance, required to provide Commissioner of Insurance annually, insurance holding company systems, definition of internationally active insurance groups, confidentially, Corporate Governance Model Act enacted, Secs. 27-29B-1 to 27-29B-9, inclusive, added; Secs. 27-29-1, 27-29-7 am'd.
Insurance Data Security Law, Insurance Commissioner to regulate, reports to Insurance Dept., licensee to implement information security programs, oversight of third-party providers, reports re cybersecurity events, criminal penalties, Secs. 10A-20-6.16, 27-21A-23 am'd.
Insurance companies, corporate governance, required to provide Commissioner of Insurance annually, Corporate Governance Model Act enacted, Secs. 27-29B-1 to 27-29B-9, inclusive, added
Employees' Retirement System, retirees, one-time lump-sum additional payment
Insurance companies, unsolvenices, Alabama Insurance Guaranty Association Act, provisions conformed to most recent model act, obligation of assoc. to pay covered claims before order of liquidation of insolvent insurer, statutory cap for benefits and aggregate cap provided, Secs. 27-42-3, 27-42-5, 27-42-8, 27-42-11, 27-42-12 am'd.
Children, paternity, to enable a man to challenge presumption of paternity if he believes he is the biological father of a child, Sec. 26-17-607 am'd.
Insurance Dept, licensure of producers and service representatives, continuing education for renewals, civil penalties, provisions for extension deleted, Secs. 27-8A-1, 27-8A-2 am'd.
Residential property, foreclosure, right-of-redemption, time period to redeem further provided for, notice requirement actions, affirmative defense, provided for, time frame for notice requirement actions, further provided for, Sec. 6-5-248 am'd.
Abortion, require abortion providers to provide certain information to women seeking an abortion, and to require refunds if the abortion is cancelled, Secs. 26-23A-4, 26-23A-10 am'd.
Local Government Health Insurance Program, Care Assurance System for the Aging and Homebound authorized to participate, Sec. 11-91A-2 am'd.
Residential property, foreclosure, right-of-redemption, time period to redeem further provided for, notice requirement actions, affirmative defense, provided for, time frame for notice requirement actions, further provided for, Sec. 6-5-248 am'd.
Sanford, Bruce, commended
Congress, application for Constitutional Convention to limit members terms
Waldrop, Eric and Courtney, birth of sextuplets, commended