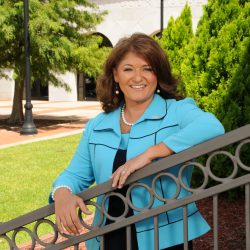 General Information
The information provided below on Debbie Wood from Valley, AL is meant to educate voters and comes from a variety of sources. If anything is incorrect or you would like to contribute to this page, please let us know on this page.
Contact Information
Known contact information for Debbie Wood from Valley, AL.
11 South Union Street, Suite 527-C
Montgomery, AL 36104
334-261-0532
Official Email: Unknown
Education Information
Known educational history for Debbie Wood from Valley, AL.
Attended, Avery Yarbrough School of Real Estate
Attended, Southern Union State Community College
Graduate, Alabama Local Government Training Institute Graduate, Auburn University
Political Information
Known political history for Debbie Wood from Valley, AL.
Representative, Alabama State House of Representatives, District 38, 2018-present
Candidate, Alabama State House of Representatives, District 38, 2018
Commissioner, Chambers County Commission, District 6, 2002-2018
Celebrate Recovery Ministry Leader, Langdale United Methodist Church
Member, Auburn University GEDI Board
Member, City of Valley Dilapidated Homes Committee
Member, Crime Stoppers Board
Professions Information
Known professional history for Debbie Wood from Valley, AL.
Broker/Owner, Century 21 Wood Real Estate, 2000-present
Sales Associate, Valley Realty, 1993-2000
Chair, Association of County Commissions of Alabama Legislative Committee
President, Association of County Commissions of Alabama Workman's Compensation Board
Representative, National Association of County Officials Board
Organizations Information
Known organizational history for Debbie Wood from Valley, AL.
Member, National Association of Counties, present
Member, Chambers County Commission, 2002-2018
Former President, Alabama Association County Commissioners
Liaison, Chambers County Development Authority
Member, Friends of Drug Court
Member/Volunteer, Red Cross Board
President, Chambers County Board of Realtors
President, Chamber of Commerce
Sunday School teacher, Langdale United Methodist Church
Volunteer, Bread Basket
Election History
Debbie Wood from Valley, AL has participated in elections listed below in the state of Alabama.
Sponsored Bills
Education, Education Savings Account program, created, allow parents to use funds allocated to their child at their resident school district for an education program
Pubic safety, emergency telephone service, procedure for responding to emergency calls by 911 operator, further provided, reasonable alternative method for responding under certain circumstances, required, Sec. 11-98-11 am'd.
Time; to adopt Daylight Savings Time statewide if Congress amends Federal law to allow it.
Income tax credits, contributions to scholarship granting organizations further provided for, Sec. 16-6D-9 am'd.
Health, require health care facilities to allow one caregiver or visitor to patients or residents, subject to reasonable restrictions
Legislature, to call itself into a special session under certain conditions authorized, const. amend.
Ad valorem tax on real property, senior property tax appraisal for persons age 70 or older on principal residence used for 10 years, appraisal value frozen on immediate prior year, exceptions, rules by Revenue Dept.
Onsite Wastewater Board, privately owned wastewater systems exempt from regulation by the board, Sec. 34-21A-10 am'd.
Taxation, County Boards of Equalization, valuation procedures further provided, Secs. 40-2-18, 40-3-21, 40-3-25, 40-7-25 am'd.
Utilities, governmental entities, prohibited from adopting or enforcing policies that prohibit the connection or reconnection of utility services
Crimes and offenses, crimes of riot and inciting to riot, harassment, and assault II, amended, crimes of assault against a first responder, aggravated riot, and unlawful traffic interference, created, mandatory holding period for certain violations, provided, mandatory incarceration period for certain violations, provided, exceptions to sovereign immunity, further provided, restrictions on distribution of revenue to defunding jurisdictions, provided, Secs. 13A-11-3.1, 13A-11-5.1, 13A-11-8.1 added; Secs. 12-25-32, 13A-6-21, 13A-6-132, 13A-11-1, 13A-11-3, 13A-11-4, 13A-11-8, 13A-11-70, 15-13-2, 36-1-12, 36-2-1 am'd.
Municipalities, Chestnut Accountability Municipal Audit Clarification Act, requiring annual, biennial audit for certain municipalities, annual report in lieu of audit for certain municipalities, Sec. 11-43-85 am'd.
Wine, authorizing common carriers to make delivery of alcoholic beverages to residents over 21, to create a wine direct shipper permit to allow wine manufacturers to ship their table wine directly to residents, Sec. 28-3A-6.1 added; Sec. 28-1-4 am'd.
Criminal code, offenses against public order, firearms, concealed pistols, concealed carry permit, constitutional carry, pistol permits, Secs. 9-11-304, 13A-11-52, 13A-11-71, 13A-11-73, 13A-11-74 repealed; Secs. 13A-11-7, 13A-11-50, 13A-11-55, 13A-11-61.2, 13A-11-62, 13A-11-75, 13A-11-85, 13A-11-90 am'd.
Joint Legislative Oversight Committee on Obligation Transparency, created, membership, compensation, powers, and duties, provided
Schools, public K-12, athletic events allowing competition by one biological gender against another prohibited unless the event specifically includes both genders
State government, Presidental Executive Orders, Legislative Council may order review thereof, prohibition on implementation, provided
Board of Cosmetology and Barbering, provide for the licensure and regulation of mobile salons, Sec. 34-7B-30 added; Sec. 34-7B-1 am'd.
Nicotine, raise the age to buy, possess, or use nicotine products to 21, impose restrictions on marketing of certain nicotine products, Secs. 28-11-17.1, 28-11-20, 28-11-21 added; Secs. 13A-12-3, 13A-12-3.1, 28-11-1, 28-11-2, 28-11-3, 28-11-4, 28-11-5, 28-11-6.1, 28-11-6.2, 28-11-11, 28-11-13, 28-11-14, 28-11-15, 28-11-16, 28-11-18 am'd.
Organ transplant recipients, discrimination against persons with disabilities prohibited
Retailers, required to accept cash, store credit required if seller unable to make change
Opelika, corp. limits alt.
Chambers Co., sheriffs, additional qualifications, continuing education
Public contracts, contracts for heating and air conditioning systems, exemption further provided, Sec. 39-2-2 am'd.
Organ transplant recipients, discrimination against persons with disabilities prohibited
Real estate sold for payment of taxes, recovery actions by owner and actions for possession by tax purchaser, further provided for, tax lien by tax purchaser, authorized, Act 2018-494, 2018 Reg. Sess., repealed; Secs. 40-10-82, 40-10-120 am'd.
Statewide 911 Board, statewide voice and data system administered, fund grants, annual report published on status of 911 service, Sec. 11-98-4.1 am'd.
The below links are relevant to Debbie Wood from Valley, AL and are articles or opinion pieces published on Bama Politics. Are you Debbie Wood? Do you have an opinion on Debbie Wood? Publish an article in our opinion section and your article will appear here. A great way for our visitors to find your content and learn more about your views. Use this contact form to find out how.