Updated: August 30, 2022 at 10:14 PM CST
General Information
Who is Randall Woodfin?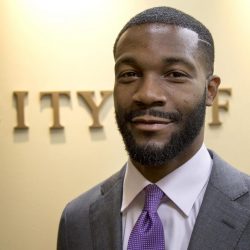 I was born in Birmingham. And, with the exception of four years in Atlanta earning my degree from Morehouse College, I have lived in Birmingham all my life.
When I say I grew up in Birmingham, I mean that I grew up all over Birmingham. My mother and my father both came from large families, so we were always visiting grandparents,aunts, uncles, and cousins as they visited our home in North Birmingham. I had relatives in Kingston, Collegeville, West End, Southtown, Loveman's Village, Fountain Heights, Metropolitan Gardens, Pratt City, Mason City — like I said, all over town.
My parents divorced when I was eight. Three years later, after my mother remarried, my brother and sisters and I moved with her to Crestwood, adding another neighborhood and its surrounding communities to my regular experience of the city I lived in.
That experience was also multi-generational. From the time I was born until I finished high school, I never lived in a house that had fewer than eight residents. My great-grandmother, who died at the age of 100, lived with us for the last nine years of her life, so we often had four generations living together. It would be impossible for me to overstate the value of that experience and its impact on my perspective and my beliefs.
Seeing as much of Birmingham as I did growing up gave me a deep sense of connection to the city and kinship with my fellow citizens. Being from Birmingham became and remains an integral part of who I am.
Even when I left for college, I knew that I would be coming back home to live. After graduating from Morehouse — and serving as SGA President during my senior year — I came back to Birmingham and worked at City Hall (in jobs for both the Mayor and the City Council) and for the Jefferson County Committee on Economic Opportunity (JCCEO), getting a feel for the way our public sector works (and doesn't). I attended Cumberland School of Law at Samford University and, after obtaining my law degree, accepted a job in the City of Birmingham Law Department.
As an assistant city attorney, it inspired me to think of Birmingham as my client. But I also began to think of politics and government as the most direct and impactful avenue to address the city's needs and how to position it to take more and better advantage of opportunities. I became an organizer, working on campaigns on the local, state and federal levels. In 2009, I ran for a seat on the Birmingham Board of Education and lost. I ran again in 2013, and won.
From fairly early in my youth, I had been committed to the idea that I wanted to serve Birmingham in the most meaningful way possible. I wanted to bring people, businesses and organizations across our city together to make Birmingham the very best it can be — a place where every citizen has the opportunity to develop their potential to its fullest. I wanted to be responsible for charting Birmingham's course into a future of innovation and progress while beginning to achieve -- at last -- the goals of equality and inclusion that are ingrained in our civic character.
I wanted to be Mayor.
So I ran for Mayor. Starting in the summer of 2016 — a full year before the election — I knocked on 50,000 doors across the city. Nearly every day for a year, plus six more weeks when the election went to a runoff, I spent time not just talking about what I hoped to accomplish as Mayor, but even more, listening to other people talk. They talked about their jobs, their families, their neighborhoods, their churches. Some talked about their hopes and dreams for Birmingham, about the kind of city they wanted to live in, and what role they expected City Hall to play in making that happen.
But more than anything else, people talked about the city's responsibility for delivering essential services. Picking up trash, cutting empty lots, demolishing dilapidated structures, maintaining and repairing everything from streets and sidewalks to parks — services that, in addition to their importance in the daily lives of people and businesses, are critical components of neighborhood revitalization and enhancement.
As your mayor, I've been committed to making this vision of an equitable, inclusive, and prosperous Birmingham -- where everyone has the opportunity to reach their full potential -- a reality. We've accomplished a lot in the last four years: increasing Birmingham's national rating for LGBTQ+ equality from 12 to a perfect 100, establishing the Division of Social Justice and Racial Equity to oversee the nation's first Office of Peace and Policy, Pardons for Progress, and the Tuhska Lusa initiative, Birmingham Promise, reimagining public safety, strengthening our public health infrastructure, revitalizing neighborhoods and leading our recovery from COVID.
But there is so much work left to be done. My FY22 Budget invests an additional $14 million in neighborhood revitalization, including $10 million for street paving, $3.15 million for demolition and weed abatement, $300,000 for the Land Bank Authority, $300,000 for a recycling pilot program, and $275,000 for making ADA accessible sidewalks. We continue to seek opportunities to support the construction of more affordable housing, including $55 million to redevelop the old Ensley High School property into 244 new affordable units along with green space, grocery options and child care facilities. Other capital improvements since I assumed office total over $90 million in investments across Birmingham.
I launched several city programs to further invest in Birmingham's young people. That includes Birmingham Promise, which guarantees free tuition for BCS students admitted to 2 and 4 year in-state public colleges and universities. The Division of Youth Services helps hundreds of Birmingham youth get age-appropriate employment opportunities through the summer Kids & Jobs Program. And the FY22 budget provides $1 million to BCS to fund mental health experts that will work within the school system to help our children recover and thrive after COVID-19.
I refinanced Birmingham's debts to secure the lowest interest cost for the city in decades, saving us millions and positioning the city to fund critical services and infrastructure needs. I kept my promise to the retirees who helped build the Birmingham that we love: my FY22 budget sets aside $32.5 million to meet pension obligations, and recently passed legislation -- voted for unanimously by the Birmingham Pension Fund Board and Birmingham City Council -- mandates the city meet required annual contribution needs. This will ensure that the pension fund is secure for all current and future retirees.
I will always work to get guns off of our streets and help continue the overall decline in violent crime that Birmingham has seen under my tenure. The Birmingham Police Department confiscated well over 2,000 guns in 2020, and they've been able to find and confiscate over 1,100 just so far this year. I recently announced a gun violence task force that partners local, state and federal law enforcement officials to implement best strategies for predicting, intervening, and responding to gun crimes.
And I'm dedicated to treating gun violence as the public health epidemic that it is. That means addressing the underlying, intersectional factors of poverty, housing instability and food insecurity that contribute to crime.
Status: Mayor of Birmingham, AL
Party: Democrat
Birthday: May 29, 1981
41
Contact Information
Known contact information for Randall Woodfin from Birmingham, AL.
710 20th Street N City Hall, 3rd Floor

Birmingham, AL 35203

Phone: 205-254-2771
Official Email: Unknown
Political Information
Known political history for Randall Woodfin from Birmingham, AL.
Mayor, City of Birmingham, Alabama, 2017-present
Election History
Randall Woodfin from Birmingham, AL has participated in elections listed below in the state of Alabama.
The below links are relevant to Randall Woodfin from Birmingham, AL and are articles or opinion pieces published on Bama Politics. Are you Randall Woodfin? Do you have an opinion on Randall Woodfin? Publish an article in our opinion section and your article will appear here. A great way for our visitors to find your content and learn more about your views. Use this contact form to find out how.
Related External Links
The below links are relevant to Randall Woodfin from Birmingham, AL and were found via our own research or sent to us from readers like you. These links are not associated with Bama Politics.