Alabama Issues Blue Alert After Officer Shot On I-65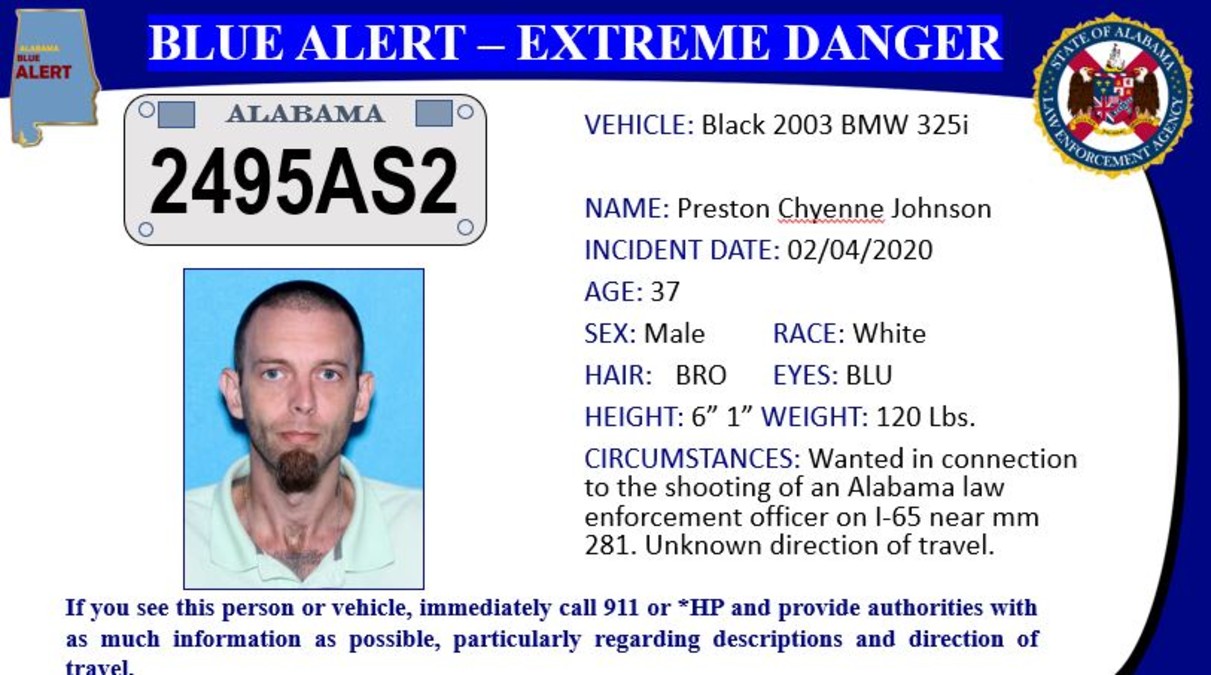 A Blue Alert has been issued in Alabama by the ALEA for Preston Chyenne Johnson who is wanted in connection with a shooting of an Alabama law enforcement officer.
The alert was sent out around 1 AM on February 5th, 2020 and gives a description of a black 2003 BMW 325i with tag number 2495AS2, and a missing bumper.
According to the alert, the shooting took place near mile marker 281 on I-65.
According to AL.com, Johnson is a convicted felon who was in police custody last year for stealing a car, being in possession of 13 grams of methamphetamine, needles, drug paraphernalia, and an AR-15 which, as a convicted felon, is illegal.
A Blue Alert is issued when a local, state or federal law enforcement officer in Alabama has been killed or seriously injured and the perpetrator is at large.
Update: A Kimberly police officer is in critical condition and four people, including the suspected shooter, are in custody according to FOX10.
Update: Police confirm the suspect wanted in connection to the shooting of the officer plus three other people were taken into custody on Highway 78 in Dora.
Update: The Blue Alert has been canceled.
Update: The officer has been killed and Johnson has been charged with capital murder.
Update: The officer has been identified as Nick O'Rear.
This article will be updated as more information becomes available.
Brent Wilson was born and raised in Huntsville, Alabama and is the Owner and Chief Editor of BamaPolitics.com.
Topic tags: