Strong Reasons Why the Now Defunct Madison County Emergency Rental Assistance Program Was a Complete Debacle
Written by
Amy Fahimi
on October 26, 2022 |
Opinion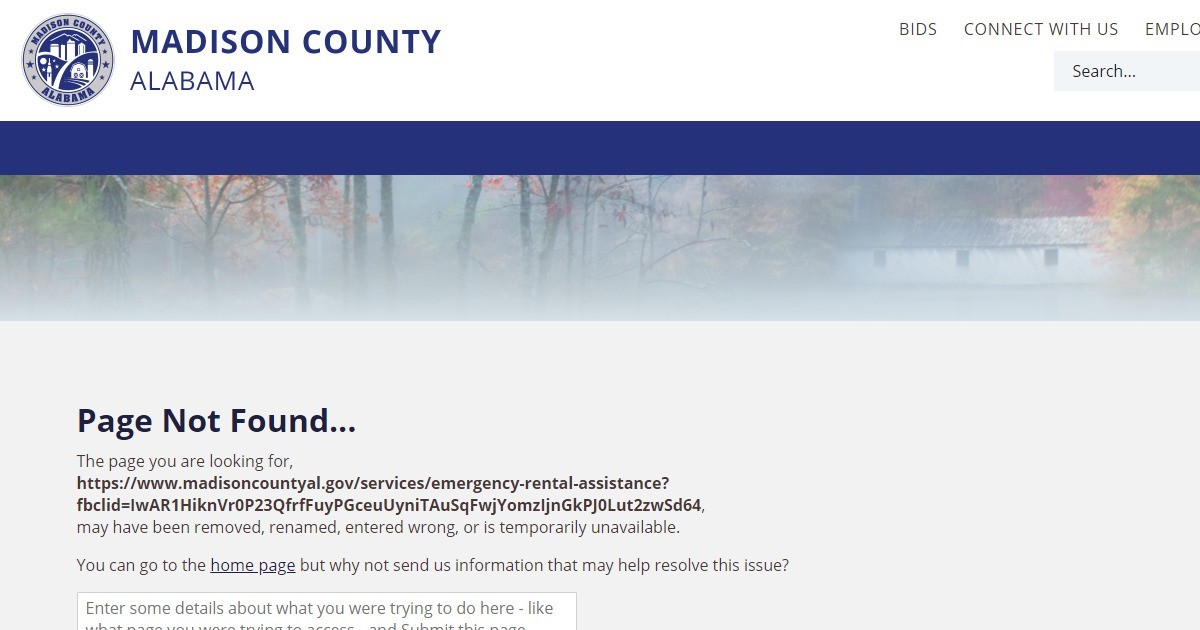 Do you live outside the Huntsville City Limits in Madison County, AL? Because of this fact alone, you are ineligible now to apply for federal COVID-19 emergency rental assistance, which has been available continuously to other Alabama residents since March 2021. Why? According to Emergency Rental Assistance Program, Alabama's current website (www.eraalabama.com), "ERA Alabama provides assistance to all counties and jurisdictions with the exception of: Baldwin County, Jefferson County, Madison County, Mobile County, Montgomery County, Tuscaloosa County, City of Birmingham, and the City of Huntsville. Visit our FAQs page for information on how to access emergency rental assistance in those areas." Your Madison County journey for assistance ends here. Don't believe me? Click on the Madison County link there. "Page Not Found." Call the listed customer service number. It is out of service.
With Dale Strong at the helm, the Madison County Commission did their county funding administration separate from the State of Alabama funding and the Huntsville City Government funding.  First, Madison County Government started ERAP months later than Huntsville City Government and the State, which both started in March 2021. The Madison Co. ERAP was started on June 1, 2021, and ended abruptly in early November 2021. There was only a measly five months of coverage.  By contrast, Huntsville City's ERAP program has been successful. It is ongoing, providing over a year and a half of critical financial help so residents can avoid evictions.  The Madison County Commission chose not to apply for a 2nd round of funding like Huntsville did. When Madison County's MCERAP website and phone number abruptly ended in Nov. 2021, there was no way for those landlords or tenants to follow up on the statuses of applications or fix pending issues…… There is a lot of this story that will go untold. 
Why did the commission do their funding separately from the State when they didn't have the necessary case management infrastructure to do so as Huntsville had? Their document entitled "Emergency Request For Proposals for Federal COVID-19 Emergency Rental Assistance Program Administration And Case Management" shows that the commission didn't even start calling for proposals for the project until March 24, 2021, with a submission deadline of April 7, 2021. This document is available on the Madison County Government website (www.madisoncountyal.gov). I'm no expert on administering government programs, but considering June 1, 2021, launch date, one could logically conclude that this was a major rush job once they did start.
According to June 2, 2021, WHNT.com article "Madison County Rental Assistance Application Now Open," Hunter Drinkard reports, "The Madison County Commission cites its lack of experience with handling programs like these as a major factor behind the delay in the rollout. In February 2021, Alabama received $263 million in federal funding for its ERA, of which $5.2 million was allocated to Madison County." (www.whnt.com)
On August 4, 2021, the Huntsville Business Journal reported the article "Madison County Extending Rental Assistance Funds Into Huntsville." After only two months, the commission decided to share its funding with Huntsville, which already had its first-round $6 million funding source. Madison County's reasoning for this was that they had only received 300 applicants at that time. The article cites Violet Edwards, Madison County Commissioner, District 6. "According to Edwards, the lack of applicants may root in confusion among residents about where to apply- with the state, city, or county. This move should help streamline the local process, she said." (www.huntsvillebusinessjournal.com). Keep in mind her District 6 also includes parts of Huntsville City too. Here we begin to understand why Madison County residents outside Huntsville City limits had such a narrow coverage window. Huntsville City residents had a chance at both funding sources, which depleted Madison County's funding quicker.
Why was such basic logic missing at these commission meetings? Did nobody bring a Venn Diagram? Was there no understanding that securing separate federal funding at the county level would thoroughly lock out those county residents from the larger pool of State money and the City of Huntsville funding? If Madison County residents decide to press ahead anyway and apply with the online State application, question 5A about their locality will warn them away with a red stop sign emoji. If these residents enter their Madison County address in Huntsville City Government's application, they will be stopped dead in their tracks.
A year later, on August 11, 2022, Kayla Smith, WHNT.com, briefly explained the dead zone of coverage in the article "Emergency Rental Assistance not available for some in Madison County." She related one Madison County resident's frustration and confusion about the lack of coverage and the lack of communication and transparency. An internet search leads her to the MCERAP, which is STILL listed on secondary sites for help even though it has been inactive since November 2021. She says, "I had been doing everything I could, using my savings and things I have put aside in case there's a situation. But I got to a place where that also was at its end…..There was no communication at any level of what the process is like or who you can turn to if certain things don't happen.." (www.whnt.com).
On June 3, 2022, I reached out to Ms. Violet Edwards of District 6 through email to see if Madison County residents had yet any path for applying for federal funding. To her credit, she responded right away with the following email verbatim:
"Madison County will not participate ERAP program/distribution in 2022. Now that the state has caught up on its backlog, I hope it will consider bringing Madison County back into the fold. We did not apply for Round 2 of funding at the beginning of the year, so there is no chance of duplication of service. I would encourage people from the county to apply with the state now that we are six months into the year."
That day I called the State of Alabama ERA customer service line, who confirmed that they are "not taking those county applications at this time." I emailed Ms. Edwards back to inform her of this. No response back. At least she was responsive and informative initially. I also emailed Dale Strong with the same question. I will let you know when he gets back to me…..LOL.
Do Madison County residents have any recourse to push to apply for the State application? I called the main phone line for Madison County Government and explained the dilemma. The employee did not seem surprised by the situation, nor did she suggest I reach out to any particular official. She did immediately give me two phone numbers to call, one to Huntsville Housing Authority (not helpful in this situation) and the other to what she called "a federal HUD phone number" (out of service). I reached out to Huntsville Community Development Office, which administers the Huntsville ERAP. They heard it suggested that non-Huntsville City, Madison County residents with an eviction notice can go to Legal Services of Alabama for a possible referral to the State application. So contact free legal aid for a possible path. There is an application process for that.
I think it is time for Dale Strong and the Madison County Commission, who were responsible for MCERAP, to give a public accounting of the late start, the short funding window, the confusion it caused residents about which application to use, it's an abrupt ending to customer service help from once funding ended, its non- renewal of second round funding, and its lack of leadership in finding a fix to the coverage gap. How much of the funding went to the very well-done television commercial that advertised it at the time?
Qualified U.S citizens should not be denied federal funding because they live in zip codes where their leaders don't seem to care about their impending evictions at the height of a pandemic. It may be apathy, incompetence or a combination. What do I know about Dale Strong and his leadership of the commission​? Not much. I see Dale's big red campaign signs all over the county. I know he spent a lot of time campaigning and won the primary in hopes of being our Congressman in the 5th Congressional District. He will most likely represent our state at the national level. Do I think he cares much about preventing homelessness in Madison County​? No! I think there's no evidence of that. Let's face it. Mo Brooks and Tommy Tuberville set the bar for his Republican leadership at the national level very low.
In an Oct. 11, 2022, WHNT article, "Candidate Forum Held in Downtown Huntsville" Archie Snowden reports about the forum for the public to meet candidates for the 5th Congressional District seat. Spoiler Alert: Dale Strong, the front-runner, did not show up. However, Kathy Warner-Stanton, his Democratic competitor, did. She said, I will be on the ballot for the Democratic Party, but I am a candidate for the people. Going forward, anything that the people need or the people desire, I will have for them." (www.whnt.com). Sounds good to me, Kathy!!
According to John Hugh Demastri, dailycaller.com, on Oct. 4, 2022, the Treasury Department announced the creation of a 25-member task force called the Treasury Advisory Committee on Racial Equity (TACRE). Although the question of racial equity is out of the scope of this article, I will present my findings to them to understand what happened here in Madison County. Indeed, there can be no equity where there is no access.
Bama Politics is committed to giving Alabamians a voice. This is an opinion column and does not necessarily represent or reflect the opinions of Bama Politics, its editors or its reporters. The opinions are those of its author. Want to have your voice heard? Send us a message through our
opinion contact page
.
Topic tags: