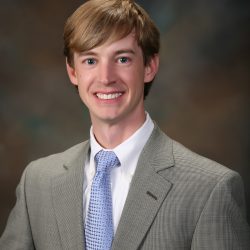 11 South Union Street, Suite 427-G
Montgomery, AL 36130-2950
334-261-0482
Email:

[email protected]
Bachelor's, Marketing, University of Alabama, 2001-2004
Candidate, Alabama State House of Representatives, District 16, 2018
Representative, Alabama State House of Representatives, District 16, 2014-present
President/General Manager, West Alabama TV Cable, 2004-present
Congressional Information
Former Member, Transportation, Utilities and Infrastructure Committee, Alabama State House of Representatives
Former Member, State Government Committee, Alabama State House of Representatives
Former Vice Chair, Local Legislation Committee, Alabama State House of Representatives
Jefferson Co., human sewage, commission authorized to levy tax
Tuscaloosa Co., sales and use taxes, collection clarified, retroactive to Mar. 1, 2020, Act No. 56, 1953 Regular Session, as amended by Act No. 94-554, 1994 Regular Session, Act No. 96-554, 1996 Regular Session, and Act No. 2015-202, 2015 Regular Session, am'd.
Lamar Co., tangible personal property and other items, provide further for the sale or disposal of under the control of the co. commission, Sec. 45-38-71.01 am'd.
Sulligent, alcoholic beverages, draft beer, sale of authorized by ordinance
Surface Mining Commission, requires commission to meet every two months or as the Governor otherwise requires, Sec. 9-16-73 am'd.
State income tax credits, to extend rural practice tax credit to certified registered nurse practitioners and certified registered nurse anesthetists, Secs. 40-18-130, 40-18-131, 40-18-132 am'd.
Taxation, High Socks for Hope, Inc., exempt from state, county, and municipal sales and use taxes
Fayette Co., ad valorem tax on real property, add'l 3 mills, paid to Fayette Co. Firefighters Association, distrib to the paid and volunteer fire depts, const. amend.
Criminal procedure, capital punishment, death penalty, attendance at executions, further provided, Sec. 15-18-83 am'd.
Taxation, require Dept. of Revenue to enter into agreements with financial institutions to develop a financial institution data match program, Sec. 40-29-23.1 added.
Taxation, Financial Institution Excise Tax Reform Act of 2019, tax procedure further provided, Secs. 40-16-1, 40-16-3, 40-16-6 am'd.
Fantasy contests, regulation of, consumer protection measures by operators required, audits, civil penalties, Fantasy Contests Act, established
Fayette Co., judge of probate, salary authorized, fees to be depositied in co. treasury, prior local acts ratified, const. amend.
Lamar Co., judge of probate, salary authorized, fees to be depositied in co. treasury, prior local acts ratified, const. amend.
Finance Dept, requirement that telecommunications division delete telephone usage records 6 months after payment deleted, Sec. 41-4-284 am'd.
Taxation, High Socks for Hope, Inc., exempt from state, county, and municipal sales and use taxes
State income tax credits, to extend rural practice tax credit to certified registered nurse practitioners and certified registered nurse anesthetists, Secs. 40-18-130, 40-18-131, 40-18-132 am'd.
Fayette Co., ad valorem tax, add'l 3 mills, paid to Fayette Co. Firefighters Association, distrib to the paid and volunteer fire depts, const. amend.
Taxation, require Dept. of Revenue to enter into agreements with financial institutions to develop a financial institution data match program, Sec. 40-29-23.1 added.
Contract Review Permanent Legislative Oversight Committee, membership altered to include chairs of House Ways and Means General Fund and Education and Senate Finance and Taxation General Fund and Education Committees, provide further for the length of terms on the committee, Sec. 29-2-40 am'd.
Schools, athletics, State Board of Education to approve any rules relating to student participation eligibility before adoption by a high school athletic organization
Lamar Co., judge of probate, compensation, Sec. 45-38-81 repealed
Fayette Co., poll workers, compensation increased, Sec. 45-29-110 am'd.
Fayette Co., sheriff, County Inmate Work Release Board, percentage withheld from earnings increased, Sec. 45-29-231.20 am'd.
Insurance, self-service storage facilities, limited license provided for personal property related to rental agreement, Sec. 27-7-5.3 added; Sec. 27-7-1 am'd.
Environmental Management Commission, membership, certified ground water member further provided for, may be a licensed geologist, Sec. 22-22A-6 am'd.
Appropriation, increase amount to the Emergency Forest Fire and Insect and Disease Fund from state General Fund, increase max amount for accumulation of funds, Sec. 9-3-10.1 am'd.
Home buyers, first-time, savings accounts authorized to save funds for a down payment and closing costs, income tax deduction for contributions
Public water systems, notification to State Health Officer required when changes made to fluoride levels
Sanders, Martha Gwendolyn Stewart, 100th birthday, commended
Securities Commission, directors salary to be fixed by commission with approval of State Personnel Board, Sec. 8-6-56 am'd.
Securities Commission, directors salary to be fixed by commission with approval of State Personnel Board, Sec. 8-6-56 am'd.
Gas, natural gas, conversion of motor vehicles for operating on compressed natural or liquefied gas, extended weight allowances, Sec. 32-9-20 am'd.
Carruth, Nicole, athletic accomplishments, recognized
Rogers, Johnny, professional achievement, commended
Rogers, Johnny, professional achievement, commended
Rogers, Johnny, professional achievement, commended
Carruth, Nicole, athletic accomplishments, recognized
Rogers, Johnny, professional achievement, commended