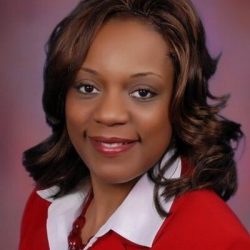 Position: State Representative - District 57
Party: Democratic
Location: Birmingham, AL - Jefferson County
Birthday: September 6, 1973

47
11 South Union Street, Suite 537-A
Montgomery, AL 36130-2950
334-261-0589
Email:

[email protected]
MPA, University of Alabama, Birmingham, 1997
BA, Mass Communication, University of Alabama, Birmingham, 1995
Representative, Alabama State House of Representatives, District 57, 2002-present
Assistant Professor of Political Science, Miles College, present
Director, Economic and Community Development, City of Bessemer, present
Fleming Fellow, Center for Policy Alternatives, 2004
Economic Justice Strategist, Greater Birmingham Ministries, 1999-present
Instructor, Miles College, 1997-1999
Policy Analyst, Alabama Arise, 1999
Adjunct Instructor of Government, Lawson State Community College
Director/Adjunct Instructor, Community and Economic Development, Lawson State Community College
Congressional Information
Member, Center on Policy Alternatives, Women's Caucus and Southern Caucus
Organizations Information
Board Member, Greater Birmingham Ministries, present
Board Member, Saint Mary's Catholic School, present
Executive Board Member, Midfield Neighborhood Association, present
Founding Member, Midfield Voter's League, present
Delegate, American Council of Young Political Leaders, Japan, 2003
Advisory Committee Member, Wider Opportunities for Women-Self Sufficiency Standards
Member, Alabama Citizens Policy Project
Member, Delta Sigma Theta Sorority Incorporated
Board Member, Women Legislator's Lobby
Board Member, Christian Women's Leadership Center
Missing persons, alert law which creates an alert system for persons 18-64, Alabama Critically Missing Adult Alert Program, established
Land Bank Authority, local land bank authorities, municipalities, and counties, tax delinquent properties, Secs. 24-9-6, 24-9-7, 24-9-8, 24-9-10 am'd.
Human trafficking, crimes and penalties further provided, Secs. 13A-6-151, 13A-6-152, 13A-6-157.1, 13A-6-170, 13A-12-122, 15-27-5 am'd.
Firearms, domestice violence, to provide for an extreme risk protection order, prohibit certain violent defendants from possessing firearms, ammunition, or a pistol permit, to provide for the enforcement and registration of an extreme risk protection order, Secs. 30-10-1 to 30-10-15, inclusive, added; Sec. 13A-11-72 am'd.
Traffic stops, racial profiling by law enforcement officers, prohibited, written policies, forms for statistics, and reports to Attorney General required, provision for complaints, reporting and collection of data on injuries to officers, required
Firearms, Gun Protection Violence Act
Human trafficking, National Human Trafficking Resource Center Hotline notice, criminal penalties for failure to display further provided, Sec. 13A-6-170 am'd.
Prostitution, to allow disclosure of certain person's picture after being arrested, Sec. 13A-6-183 am'd.
Income tax, deductions for federal FICA taxes, tax on wages removed, self-employment taxes reduced, Sec. 40-18-15 am'd.
Constitution, Legislature authorized to recompile constitution and submit at 2022 Reg. Sess., and provide for its ratification, const. amend.
Civil procedure, statute of limitations. sex offense, further provided, statute of limitations tolled until vicitim reaches age of majority
Real Estate Appraisers Board, evaluations of property for financial institutions authorized by federal financial institutions regulatory agencies, excluded from regulation by the board, investigators employed by board authorized to be licensees, Secs. 34-27A-2, 34-27A-3, 34-27A-5, 34-27A-23 am'd.
Stolen property, to provide receiving a stolen firearm a felony, technical revisions, Secs. 13A-8-16, 13A-8-17, 13A-8-18, 13A-8-18.1, 13A-8-19 am'd.
Death penalty, moratorium on imposition and execution not to exceed three years, procedure for administering
Self Defense, use of deadly force, prohibition of using stand your ground as defense if the person pursued person it was used against, Trayvon Martin exception, Sec.13A-3-23 am'd.
Employment discrimination, prohibited based on race, color, religion, national origin, ethnicity, sex, sexual orientation, gender identity or expression, disability, or age
Law enforcement officers, Alabama Peace Officers' Standards and Training Commission (APOSTC) provide mandatory training, human trafficking, state and local agencies, human trafficking training
Health care employees, requiring employees to receive human trafficking training
Education, population requirement for city to establish a board of education increased from 5,000 to 15,000, determination of financial capability required, Sec. 16-11-1 am'd.
Parole, Board of Pardons and Paroles, violations, confinement period for parole violation reduced for time served in holding, Sec. 15-22-32 am'd.
Traffic stops, racial profiling by law enforcement officers, prohibited, written policies, forms for statistics, and reports to Attorney General required, provision for complaints, reporting and collection of data on injuries to officers, required
Firearms, Gun Protection Violence Act
Human trafficking, revise penalties and establish agencies responsibile for enforcement, Sec. 13A-6-170 am'd.
Law enforcement officers, Alabama Peace Officers' Standards and Training Commission (APOSTC) provide mandatory training, human trafficking, state and local agencies, human trafficking training
Prostitution, to allow disclosure of certain person's picture after being arrested, Sec. 13A-6-183 am'd.
Education, trade schools, junior colleges, provide human trafficking training in the CDL program
Health care employees, requiring employees to receive human trafficking training
Firearms, Gun Protection Violence Act
Stolen property, to provide receiving a stolen firearm a felony, technical revisions, Secs. 13A-8-16, 13A-8-17, 13A-8-18, 13A-8-18.1, 13A-8-19 am'd.
Bettie Joe Campbell Hennington George-Pinkney, death mourned
Self Defense, use of deadly force, prohibition of using stand your ground as defense if the person pursued person it was used against, Trayvon Martin exception, Sec.13A-3-23 am'd.
Education, population requirement for city to establish a board of education increased from 5,000 to 25,000, determination of financial capability required, Sec. 16-11-1 am'd.
Parole, Board of Pardons and Paroles, violations, confinement period for parole violation reduced for time served in holding, Sec. 15-22-32 am'd.
Death penalty, moratorium on imposition and execution not to exceed three years, procedure for administering
Public Accountancy Board, board composition and powers altered, Secs. 34-1-2, 34-1-3, 34-1-11, 34-1-12 am'd.
Fletcher, Karen Anita Ross, death mourned
Reading initiative, urging the restoration of funding for