Alabama House Passes Abortion Ban Bill That Includes Rape, Incest
The Alabama House voted 74-3 yesterday in favor of HB 314, a bill that would ban abortions even in cases of rape and incest. Democrats walked out on the vote.
The bills sponsor, State Rep. Terri Collins (R-Decatur) has said the goal of the bill is to eventually overturn Roe vs. Wade.
The bill makes it a Class A felony for a doctor to perform an abortion and a Class C felony for attempting to perform an abortion unless there is a serious health risk to the mother.
An amendment was introduced by State Rep. Anthony Daniels (D-Huntsville) that would provide exceptions in cases of rape or incest. Collins said she would not take any amendments to her bill and the amendment was tabled on a 72-26 vote.
Merika Coleman (D-Birmingham) offered an amendment that would make legislators who vote for the bill pay for the ultimate legal challenges the bill would incur with their own salaries. The amendment was tabled with a vote of 61-27.
The ACLU has already said they will sue if the bill is signed into law.
"These lawsuits are a part of a plan to overturn Roe v. Wade at the Supreme Court. They know they will not win in federal, district, or appeals courts because these bills are flagrantly unconstitutional," said Randall Marshall, executive director of the ACLU of Alabama. "However, if a state loses in lower courts, appeals to the Supreme Court and is denied review, then they will owe potentially hundreds of thousands of taxpayer money in attorney fees. None of these states including Alabama can afford to throw money away like that."
The ACLU posted a photo of a check that Alabama wrote them the last time they challenged abortion and lost.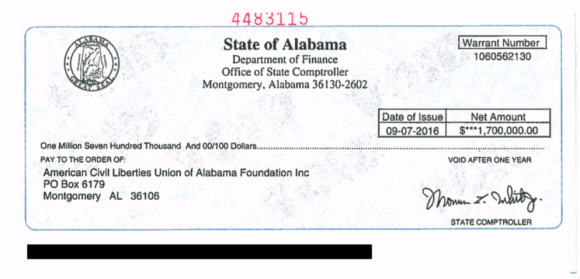 The bill will now head to the Senate.
Brent Wilson was born and raised in Huntsville, Alabama and is the Owner and Chief Editor of BamaPolitics.com.
Topic tags: