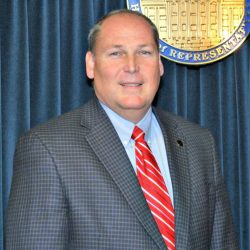 11 South Union Street, Suite 410-F
Montgomery, AL 36130-2950
334-261-0488
Email:

[email protected]
Attended, Wallace Community College
Candidate, Alabama State House of Representatives, District 86, 2018
Representative, Alabama State House of Representatives, District 86, 2010-present
Former Commissioner, City of Dothan, District 3
Former President, 2nd Congressional District
Executive Director, Wiregrass Rehabilitation Center, Incorporated, present
Salesman, WDHN-TV, present
Former Employee, Sony
Congressional Information
Member, Houston County Healthcare Authority, Southeast Alabama Medical Center, 1997-2005
Chair, Metropolitan Planning Organization
Former Member, Rules Committee, Alabama State House of Representatives
Former Member, Contract Review Permanent Legislative Oversight Committee, Alabama State House of Representatives
Representative for Dothan, Alabama Municipal Electric Authority
Organizations Information
Member, Metropolitan Planning Organization, present
Member, Logo Baptist Church, present
Member, Dothan Rotary Club, present
Member, Alabama Municipal Electric Authority
Member/Campaign Chair, Wiregrass United Way
Vice Chairman, Houston County Healthcare Authority
Houston Co., probate judge shall collect a tag transaction fee, distrib. for emergency medical services, referendum
Houston Co., probate judge shall collect a tag transaction fee, distrib. for emergency medical services, referendum
Public Health Dept., hospitals, discharge date, reporting collection, and release, privacy to be maintained, civil penalties, adoption of rules, release of data to Ala. Hospital Association
Taxation, private auditing or collecting firms prohibited from recovering certain expenses from taxpayers, Sec. 40-29-20.1 added.
Juveniles, grounds for termination of parental rights, factors for juvenile courts to consider, permanency plans for children, Secs. 12-15-319, 26-10A-17 am'd.
Self-service food vendors, vending machines and micro markets defined, Agriculture and Industries to regulate
Juveniles, grounds for termination of parental rights, factors for juvenile courts to consider, permanency plans for children, Secs. 12-15-319, 26-10A-17 am'd.
Taxation, provide income tax deduction, military stationed out of state
Taxation, provide income tax deduction, military stationed out of state
Houston Co., law enforcement, authorized to take an individual with mental illness into protective custody under certain conditions, protection from civil and criminal liabilities
Criminal history background checks, require background check for only adult working in a child care institution, group home, maternity center, or transitional living facility, Secs. 38-13-2, 38-13-4 am'd.
Houston Co., to eliminate the sunset provision for the taxes provided for therein, Sec. 45-35-244.09 am'd.
Licenses, business delivery licenses, fee per business clarified, when license to be purchased, provided for, Sec. 11-51-194 am'd.
Education, to reduce the required number of restroom fixtures at public high school sports stadiums for each sex based on seating occupancy, Sec. 16-1-2.3 added.
Houston Co., judge of probate, required to be an attorney licensed in this state, const. amend.
Class 5 municipalities, organized under Chapter 44E, Title 11, Code of Alabama 1975, (Dothan), Municipal house authorities, number of commissioners increased, Sec. 24-1-24 am'd.
Dothan, civil service system, approval of compensation rate further provided for, Sec. 45-35A-51.11 am'd.
Webb, municipal court, warrant recall fee, authorized, distrib. of fees
Kinship guardianship, to remove certain requirements for appointment of guardians by the juvenile court, Sec. 12-15-314 am'd.
Motor fuel taxes, single point of filing and payment system, Rev. Dept. to administer, taxes and exemptions standardized, Local Motor Fuel Tax Advisory Committee estab.
Municipal business licenses, not required for certain persons travelling through municipality on business, Sec. 11-51-90.2 am'd.
Court reporters, state salary tied to pay scale of Alabama Personnel Dept. Pay Plan for state employees, subject to cost-of-living and merit raises, provide pay for court reporter returning to state service, provide salary of supernumerary court reporters, Secs. 12-17-274, 12-17-292 am'd.
Emergency responders, certified peer support member, certain communications privileged, criminal penalties for violation
United States Postal Service, urged to continue delivery service to individualized curbside boxes in new residential developments
United States Postal Service, urged to continue delivery service to individualized curbside boxes in new residential developments