Madison County Receives Highest Credit Rating Upgrade Ever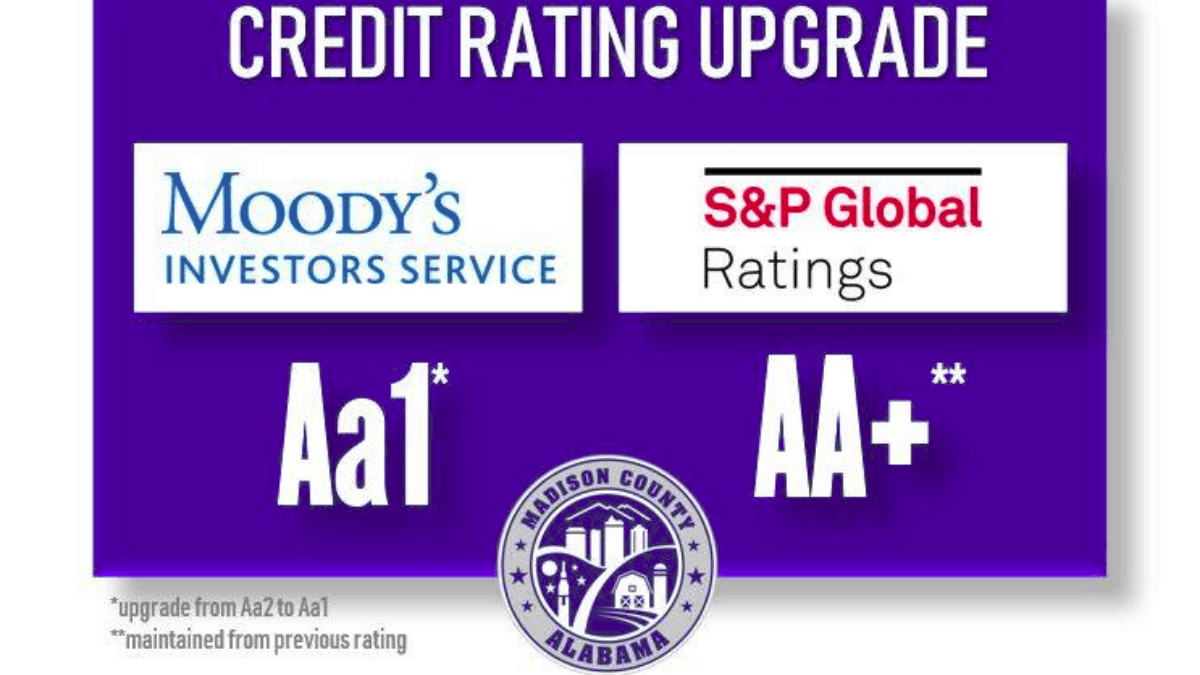 Madison County Commission Chairman Dale W. Strong announced today Madison County, Alabama has received an upgrade in its credit rating from Moody's Investors Service (Moody's) resulting in the best – and highest – credit rating in the history of Madison County. Moody's upgraded Madison County from an Aa2 rating to Aa1. S&P Global Ratings (S&P) maintained their current rating of AA+ with a stable outlook.
During recent meetings with both S&P and Moody's, Madison County was praised for the systematic measures taken to improve and strengthen the financial control of County operations including the execution of debt reduction, upgraded accounting practices, financial management, job creation, and organizational rightsizing. In their rating, Moody's specifically cited Madison County's large and growing tax base, healthy financial position marked by substantial reserve and liquidity levels, and manageable debt burden. S&P noted the strength in the local economy and budgetary performance, and very strong liquidity and fiscal flexibility.
Madison County Commission Chairman Dale W. Strong said, "Our Commission and financial team have embraced change and have set conditions through new policies while making the hard decisions when it mattered most leading to this momentous announcement, and the taxpayers of Madison County will benefit the most with lower bond rates". Strong added, "These are historical times in Madison County, Alabama. Since 2012, we have been very successful in letting the rest of the world know our engineering, advanced manufacturing, and propulsion capabilities thereby leading to more than 25,000 new jobs for the greater Madison County region. While Huntsville has always been the Rocket City, if your company is in space or missile defense and you don't have a presence in Madison County you need to rethink your business model because whether it be rockets or automotive engines Madison County is truly the Propulsion Capital of the World".
Madison County, Alabama is a growing and vibrant community with a population of 360,000 residents and is home to the United States Army headquarters for the Army Materiel Command at Redstone Arsenal; Cummings Research Park – the nation's second-largest research park and fourth-largest in the world; the University of Alabama in Huntsville; and Alabama Agricultural & Mechanical (A&M) University. In recent months the Federal Bureau of Investigation (FBI), Bureau of Alcohol, Tobacco, and Firearms (ATF) and the Terrorist Explosive Device Analytical Center (TEDAC) each has established a major presence in Madison County, Alabama. Other significant announcements of investment and new jobs to Madison County include the Toyota Motor Manufacturing Alabama Inc. (TMMAL) recent announcement of a $288M facility expansion to install two new engine lines that will create 450 new jobs. The Huntsville plant is among Toyota's largest engine facilities globally and is the only Toyota plant in the world to build 4-cylinder, V-6 and V-8 engines under one roof.
In early 2018, premier automakers Mazda and Toyota teamed together in a joint venture partnership to create Mazda Toyota Manufacturing USA, Inc. selecting the north Alabama region to construct a manufacturing facility that will produce 300,000 vehicles annually beginning in 2021. The $1.6B investment is the largest economic development deal in the history of the State of Alabama. Other leading companies that have chosen to expand or relocate to the Madison County region are Blue Origin, Aerojet Rocketdyne, GE Aviation, Raytheon, Dynetics, DC Blox, Boeing, and the HudsonAlpha Institute for Biotechnology. Madison County defines the definition of a Regional Approach by being the lead employer for 12 counties in North Alabama and 2 counties in southern Tennessee.
While Chairman Strong admits the economy in Madison County is the most robust he has ever witnessed, he added "I believe Madison County's finest hours are still ahead. Our team continues to build a solid economy and workforce not only for this generation but for many generations to come."
Brent Wilson was born and raised in Huntsville, Alabama and is the Owner and Chief Editor of BamaPolitics.com.
Topic tags: