Huntsville City Council Discusses New $60 Million City Hall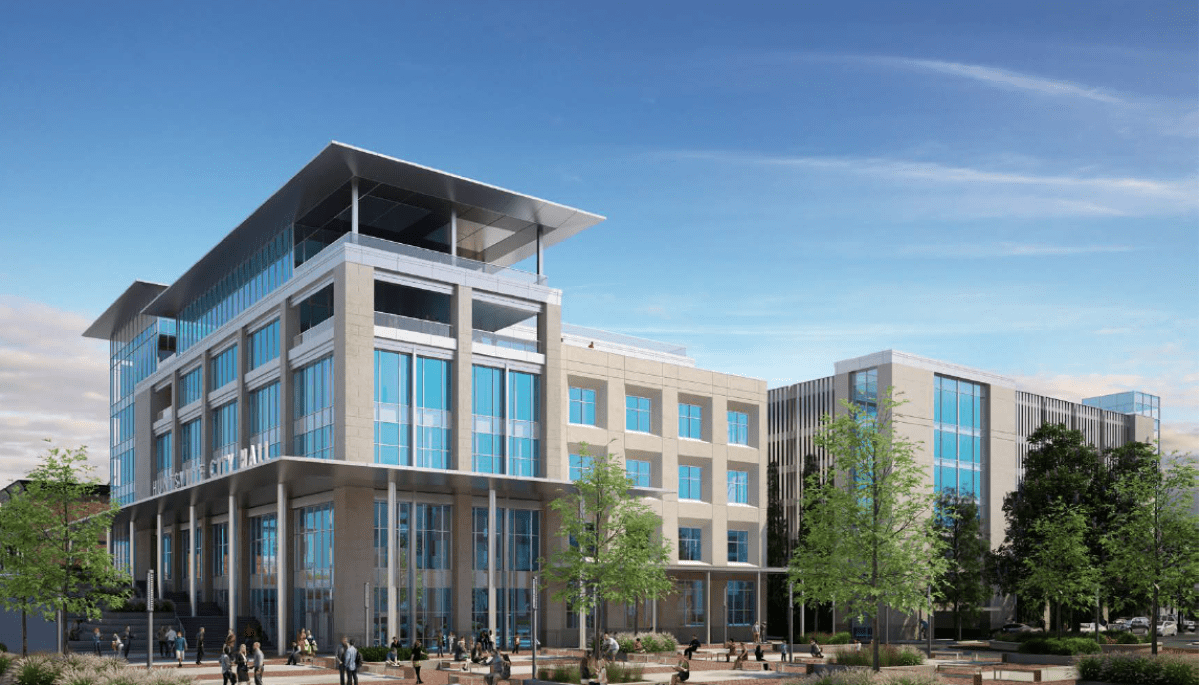 The City of Huntsville Administration presented City Council with an update on plans for a new Huntsville City Hall in a work session held on December 18, 2019. During the meeting, Council heard a presentation from General Services Director Ricky Wilkinson on the new building's "schematic design" or in layman's terms: the first phase that determines the size requirements and goals for the municipal space.
The Huntsville City Council will consider a $2.7 million architectural contract with Goodwyn, Mills and Cawood, Inc. during its December 19 Council Meeting. The contract would formalize and flesh out the design of the new City Hall.
City officials said renovations alone to the existing City Hall, which offers only half of the current space needed, would cost between $32.5 million and $35.8 million.
As it currently stands, City Hall does not meet seismic, ADA, building and fire standards. Structural integrity, code updates, facade issues, failure of major mechanical structures and lack of available space were all listed by the City's Administration as examples of the infeasibility and financial burden of renovating the current structure.
City Administrator John Hamilton told Council the focus for the last 12 – 18 months has been conducting a comprehensive analysis of space requirements for a new City Hall.
"It's important we have accurate data to inform the scope and scale of the facility," Hamilton said. "We're still at the starting line, but this work has served to establish a solid foundation as we move forward with planning for a new building that will allow us to efficiently and effectively provide services to the public."
Wilkinson, the Director of the City's General Services, said the design of the new building will likely include open floor plans and co-location of departments on most floors. "Within one facility, citizens will have a one-stop-shop for city services. The new City Hall will be sustainable, energy-efficient and built to be mindful of future growth," Wilkinson said.
A "one-stop-shop" municipal facility is a far cry from what citizens experience now. 146,000 sq. ft. of office space is currently distributed outside city hall with departments such as GIS, ITS, Inspections and Engineering operating in separate facilities, each with their own maintenance costs.
The new City Hall, expected to be six levels with a five-level parking deck, is anticipated to have double the amount of seating in new council chambers and include a facade that complements the character of its surrounding area in Downtown Huntsville.
"We understand this is a public facility and getting input on building design and character will be essential," Wilkinson said. "That will come next."
Wilkinson outlined the anticipated timeline for the building of a new City Hall:
Bidding for the construction contract is expected to take place in November 2020
Council's vote on the construction contract is slated for December 2020
Construction of the new City Hall followed by the demolition of the existing building is expected to take around 18 months in totality
New City Hall is expected to be open by fall of 2022
"A lot of work is still to do be done to determine the exterior design, co-location, and floor plan needs," Hamilton said. "We look forward to working with the Council and citizens as this process moves ahead.
Mayor Tommy Battle emphasized the importance of collaboration in bringing the project to fruition.
"We're at the end of the useful life of this building," Battle said. "If we do this right we have something iconic for the City of Huntsville. Something that will make Huntsville proud of their city's headquarters. It's important we get everybody's input as we take these next steps."
Brent Wilson was born and raised in Huntsville, Alabama and is the Owner and Chief Editor of BamaPolitics.com.
Topic tags: