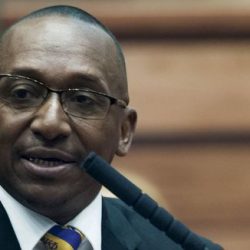 11 South Union Street, Suite 740
Montgomery, AL 36130-4600
334-261-0335
Email:

[email protected]
BS, Criminal Justice, Alabama State University
JD, Miles College School of Law
Candidate, Alabama State Senate, District 24, 2018
Senator, Alabama State Senate, District 24, 2005-present
Representative, Alabama State House of Representatives, 2002-2005
Chair, 7th Congressional District, Hale County
Field Director, Campaign 2000 and Beyond
Owner, Black Belt Technologies Limited Liability Company, present
Congressional Information
Member, Alabama Emergency Communication District Long-Range Study Commission (E-911)
Chair, The Alabama Legislative Black Caucus
Economic Development Chair, West Alabama Rural Action Commission, Region 2
Former Member, Fiscal Responsibility and Economic Development Committee, Alabama State Senate
Former Member, Housing Finance Authority Legislative Oversight Committee, Alabama State Senate
Former Vice Chair, Tourism and Marketing Committee, Alabama State Senate
Organizations Information
Member, Omega Psi Phi
Member, Alabama New South Coalition
Member, Alabama Democratic Conference
Member, Greenleaf Missionary Baptist Church, present
Aliceville, corp. limits alt.
Medicaid, increase reimbursement rates for certain ambulance services
Public health, Alabama Injection-Associated Infectious Disease Elimination Act. established
Crimes and offenses, unlawful possession of marijuana, crime revised, Secs. 13A-12-213, 13A-12-214 am'd.
Long Term Care Ombudsman Program, update provisions and delete outdated and obsolete terms and provisions, Secs. 22-5A-1 to 22-5A-7, inclusive, am'd.
Teachers' Retirement System, one-time lump-sum payment for certain retirees and beneficiaries
Taxation, to update the dispursement of certain license taxes and registration fees, Sec. 40-12-270 am'd.
State contracts, for goods and services, to create a statewide disadvantaged business enterprise program, to establish a study commission on disadvantaged business enterprises
Marengo Co., judge of probate authorized to exercise equity jurisdiction under certain conditions, const. amend.
Election, absentee election ballot applications, require absentee election manager to notify applicant of deficient ballot, Secs. 17-11-5, 17-11-9 am'd.
Wine, authorizing common carriers to make delivery of alcoholic beverages to residents over 21, to create a wine direct shipper permit to allow wine manufacturers to ship their table wine directly to residents, Sec. 28-3A-6.1 added; Sec. 28-1-4 am'd.
State income tax credits, to extend rural practice tax credit to certified registered nurse practitioners and certified registered nurse anesthetists, Secs. 40-18-130, 40-18-131, 40-18-132 am'd.
Disaster Recovery Program, Statewide Emergency Notification System, created, Sec. 31-9-87 added; Secs. 31-9-80, 31-9-81 am'd.
Colleges and universities, Alabama State University, tuition rates, board of trustees, authorized to extend resident tuition rates to qualified nonresident students of other schools
Taxation, Most Worshipful Prince Hall Grand Lodge Free and Accepted Masons of Alabama and the Most Worshipful Grand Lodge F, and A.M. of Alabama, exempt from sales, county and municipal fees and taxes
Entertainment events, limiting the circumstances in which a ticket vendor or entertainment venue can place restrictions on the resale or transfer of tickets
Moundville, alcoholic beverages, authorize City Council to provide by local ordinance for the sale of keg or draft beer
Public contracts, competitive bids, further provided, local preference zone, further provided, Sec. 41-16-50 am'd.
Taxation, Prince Hall Grand Lodge Free and Accepted Masons and Most Worshipful Grand Lodge F. and A.M., exempt from sales, county and municipal taxes
Long Term Care Ombudsman Program, update provisions and delete outdated and absolete terms and provisions, Secs. 22-5A-1 to 22-5A-7, inclusive, am'd.
Colleges and universities, Alabama State University, tuition rates, board of trustees, authorized to extend resident tuition rates to qualified nonresident students of other schools
Crimes and offenses, to amend the threshold amounts for theft of property offenses and receiving stolen property offenses, Secs. 13A-8-1, 13A-8-3, 13A-8-4, 13A-8-4.1, 13A-8-5, 13A-8-7, 13A-8-8, 13A-8-8.1, 13A-8-9, 13A-8-10, 13A-8-10.1, 13A-8-10.2, 13A-8-10.25, 13A-8-10.3, 13A-8-16, 13A-8-17, 13A-8-18, 13A-8-18.1, 13A-8-19 am'd.
Greene Co., bingo on electronic machines or devices authorized for licensed racetracks, Greene Co. Gaming Commission, established, const. amend.
Conservation and Natural Resources, wildlife, possession for public exhibition purposes, importing of cervidae, prohibited, Sec. 9-11-328 am'd.
Taxation, tax credits, Railroad Modernization Act, state income tax credit authorized for qualified railroad reconstruction or replacement expenditures
Alabama State University, board of trustees, Governor, serve as an ex officio member, selection of president and president pro tempore by membership of the board, Secs. 16-50-20, 16-50-26 am'd.
Motor vehicles, seat belt use required for each occupant while vehicle is in motion, Secs. 32-5B-4 am'd.
Alcoholic beverages, wine, direct shipment to consumer, authorized under certain conditions, wine direct shipper license required by Alcoholic Beverage Control Board, penalties, Sec. 28-3A-6.1 added; Sec. 28-1-4 am'd.
Entertainment events, limiting the circumstances in which a ticket vendor or entertainment venue can place restrictions on the resale or transfer of tickets
Health, Alabama Injection-Associated Infectious Disease Elimination Act, authorizing the establishment of local and state programs to combat spread of such diseases
Nurse Anesthetists, certified registered (CRNA's), insurance and health benefit plans, direct payments for services, definition of CRNA for purposes of law updated, Sec. 27-46-3 am'd.
State income tax credits, to extend rural practice tax credit to certified registered nurse practitioners and certified registered nurse anesthetists, Secs. 40-18-130, 40-18-131, 40-18-132 am'd.
Railroads, Class II or Class III, corporate income tax credit for railroad reconstruction and replacements expenditures, transfer to taxpayers subject to corporate or indiv. income tax
Taxation, tax credits, Railroad Modernization Act, state income tax credit authorized for qualified railroad reconstruction or replacement expenditures
Taxpayers Bill of Rights, revised to eliminate prohibition against entering into installment payment agreement with certain taxpayers, Secs. 40-2A-4, 40-2A-10 am'd.
Marijuana, possession of, penalties revised, quantities included, possession of marijuana in third degree created, Secs. 13A-12-214.4, 13A-12-214.5 added; Secs. 13A-12-213, 13A-12-214 am'd.
Income tax, credit for certain qualified clean-burning motor fuel property including motor vehicles propelled by compressed natural gas, liquified natural gas, or liquified petroleum gas, limitation, Revenue Dept. authorized to make rules
Hale Co., Akron, corp. limits, alt.
Greene Co., bingo on electronic machines or devices authorized for licensed racetracks, Greene Co. Gaming Commission, established, const. amend.
Beneficiaries, permit Supernumerary Circuit Clerk or Register to change beneficiary, seek refund under certain circumstances, Secs. 12-17-142, 12-17-143 am'd.
Missing persons, persons with Alzheimer's or dementia eligible for Senior Citizen's Alert regardless of age, law enforcement personnel required to undergo training in searching for dementia patients, Secs. 26-19A-2, 26-19A-4 am'd.
Adult Protective Services Act, revise definition of protected person, to persons with Alzheimers disease or dementia and remove reference to senile, Sec. 38-9-2 am'd.
Real estate, licenses, definitions, clarify and add requirements for brokerage agreements, continuing education, Secs. 34-27-2, 34-27-3, 34-27-6, 34-27-30, 34-27-32, 34-27-33, 34-27-34, 34-27-35 am'd.
Hale Co., sheriff authorized to sell certain abandoned, unclaimed, or stolen property and firearms, notice, record keeping requirement, distribution of funds for law enforcement purposes
Alabama State University, authority and responsibilities of the board of trustees and president of university, further provided for, Secs. 16-50-20, 16-50-23, 16-50-27 am'd.
Employment practice, unlawful to inquire from job applicant information relating to arrests or conviction of crimes, criminal record, with exceptions
Injection-Associated infectious disease elimination, pilot programs by Dept. of Public Health and local health authorities authorized, limited criminal immunity granted
Open Primary elections, system created, qualifications to participate in general election, revised, Sec. 17-13-8.2 added; Secs. 17-13-7.1, 17-13-19, 17-13-20, 17-13-21, 17-13-23, 17-13-41, 17-13-101 repealed; Secs. 17-5-2, 17-5-7, 17-5-8, 17-6-21, 17-6-22, 17-9-3, 17-11-12, 17-13-1, 17-13-2, 17-13-3, 17-13-5, 17-13-6, 17-13-7, 17-13-8, 17-13-16, 17-13-18, 17-13-22, 17-13-50, 17-16-45, 17-16-46, 21-4-21am'd.
Transportation network companies, Public Service Commission permit required to operate, minimum requirements imposed
Chris Beeker, United States Dept. of Agriculture Director, commended, urged to continue rural state housing developments
Transportation network companies, Public Service Commission permit required to operate, minimum requirements imposed