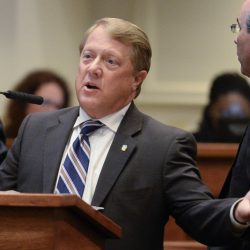 BS, Vanderbilt University, 1983
Senator, Alabama State Senate, District 25, 2010-2018
Delegate, Republican National Convention, 1996, 2000
Former Representative, Alabama State House of Representatives
Owner, Brewbaker Chrysler Dodge Jeep Kia and Infiniti, Incorporated, present
Education Liaison, Alabama State Legislature
High School Teacher, Trinity Presbyterian School and The Montgomery Academy
President/CEO, Brewbaker Motors, present
Congressional Information
Former Member, Rules Committee, Alabama State Senate
Former Member, Permanent Joint Legislative Committee on Finances and Budget, Alabama State Senate
Former Member, Governmental Affairs Committee, Alabama State Senate
Former Member, Education & Youth Affairs Committee, Alabama State Senate
Former Member, Constitution, Ethics, and Elections Committee, Alabama State Senate
Former Member, Confirmations Committee, Alabama State Senate
Former Member, Permanent Joint Legislative Committee on Finances and Budget, Alabama State Senate
Organizations Information
Board Member, Salvation Army
Former District Chair, Boy Scouts of America
Member, National Rifle Association
Board Member, Father Walter's Children Center
Elder, Young Meadows Presbyterian Church
Member, Auburn University-Montgomery Advisory Board
Member, Spina Bifida Association of America
Member, Montgomery County Republican Committee
Wrestling Coach, Georgia Washington Junior High
County Superintendent of Education, required to be appointed unless provided otherwise by constitution
Marijuana, possession of, penalties revised, quantities included, possession of marijuana in third degree created, Secs. 13A-12-214.4, 13A-12-214.5 added; Secs. 13A-12-213, 13A-12-214 am'd.
Kinship guardianship, to remove certain requirements for appointment of guardians by the juvenile court, Sec. 12-15-314 am'd.
Taxation, tax credit for private intrastate adoptions, applicable to any private adoptions, Secs. 40-18-360, 40-18-361 am'd.
Wallace-Folsom Savings Investment Plan, certain contributions to savings accounts by guardians and conservators, authorized, Secs. 16-33C-1, 16-33C-3, 16-33C-10,16-33C-25 am'd.
Elmore Co., sheriff, compensation, Act 2003-174, 2003 Reg. Sess., repealed
Meningococcal disease awareness and prevention, recognized
Crimes and offenses, trafficking, cannabis, minimum amount to constitute trafficking raised, Sec. 13A-12-231 am'd.
Education, personnel vacancies, posting of on local bd. of ed. website, at a minimum, or at each school campus and worksite, time to post decreased from 14 to 7 days before position to be filled, Sec. 16-22-15 am'd.
Montgomery, the capital of the State of Alabama, recognized
Memorial Preservation Act, prohibition against renaming of certain schools and exempts all schools located on public property from act, Act 2017-354, 2017 Reg. Sess., am'd; Secs. 41-9-231, 41-9-232, 41-9-233, 41-9-235, 41-9-236 am'd.