Alabama State Rep. Mike Ball Talks CARE Act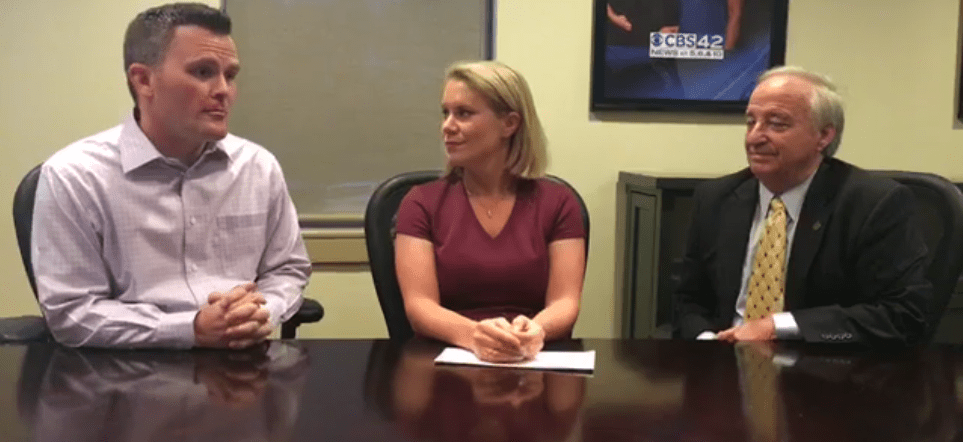 In 2014, Rep. Mike Ball (R – Madison) introduced legislation that would go on to become Carly's Law – a bill that authorized the University of Alabama in Birmingham to conduct a study on the effects of cannabidiol (also known as CBD oil) on patients suffering from seizures. A couple of years later, Ball followed up with Leni's Law, which expanded the former bill and decriminalized possession of CBD oil with up to 3% THC.
Now, Representative Ball is making a serious push for full legalization of medical marijuana in the state of Alabama.
On March 20, 2019, he introduced HB243, also known as the CARE Act, which would allow those with a qualifying medical condition to acquire a medical cannabis card to treat their ailment. The bill has a surprising amount of bi-partisan support, including House Majority Leader Mac McCutcheon (R – Monrovia) and House Minority Leader Anthony Daniels (D – Huntsville).
Ball recently sat down with CBS 42's Leigh Garner for a Facebook Live interview to discuss HB243 and the events that led him down this unlikely path.
"When I started this, if anybody would've told me that I'd ever wind up carrying a marijuana bill, I would've said they were crazy," he said in the video.
Ball says his advocacy started when he received a late-night email from a desperate constituent imploring him to support legalization for the sake of her child who was suffering from seizures.
Though initially skeptical, Ball's instincts as a former investigator pushed him to look further into the issue – if for no other reason than to give the constituent a "sensible response" as to why legalization would be impossible in Alabama. Or so he thought at the time.
Ball said that the more he learned, the more he realized there might actually be something to medical cannabis. In the end, he couldn't find a good enough reason not to pursue it.
"When we see fellow humans suffering, we have an absolute moral obligation to help them if we know a way and have a way," he said.
Joining Rep. Ball was Dustin Chandler – a major advocate for CBD and medical cannabis access in Alabama. Chandler is the father to the eponymous Carly Chandler, whose diagnosis with a rare form of epilepsy, and subsequent treatment with CBD oil, inspired him to join the fight for legalization.
Chandler spoke at length about his support for HB 243, saying he felt called to step in and fight for the people in Alabama who are suffering. He also made a plea to skeptics, asking them to open their hearts and try to understand what's really at the heart of the issue.
"People always think this is something that's going to get us somewhere else," he said. "We introduced this to help the suffering people of Alabama, and I think that's what we should be doing."
Ball made a similar appeal, decrying the "fear and ignorance" that has kept the state of Alabama from pursuing medical legalization in the past. "Fear has been our biggest enemy," he said. "Fear causes minds to shut down."
Still, Ball extended an olive branch to skeptics, encouraging them to work with the bill instead of against it.
"The skeptics will ask the questions that will cause us to seek the answers to have the best bill possible," he said. "But to those who are skeptical about this, or even to those who are opposed to this, I would just ask you to keep your heart open. Don't close your mind, and don't close your heart."
Marijuana legalization in any form has rarely been seriously considered in the Alabama legislature. In 2018, former Senator Dick Brewbaker (R – Pike Road) and former Representative Patricia Todd (D – Birmingham) introduced two, nearly identical bills to their respective chambers that would have decriminalized possession in Alabama. Only Brewbaker's bill made it through committee, but it failed to go any further.
Still, Ball believes the bill will pass in the end. Aside from the encouraging number of co-sponsors, he and Chandler both believe there's a lot more to this pursuit than just politics.
"Whatever it was that started me on Carly's law and led me to Leni's law has put us here, all of us together, and whatever that is, loves those who suffer and wants to find a way. We will find a way to get this done."
Chandler encouraged those who support HB243 to reach out to their elected representatives in both the House and Senate, as well as those who sit on the House of Representatives Health Committee, and respectfully express their support.
"The largest component, which I learned in Montgomery in 2014, is that lawmakers listen to the people," he said.
You can find the list of Health Committee representatives on the Legislature's website. To watch the full interview with Ball and Chandler, visit the CBS 42 Facebook page.
Topic tags: