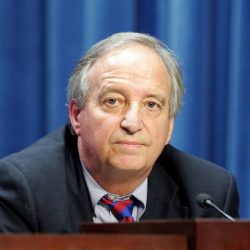 Position: State Representative - District 10
Party: Republican
Location: Madison, AL - Madison County
Birthday: September 17, 1954

66
11 South Union Street, Room 401-A
Montgomery, AL 36130
334-261-0483
Email:

[email protected]
AS, Criminal Justice, Jefferson State Junior College, 1982
BS, Political Science, Athens State University
Candidate, Alabama State House of Representatives, District 10, 2018
Representative, Alabama State House of Representatives, District 10, 2002-present
Senior Partner, Ball Roofing, 2005-2010
Agent-Supervisor/Hostage Negotiator, Alabama Bureau of Investigation, Major Crimes Unit, 1986-2003
State Trooper, Alabama State Troopers, Highway Patrol, 1978-1986
Sergeant, United States Marine Corps, 1973-1977
Organizations Information
Member, The House Band
Member, The Madison Mountaintop Band
Member, Huntsville Traditional Music Association
Member, Asbury United Methodist Church
Member, Alabama State Trooper Association
Member, American Legion
Municipalities, certain designated muns., levy of ad valorem tax for bonds to finance projects, use of proceeds for direct payments to finance capital improvements, const. amend.
Ethics, State Ethics Commission, duties and membership revised, penalties, definitions, gift ban, enforcement procedures revised, Secs. 36-25-1, 36-25-3, 36-25-4, 36-25-4.1, 36-25-4.3, 36-25-5, 36-25-5.1, 36-25-7, 36-25-8, 36-25-9, 36-25-10, 36-25-12, 36-25-13, 36-25-14, 36-25-15, 36-25-16, 36-25-17, 36-25-18, 36-25-19, 36-25-23, 36-25-24, 36-25-27 am'd; Secs. 17-17-4, 36-25-1.1, 36-25-1.3, 36-25-5.2, 36-25-6, 36-25-11, 36-25-22 repealed.
Elections, absentee ballots, local board of registrars required to notify absentee voters by mail why his or her absentee ballot was not counted, Sec. 17-11-10 am'd.
Owens Cross Roads, corp. limits alt., deannexing property
Private dialysis centers, nurse-patient ratio established, Dept. of Public Health to adopt rule
Redstone Thrift Shop, exempt from state, county, and municipal sales and use tax
Animals, required rabies vaccines for certain canidae and felidae, further provided for, possession of certain large felidae, wolves, or bears, prohibited under certain conditions, minimum caging requirements, penalties, Secs. 3-8-1 am'd; Sec. 3-8-2 added.
Medical Marijuana, program established to allow use of for certain conditions, defense against prosecution for marijuana possession established, Secs. 2-33-1 to 2-33-8, incl., 2-33-20 to 2-33-23, incl., 2-33-40 to 2-33-49, incl., added; Secs. 13A-12-213, 13A-12-214, 3A-12-214.2, 13A-12-214.3 am'd.
Legislature, committees, chair of committee authorized to issue subpoenas to compel the attendance of witnesses and the production of papers
Public officials, criminal provision moved to Ethics code, using official authority to influence vote or political action a Class C felony, Sec. 17-17-4 am'd, renumbered as Sec. 36-25-27.1
Triana, ad valorem tax, distrib. for public education, referendum, contingent on ad valorem tax increase in Madison
Madison, ad valorem tax, additional levy authorized for education, referendum
Veterans, distinctive license plates, Air Medal added to military awards eligible to be commemorated, Secs. 32-6-250, 32-6-251 am'd.
Developmental disability care providers, employees entitled to pay when office closed due to state of emergency declaration
Thrift Shops located on military installation in Alabama, exempt from state, county, and municipal sales and use tax
Open primary elections, system created, qualifications to participate in general elections revised, Sec. 17-13-8.2 added; Secs. 17-13-7.1, 17-13-19, 17-13-20, 17-13-21, 17-13-23, 17-13-41, 17-13-101 repealed; Secs. 17-5-2, 17-5-7, 17-5-8, 17-6-21, 17-6-22, 17-9-3, 17-11-12, 17-13-1, 17-13-2, 17-13-3, 17-13-5, 17-13-6, 17-13-7, 17-13-8, 17-13-16, 17-13-18, 17-13-22, 17-13-50, 17-16-45, 17-16-46, 21-4-21am'd.
Elections, notification of absentee voter of defective and uncounted ballot, Sec. 17-11-10 am'd.
Consumer and Consumer Protection, telephone solicitation, maximum civil penalty and damage awards increased for certain violations, Secs. 8-19C-6, 8-19C-7 am'd.
Veterans day, state public universities encouraged to officially observe