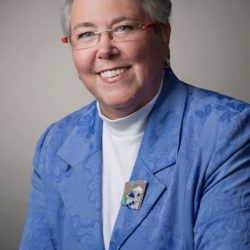 MPA, University of Alabama-Birmingham, 1994
BS, University of Kentucky, 1980
Representative, Alabama State House of Representatives, District 54, 2006-2018
Associate Director, AIDS Alabama, 2004-present
Program Director, Central Alabama Women's Business Center, 2001-2004
Owner, One on One Computer Training, 1999-2001
Staff, Bill Baxley for Governor, 1986
Congressional Information
Delegate, Democratic National Convention, 2004
Member, State Democratic Executive Committee, 1986-1990
Founder, Alabama Chapter, Stonewall Democrats
Former Member, Ways and Means Education Committee, Alabama State House of Representatives
Former Member, Alabama Commission to Reduce Poverty, Alabama State House of Representatives
Former Member, Jefferson County Legislation Committee, Alabama State House of Representatives
Former Member, Education Policy Committee, Alabama State House of Representatives
Organizations Information
Board Member, Alabama Moving Image Association, present
Board Member, Greater Birmingham Ministries, present
Board Member, Equality Alabama, 2005
President, Stonewall Democrats-Alabama, 2005
Member, National Association for the Advancement of Colored People (NAACP)
Member, League of Women Voters
Board Member, Episcopal Place
Secretary, Crestwood South Neighborhood Association
Secretary, Episcopal Church Women at Grace Episcopal Woodlawn
Constitution, Legislature authorized to recompile constitution and submit at 2022 Reg. Sess., and provide for its ratification, const. amend.
Water Resources Act, coordination of plans relating to water allocation required, restrictions of use under certain conditions, award of conservation credits to certain consumers, Alabama Water Security and Conservation Act, Secs. 9-10B-31, 9-10B-32 added; Secs. 9-10B-2, 9-10B-3, 9-10B-20, 9-10B-22, 9-10B-23, 9-10B-24 am'd.
Mortgages, fee increase for recording of mortgages, deeds of trust, distribution of proceeds to Alabama Housing Trust Fund, Sec. 40-22-2 am'd.
Marijuana, possession of, penalties revised, quantities included, possession of marijuana in third degree created, Secs. 13A-12-214.4, 13A-12-214.5 added; Secs. 13A-12-213, 13A-12-214 am'd.
Alabama School of Fine Arts, commended, on its 50th anniversary.