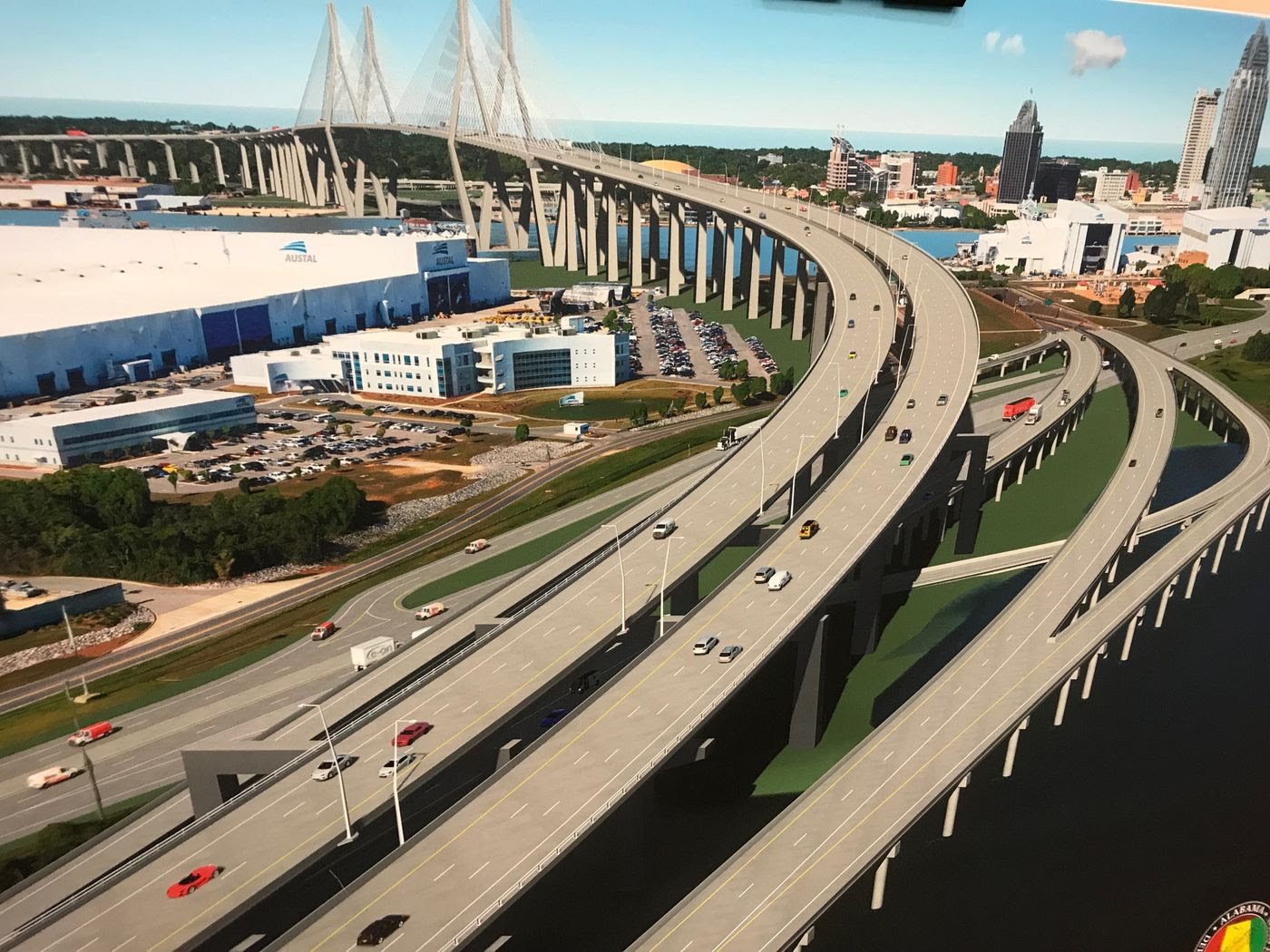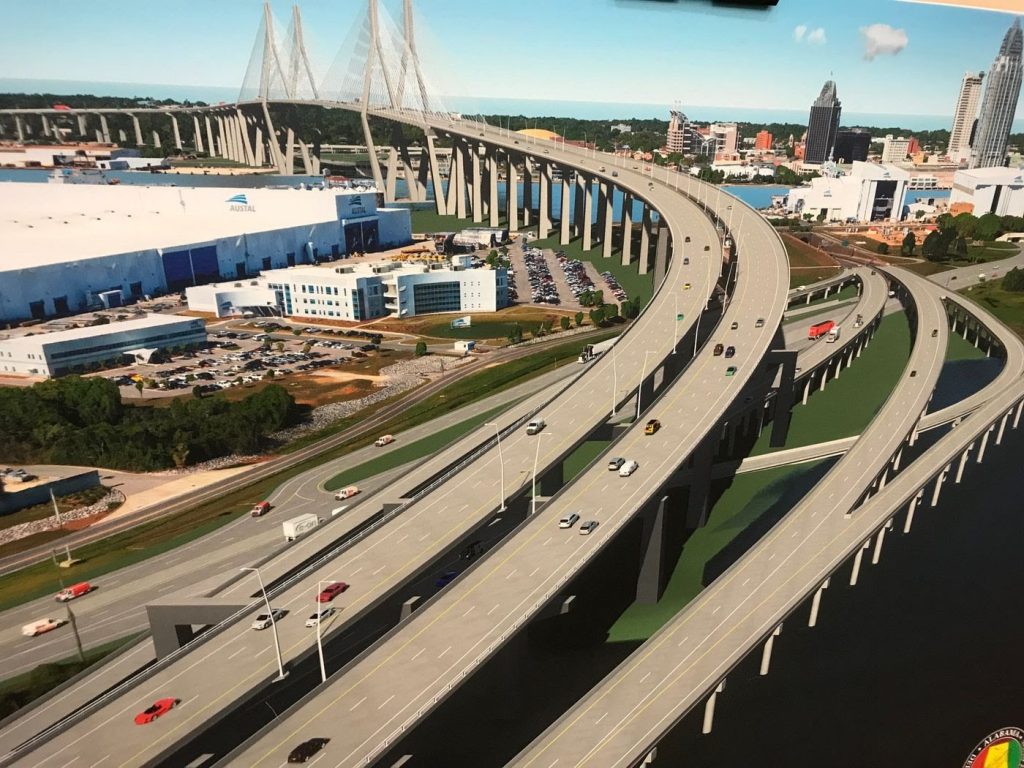 On August 28, 2019, the Eastern Shore Metropolitan Planning Organization (MPO) met to discuss it's 2020 through 2023 Transportation Improvement Plan (TIP).  The most significant point of discussion was whether to include the Interstate 10 Mobile River Bridge and Bayway project in its TIP. The week before, the Mobile MPO voted to table a decision to include the project in its TIP until after a scheduled meeting of the Alabama Toll Road and Bridge Authority that had been called to discuss the proposed project and to listen to ideas to reduce or eliminate the tolls. In a last-ditch effort to keep the project on the TIP, Governor Kay Ivey sent a letter to the chairmen of both MPOs offering both an opportunity to vote on any final project selected by the State and ALDOT for the Bridge and a promise to Marshall all the resources available to the state to reduce or eliminate the tolls.
The general feelings of the citizens that attended the meeting were that it would be best to remove the project from the TIP. The Eastern Shore MPO voted 8-1 to remove that project from their TIP after hearing two and half hours of comments from a public hearing, all of which were in opposition to the toll bridge. The only 'no' vote to keep the project in the TIP came from Matt Erickson, who is Mobile's region engineer for the Alabama Department of Transportation (ALDOT). Reaction from the audience after the vote was one of jubilation and celebration.
Reaction to the vote was immediate and swift. The Governor's office released a statement merely two minutes after the vote was taken which read in part "with the action is taken today, there is no pathway forward, and this project is dead. Moreover, without a project, there is no need for a meeting on October 7th. I am thereby canceling the Toll Road, Bridge, and Tunnel Authority meeting." There is no word yet if this means that there will be no improvements made at all to the Bayway/Tunnel or if ALDOT will go back to the drawing board.
Lt. Governor Will Ainsworth, who is a member of the state Toll Road, Bridge, and Tunnel Authority, recently announced his opposition to the project saying, "Daphne Mayor Dane Haygood and the members of the Eastern Shore MPO should be commended for listening to the citizens they represent, giving voice to their concern, and voting to end the ill-conceived and fatally-flawed toll bridge project connecting Baldwin County and Mobile County."
"The strong stand taken by the MPO today should reaffirm all citizens' belief in representative government and the power of public opinion," Ainsworth said. "The fact remains, however, that Alabama's Gulf Coast region is experiencing explosive growth, and traffic congestion throughout the area will only worsen with time. I urge Director Cooper and his ALDOT staff to go back to the drawing board and come back with a more sensible and scaled bridge proposal that releases traffic pressure without the need for tolling the hardworking residents of our state."
Tommy Tuberville, who is running for the U.S. Senate seat held by Sen. Doug Jones in 2020, and who earlier came out in opposition to the toll, had the following to say. "I congratulate the citizens of Baldwin and Mobile Counties for demanding that career politicians listen to their voice.  It took way to long but it's good to see the will of the people prevail.  This whole toll fiasco is another example of why we need to drain the swamp and elect representatives that are going to fight for our interests, not their own."
Former Chief Justice of the Alabama Supreme Court Roy Moore, who is also running for the U.S. Senate seat held by Senator Doug Jones and has come out in opposition to the toll bridge plan in the past reacted by saying "This goes to show what 'the people' can do when we stand together.  We don't want to be like New York and have to pay tolls everywhere we go. It's all about raising taxes; roads don't get better and politicians become more corrupt."
State Senator from District 32 Chris Elliot, who represents the Eastern Shore area of Baldwin County said, "A lot of people have been working for years and years on this project. Make no mistake about it, its death is the result of the administration's intransigence. Despite countless warnings that this project contained outlandish design parameters, was too expensive and patently unfair to the people of Coastal Alabama, ALDOT proceeded down the wrong path. Now, it's time to regroup and find a way forward with a solution that can actually be implemented. I hope the Governor's office will join with us to solve this critical infrastructure problem."