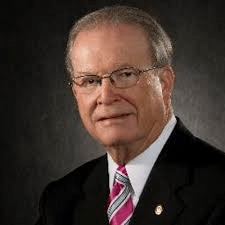 11 South Union Street, Suite 726
Montgomery, AL 36130-4600
334-261-0892
Email:

[email protected]
BA, Birmingham Southern College, 1960
JD, Birmingham School of Law
Candidate, Alabama State Senate, District 16, 2018
Majority Leader, Alabama State Senate, 2010-2014
Elector, Electoral College, 2012
Minority Leader, Alabama State Senate, 2002-2010
Senator, Alabama State Senate, District 16, 1990-present
Representative, Alabama State House of Representatives, 1966-1983
Owner and Chief Executive Officer, Birmingham Business Consultants Limited Liability Company, 1984-present
Vice President, Community and Public Affairs, Health-South Corporation
Congressional Information
Former Member, County and Municipal Government Committee, Alabama State Senate
Former Member, County and Municipal Government Committee, Alabama State Senate
Former Member, Health and Human Services Committee, Alabama State Senate
Organizations Information
Board Member, Metropolitan Development Board
Member, Chamber of Commerce, Shelby County
Member, Chamber of Commerce, Birmingham
Member, Chamber of Commerce, Vestavia Hills
Member, Zamora Shrine
Member, Chamber of Commerce, Hoover
Member, Board of Trustees, Faulkner University
Board Member, United Cerebral Palsy
Board Member, Greater Birmingham Convention and Visitors Bureau
Board Member, Pinnacle Bank
Board Member, Birmingham Business Alliance
Board Member, Better Business Bureau
Board Member, Alabama Sports Hall of Fame
Former Head Coach, Birmingham Touchdown Club
Former President, Birmingham Tip Off Club
Member, Homewood Church of Christ
Member, Vestavia Hills Civitan Club
Alcoholic beverages,to create permitting procedure to allow certain wine manufacturers to ship wine directly to consumers in state, to require licensed importers and manufacturers of wine to enter into exclusive franchise agreements with wholesalers, and to provide for reporting requirement and penalties, Secs. 28-3A-6.1, 28-8A-1 to 28-8A-11, inclusive, added; Sec. 28-1-4 am'd.
Shelby Co., privately owned sewer systems using public rights-of-way of public roads, required to be regulated and certified by PSC, const. amend.
Alcoholic beverages delivery service permit, authorizes delivery of alcoholic beverages from certain licensed retailers to adult residents in state, Sec. 28-3A-3.1 added; Sec. 28-1-4 am'd.
Employees' Retirement System, retirees and beneficiaries, one-time lump-sum additional payment
General election, revise election schedule for November 3, 2020, election
Private investigation, licensure of private investigator apprentices established, licensure of private investigation agencies required, Secs. 34-25B-12.1, 34-25B-40 to 34-25B-45, inclusive, added; Secs. 34-25B-2, 34-25B-3,34-25B-10, 34-25B-12, 34-25B-14,34-25B-17, 34-25B-22, 34-25B-26 am'd.
Athletic Trainers, Board of, treatment of physically active individual provided, relationship between trainer and supervising or referring physician provided, Jt. Committee of St. Board of Medical Examiners and Board of Athletic Trainers created, Sec. 34-40-3.2 added; Secs. 34-40-2, 34-40-3, 34-40-5, 34-40-6, 34-40-9, 34-40-10, 34-40-15, 34-40-16 am'd.
Water Works Bd, incorp. by mun. having assets in four or more counties or serving customers in four or more counties, reorganized, appt. of members, Secs. 11-50-301, 11-50-302, 11-50-303 am'd.
Administrative procedures, minimum threshold for a proposed rule's economic impact set, measures to reduce cost of proposed rules, Secs. 41-22-5.1, 41-22-5.2, 41-22-23 am'd.
Jefferson Co., Retirement System, definitions, pension board, qualification, elections of members, duties, Secs. 45-37-123.01, 45-37-123.21, 45-37-123.22, 45-37-123.24, 45-37-123.53, 45-37-123.54, 45-37-123.82, 45-37-123.101, 45-37-123.103, 45-37-123.104, 45-37-123.151, 45-37-123.195 am'd.
Hoover, alcoholic beverage, Sunday sales, city council authorized to commence at 10:00 a.m.
Shelby Co., privately owned sewer systems using public rights-of-way of public roads, required to be regulated and certified by PSC, const. amend.
Motor vehicle rentals, private motor vehicle rentals, subject to all insurance, taxation, and licensing laws and rules relating to rental of
Alabama Genetic Counselor Act, Board of Genetic Counseling created to license genetic counselors, powers of board, qualifications for licensure, exemptions from licensure provided, funding, and penalties for violations
Mountain Brook, ad valorem tax for schools, city council authorized to levy, referendum
Hoover, ad valorem tax for public schools, increase by 2.4 mills, referendum
Municipalities, council-manager form of government, procedures and timing further provided for, petition and election required, ballot, Secs. 11-43A-1.1, 11-43A-7, 11-43A-8 am'd.
Mountain Brook, ad valorem tax for schools, city council authorized to levy, referendum
Alabama Security Regulatory Board, bd. auth. to hold hearings and issue subpoenas, fees set by rule of board, classroom training requirements provided and modified by rule of board, practice without license a Class A misdemeanor, Secs. 34-27C-1 to 34-27C-5, inclusive, 34-27C-7 to 34-27C-13, inclusive, 34-27C-16, 34-27C-17, 34-27C-18 am'd.
Pharmacy Bd., appeals of decisions to circuit court, venue in county where bond is located, Sec. 34-23-94 am'd.
Retirement, benefits for local employers participating in ERS, retirement benefits given to Tier I plan members authorized for Tier II plan members, Sec. 36-27-6.5 added
Mountain Brook, alcoholic beverage, Sunday sales, city council authorized to commence at 10:00 a.m.
Civitan International, Inc., exempt from all sales and use taxes
Taxation, Alabama Eye Bank, exempt from state, county, and municipal sales and use taxes
Motor vehicles, distracted driving, use of cell phone while operating a motor vehicle prohibited, exceptions
American Lebanese Syrian Associated Charities, Inc., sales and use tax, exempt
ClasTran, Birmingham Regional Paratransit Consortium, exempt from all sales and use taxes
Taxation, tax abatements, authorized for data processing centers, extended for five years, Sec. 40-9B-4.1 amd.
Jefferson Co., automobile rental tax, add'l tax levied, Act 2001-550, 2001 Reg. Sess., am'd; Sec. 45-37-244.01 am'd.
Jefferson Co., fire districts, exclusion of forest lands, Act 79, 1966 Sp. Sess., am'd; Sec. 45-37-140.02 am'd.
Taxation, sales and use tax, Alabama Wildlife Center, exempt from payment of all state, county, and municipal taxes, Sec. 40-23-5 am'd.
Governor, strategic four-year plan, transmit to legislators in electronic format, posting on Governor's website, Sec. 41-19-3 am'd.
Motor vehicles, overtaking and passing, vehicles to be driven in right lane, with exceptions, Sec. 32-5A-80 am'd.
Securities Commission, directors salary to be fixed by commission with approval of State Personnel Board, Sec. 8-6-56 am'd.
Boozer, Young, outstanding service, commended
Kellogg, Terry - Commended
Exports, Alabama's record for 2017, commended
Beverage Association, 100th anniversary, recognized
Cooper, Carl, distiguished military service and 98th birthday, commended
Bolen, William Ossian, Sr., death mourned
Senate resolution, local application for Clay, Jackson, Morgan, and Calhoun Counties
Macon Co., tobacco tax, distrib. of portion for recreational purpose, Sec. 45-44-246 am'd.
Governor, committee appointed to notify that Legislature is in session and ready for the transaction of business
Legislature, committee appointed to escort Governor to joint session