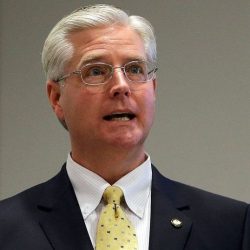 Position: State Senator - District 5
Party: Republican
Location: Cordova, AL - Walker County
Birthday: June 5, 1965

55
11 South Union Street, Suite 726
Montgomery, AL 36130-4600
334-261-0894
Email:

[email protected]
Attended, Bevill State Community College
BS, Business and Marketing, University of Alabama
Candidate, Alabama State Senate, District 5, 2018
Senator, Alabama State Senate, District 5, 2010-present
Vice President, Preferred Medical Systems, present
Former Employee, General Electric Healthcare
Former Employee, National Cash Register
Congressional Information
Former Deputy Chair, Health and Human Services Committee, Alabama State Senate
Former Member, Judiciary Committee, Alabama State Senate
Former Member, Fiscal Responsibility and Economic Development Committee, Alabama State Senate
Former Member, Confirmations Committee, Alabama State Senate
Former Member, Banking and Insurance Committee, Alabama State Senate
Organizations Information
Member, Jasper Rotary Club, present
Member and Sunday School Teacher, First Baptist Church of Jasper, present
Walker Co., sheriff and county revenue commissioner authorized to participate in Employees' Retirement System in lieu of supernumerary program, const. amend.
Public Health Dept., hospitals, discharge date, reporting collection, and release, privacy to be maintained, civil penalties, adoption of rules, release of data to Ala. Hospital Association
Oil and Gas Study Committee, permanent study commission, membership, duties, reporting requirements provided
Employees' Retirement System Board of Control, membership revised, diversity language included, terms of service further provided for, Sec. 36-27-23 am'd.
Nursing, Board of, by rule, authorized to establish standards for student nurse apprenticeships and to issue apprentice permits, Sec. 34-12-2 am'd.
Controlled substance database, access by board of nursing authorized for monitoring licensees, Sec. 20-2-214 am'd.
Education, public K-12, buses, local boards of education authorized to sell advertising space on buses, prohibit certain types of advertising
Motor vehicles, oversized vehicle permits, annual commercial wrecker emergency tow permit, provided, Sec. 32-9-29 am'd.
Advisory Board to the State Health Officer, authorize to meet by electronic means and establish rules of procedures for meetings, Sec. 22-21-27 am'd.
Nursing, Board of, allow board to enter into the Enhanced Nurse Licensure Compact, Secs. 34-21-20.01, 34-21-120 to 34-21-130, inclusive, added; Secs. 34-21-1, 34-21-2, 34-21-21, 34-21-22, 34-21-25 am'd.
Nursing, Board of, loan repayment program for advanced-practice nurses, loan program authorized for certain currently certified nurses, Sec. 34-21-96 am'd.
Health care, Alabama Rural Hospital Resource Center, created, within Univ. of Alabama at Birmingham, staffing and reporting requirements, rural administrative residency program, created
University of Alabama, Board of Trustees, congressional districts for membership as constituted on 1/1/2018, State Superintendent of Education removed from membership, age restriction of 70 deleted, Section 264 of the Constitution of Alabama of 1901, am'd, const. amend.
Psychology Professional Wellness Committee, established within Psychology Examiners board to provide intervention services to impaired licensed professionals, duties, immunity provided, Sec. 34-26-4 added
Inmates, counties, jails, to provide certain items including health care, fees set, Sec. 14-6-19 am'd.
Board of Pharmacy, employment of executive secretary and attorneys with specific experience and training qualifications authorized, Secs. 34-23-90, 34-23-93 am'd.
Association of Former Members of the Alabama Legislature, created, board of directors, executive director, and staff provided for, participation of employees in SEHIP and ERS